Back in 2011 I designed this sweet pincushion angel for use in my Studio classroom.
Everyone that visited my studio fell in love with her…. so in 2013, after many requests I decided to make the design into an E-pattern to sell in my Boutique.
My little Pincushion Angel was a huge hit and remained one of my most popular E-patterns until I retired the pattern earlier this year.
[Pin for later]
Today I'm sharing this project with you as a free E-pattern, which contains a full size pattern template and step-by-step photo tutorial.
It's a fairly basic design, with easy to follow instructions… making it a perfect 1/2 day project.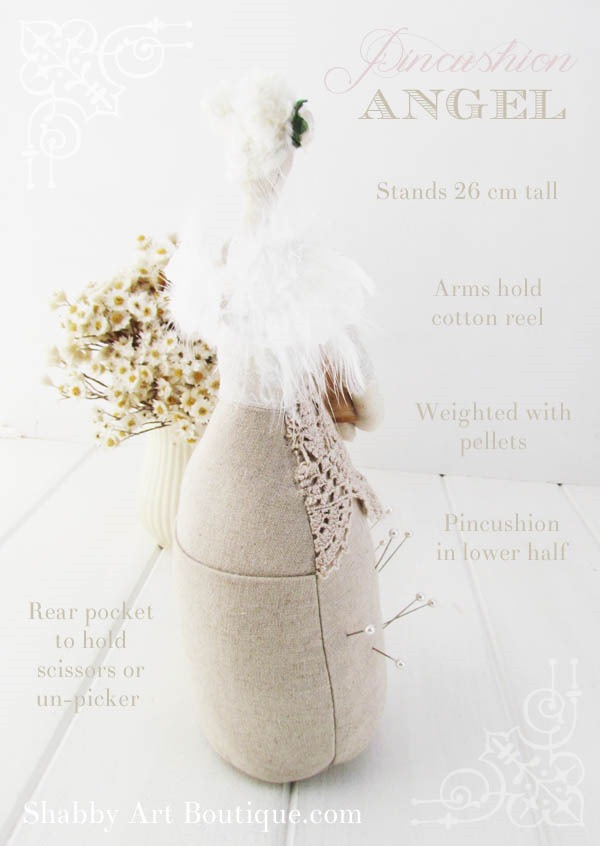 I designed the angel to have a pocket at the rear, which can hold embroidery scissors and a 'Quick Unpick'…. a tool that was always lost in my studio until I had this specific spot to keep it.
The lower half of the angel is filled with pellets (or rice). The extra weight keeps it steady and I often use mine to hold books open or to hold pattern templates in place while I trace them.
I've made my Pincushion Angel in both neutrals and in pretty colours.
Although I used Tilda wings for my Angel, you could use any kind of wings. I think vintage book page wings would be adorable on a neutral Angel too!
If you'd like to add a sweet Pincushion Angel to you craft or sewing room, please feel welcome to…
download the free E-pattern here.
Happy sewing,
Hugs
♥
Kerryanne
I'd love for you to connect with me at:
Follow on Bloglovin
or if you'd like my posts delivered directly to your Inbox
Subscribe to Shabby Art Boutique by Email
If you'd like a private pass to all things 'shabbilicious, sign up today for my fortnightly newsletter. It contains personal stories, sneak peeks, recommendations, discounts and freebies.