Thank you friends for the lovely comments on my Craft Room post last week.
As part of my craft room update, I had some fun this week making these painted embroidery floss bobbins.
As I mentioned in my last post, I wanted to clear my desk of the items that seemed to permanently be scattered on my work surface. I had a handful of pretty pink and green embroidery cottons that I used frequently on hand stitched cards and tags, and on small sewing projects. I guess these are my go-to cottons.
Rather than pack them away with the rest of my embroidery floss, I decided to store them in a more permanent place on my new cubby hole shelf unit.
So, using some of the left over balsa wood from the cubby hole shelf unit project, I created these sweet little house and shop wood bobbins.
They are 7.5 cm wide x 17 cm high (3" wide x 7" high) and made from 3mm balsa wood.
Balsa wood is very easily cut using a sharp craft knife or scalpel. Sand any rough edges with a small piece of sandpaper or a large nail file.
You are welcome to download the line drawing for the Shabby Shop Embroidery Floss Bobbins HERE.
I painted my bobbins in a pretty pastel colour palette that matches my craft room, using Decoart Americana Acrylics.
I've not written a painting tutorial for this project, as I want it to be relevant for all skill levels.
If you are a novice painter, use the line drawing as a guide to draw on your design and paint it in a simple, naive style.
For those who already have painting skills, you may like to interpret the design in a style that is relevant to your skill level.
The point being, this is a project that would look sweet in any style.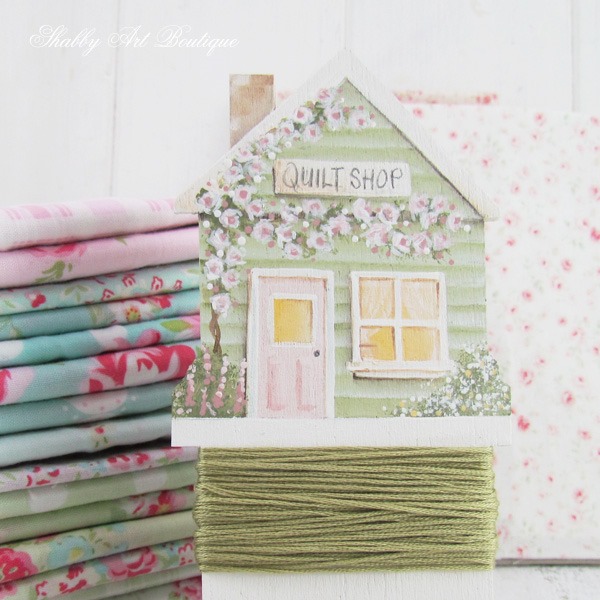 I've kept my three bobbins fairly basic and in keeping with the shabby pastel look of my craft room.
If you are not a painter, you may even like to make these bobbins using pretty papers and a mixed media style.
If you do make these embroidery floss bobbins, I hope you'll share them with us either at our weekly Create, Bake, Grow & Gather party or in our private Facebook group, Simply Shabbilicious.
If you enjoy this project, you may also like these other projects for your craft room…
Vintage Lace and Ribbon Boards
Vintage Embroidery Floss Organisers
Happy crafting!
Hugs
♥
Kerryanne
I'd love for you to connect with me at:
Follow on Bloglovin
or if you'd like my posts delivered directly to your Inbox
Subscribe to Shabby Art Boutique by Email
If you'd like a private pass to all things 'shabbilicious, sign up today for my fortnightly newsletter.
It contains personal stories, sneak peeks, recommendations, discounts and freebies.