Hello friends,
I haven't had a lot of finished products coming out of the craft room this past few months and as a consequence, there's been fewer posts here on Shabby Art Boutique.
Sometimes I have snippets I'd like to share with you, but perhaps not enough for a dedicated post…. so then I don't share them.
I've decided as a way to share these tips, techniques, and information I'd write an occasional chit chat style post called 'Boutique Banter'.
Today in my first Boutique Banter post I'm sharing a few changes I've made in my craft room this past week.
I'm definitely one of those crafters that likes to have a neat work surface… but like most crafters, my desk gets very messy at times.
I tend to do a weekly tidy up at the beginning of the week and by the weekend my desk is covered again with several on the go projects, adhesives, fabrics and all kinds of little bits and pieces.
As it seemed to always be the same items inhabiting my desk area, I decided to move things around and give those most used items a more permanent spot on my desk.
The most obvious way to do this was to repurpose the shelf unit that sits on my desk…. and by using some balsa wood and white pasteboard I was able to transform it into a very practical cubby hole shelf unit.
I've added my affiliate links to the items I used in this project for anyone who'd like to transform a shelf unit into a cubby hole shelf unit.
<
My most used fabrics are now on mini bolts on the lower shelf.
Alongside of that is my most used lace boards and shabby rose pin cushion.
I have cubby holes for my adhesives, favourite 'shabbilicious' silk ribbons
and embroidery cottons and another for my sewing needle book and pin storage.
….of course a few decorative pieces made it onto the top shelf.
Also on my desk are other often used necessities like jars of scissors, pencils and paint brushes.
I used tins of various sizes to hold smaller embellishments items.
Beside my desk to the right is wicker baskets that hold ribbons, laces and doilies.
On the left side I have a bookshelf with my favourite books and stationery.
Above my shelf units to the left of my desk, I keep sewing supplies like cottons, ribbon spools, buttons and embellishments.
The floor plan below shows how I've set up my craft storage into specific areas. The room is 16' x 16' and I try to keep the carpeted area as a clean work area and the bare floor as the wet area for painting, construction etc.
So far, this new layout seems to be flowing better and my desk is easily kept tidy.
Do you find it inspiring to be surrounded by your pretty craft supplies too?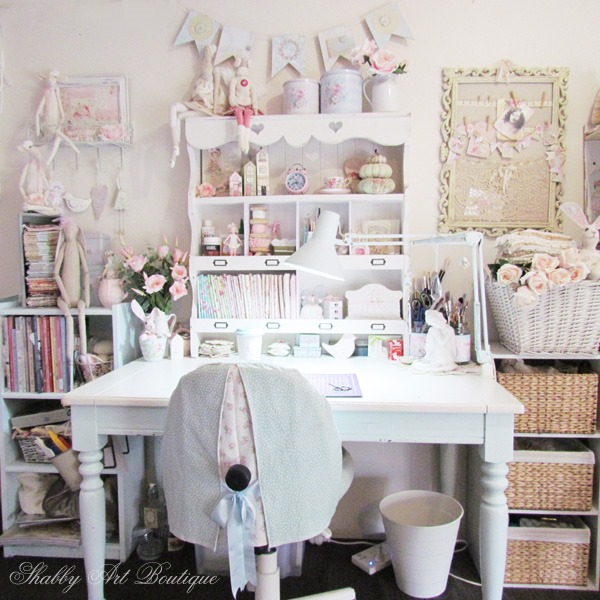 Happy crafting!
Hugs
♥
Kerryanne
I'd love for you to connect with me at:
Follow on Bloglovin
or if you'd like my posts delivered directly to your Inbox
Subscribe to Shabby Art Boutique by Email
If you'd like a private pass to all things 'shabbilicious, sign up today for my fortnightly newsletter.
It contains personal stories, sneak peeks, recommendations, discounts and freebies.