Hello friends!
I've been a little quiet online this past week, as I'm working on a really big project…. [squeal] I'm super excited to share it with you in the coming weeks.
Meanwhile, I'm sharing another one of my greeting card crafts today.
I love how these cards are more than just a card…. they are kind of a gift too…. a mini piece of art and pretty enough to leave out on display or attached to a notice or mood board.
For this card I made a silk/satin flower using the easy peasy candle searing method.
If you've seen my DIY for fabric peonies and roses, you already know how much I adore this fabulous technique…. I ask you, who doesn't love staring into the light of a flickering candle flame?
These fabric flowers are even easier than the peonies because the only sewing is the button attachment.
How to make a fabric flower
Materials:
Silk or satin fabrics,
Circle templates of varying sizes,
Scissors, pencil, sewing needle and cotton, and sewing pins,
Candle,
Buttons.
Instructions:
1. Make cardboard templates for 3 circles in different sizes eg. mine had a diameter of 3 cm, 5 cm and 7 cm.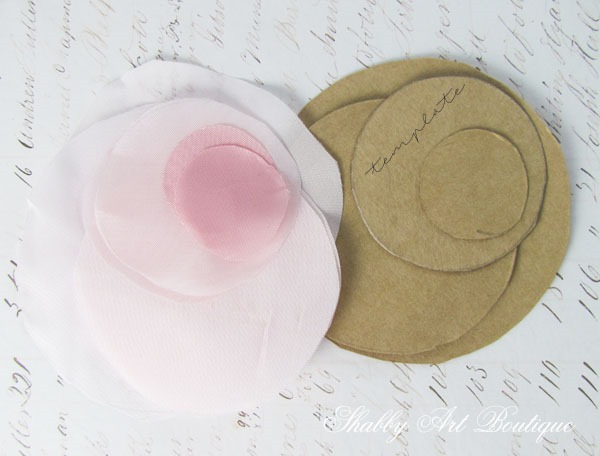 2. Trace the templates onto silk or satin fabric. I used silk lining fabric which seared easily. For this particular flower, I cut 2 circles in each size.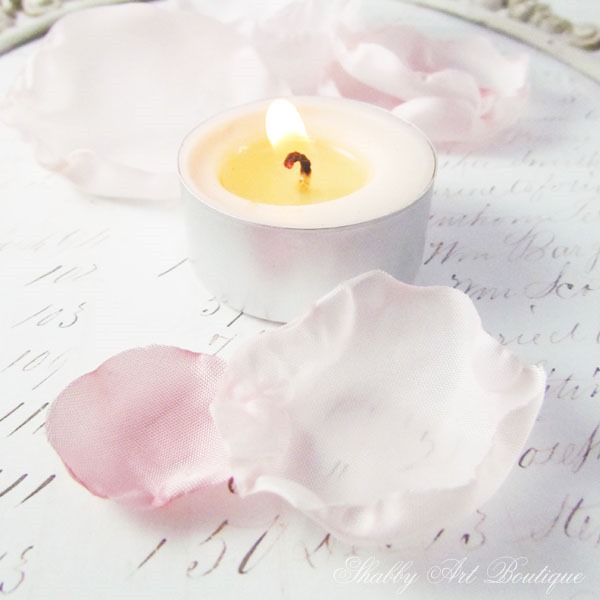 3. Hold the petal about 3 inches above the candle flame and carefully sear the edges. On some of the petals I melted just the very edge and there was minimal curl, but on others I allowed more curling to add bulk and shape to my flower.
4. Assemble your flower with the smallest petals on the top and the largest petals on the bottom (see above image). Secure the grouping by sewing a button in the centre of the flower, through all layers.
These flowers are so super quick, you could cut, sear and assemble quite a few in just half an hour.
I've shown mine adhered to a mixed media greeting card. It was as simple as cutting a piece of scrapbook card to fit the front of my premade greeting card. I added a sewn seam around the edge of that scrapbook paper. Next I added some torn pieces of paper as a background and embellished with a stamped word on a scrap of vintage book paper. A seam binding bow and the flower were adhered to the front of the card with glue.
This card was quick, easy and cheap to make… and what a lovely greeting for a friend to receive!
[PIN for later]
You may like my other handmade flower techniques…
Mini Felt Flowers and Fabric Peonies & Roses
and my Scrappy Fabric Flower Tags
Happy crafting,
Hugs
♥
Kerryanne
I'd love for you to connect with me at:
Follow on Bloglovin
or if you'd like my posts delivered directly to your Inbox
Subscribe to Shabby Art Boutique by Email
If you'd like a private pass to all things 'shabbilicious, sign up today for my fortnightly newsletter.
It contains personal stories, sneak peeks, recommendations, discounts and freebies