Do you remember making paper lanterns at school when you were a kid?
They were fun then…
And just as much fun now with this adult version.
I spent time in the craftroom over the weekend and one of the first things I created with was the new Autumntree paper pad from Tilda.
The papers, in a mix of olive greens, shades of purple and blue are typical Tilda with a mix of cottage floral prints and polka dots.
The new mini pads contain 12 different designs and measure 15 cm x 15 cm (6" x 6")…. and there are just a few left in the Tilda Boutique.
Being double sided, I thought these papers would make cute lanterns and initially I intended to string them up with fairy lights….
But then… I eyed my flameless candles on a shelf and thought 'why not'!
Turned out, they made the perfect base for my lanterns.
How to make flameless candle lanterns
1. Cut a piece of scrapbook paper to measure 13 cm x 12 cm. Fold it in half along the short side, so the paper now measures 13 cm wide x 6 cm high. With the fold at the base, measure down 2cm from the top and draw a pencil line across the width of the paper. Using the craft knife, cut from the line down to the fold at the base at 1 cm intervals.
2. Next I attached two strips of double sided tape around the perimeter of the flameless candle.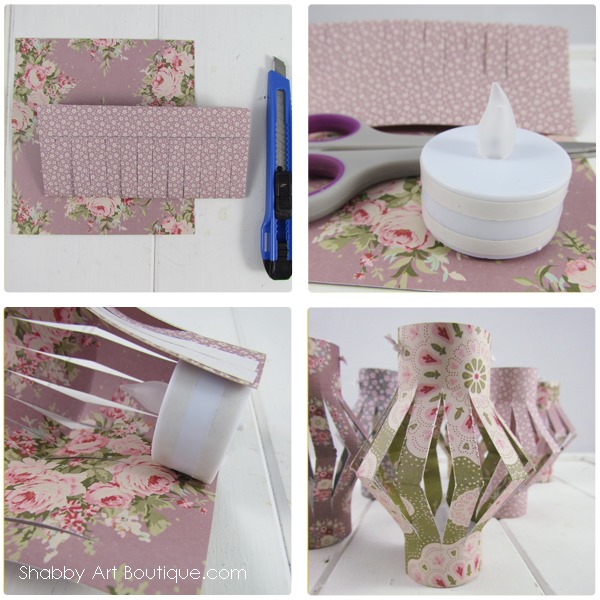 3. Unfold the paper lantern and add two holes at the top of the lantern (using an eyelet tool). Mine were 1 cm down from the top and placed at the 3 cm mark and the 9 cm mark. These will be used for the hanger.
4. Attach double sided tape to one side of your paper lantern. Wrap the lantern paper around the flameless candle. When the two sides meet up, there should be about 1 cm of excess paper that wraps over the top of the double sided tape. Press down firmly to make sure the papers are stuck together.
5. Insert some bakers twine or jute string through the holes and knot on the outside of the lantern. Cut any excess twine off at the knot. Alternatively, a wire hanger could be used.
With the lights dimmed, these little charmers are all aglow.
Shown here hanging from a vase of dried branches, they would look equally as nice strung as a garland or randomly placed around a dinner table.
Happy crafting,
Kerryanne
I'd love for you to connect with me at:
Follow on Bloglovin
or if you'd like my posts delivered directly to your Inbox