Hi creative friends,
It's that time of the week again when we get to showcase the amazing talents of our design team members.
Sandy, Dianne, Elisa, and Carolyn have been hard at work crafting beautiful projects that are sure to inspire your creativity.
From tea-themed sachet holders to shabby Halloween creations and heartfelt memory journals, there's something for everyone to enjoy.
So, let's take a closer look at their stunning projects.
Sandy's Teabag Sachet Pocket Holders
First up, we have Sandy from Septeria18, who has several projects she has created using some of the leftover digital prints from the Teapot Fairies kit.
She crafted the most delightful teabag sachet pockets, tassel embellishments and notecard holders.
These charming creations come complete with tags, making them perfect for small gifts and happy mail.
They are an ideal addition to any high tea celebration or a lovely gesture for tea lovers.
Click the video below for Sandy's project share.
Sandy worked her magic with the Teapot Fairies kit, which is available on Etsy.
To guide you through the process, she has shared a helpful YouTube video tutorial.
Don't forget to click the image below to watch the tutorial and subscribe to her channel for more crafting inspiration.
Aren't these just lovely!
PIN

How to connect with Sandy:
We all love Sandy's projects, so be sure to subscribe to her Septeria18 YouTube Channel so you don't miss any of her upcoming tutorials and follow Septeria18 on Instagram.
You'll find Sandy's gorgeous embellishments in her Septeria's Room Etsy Store.
Thanks for inspiring us with this fun tutorial, Sandy ♥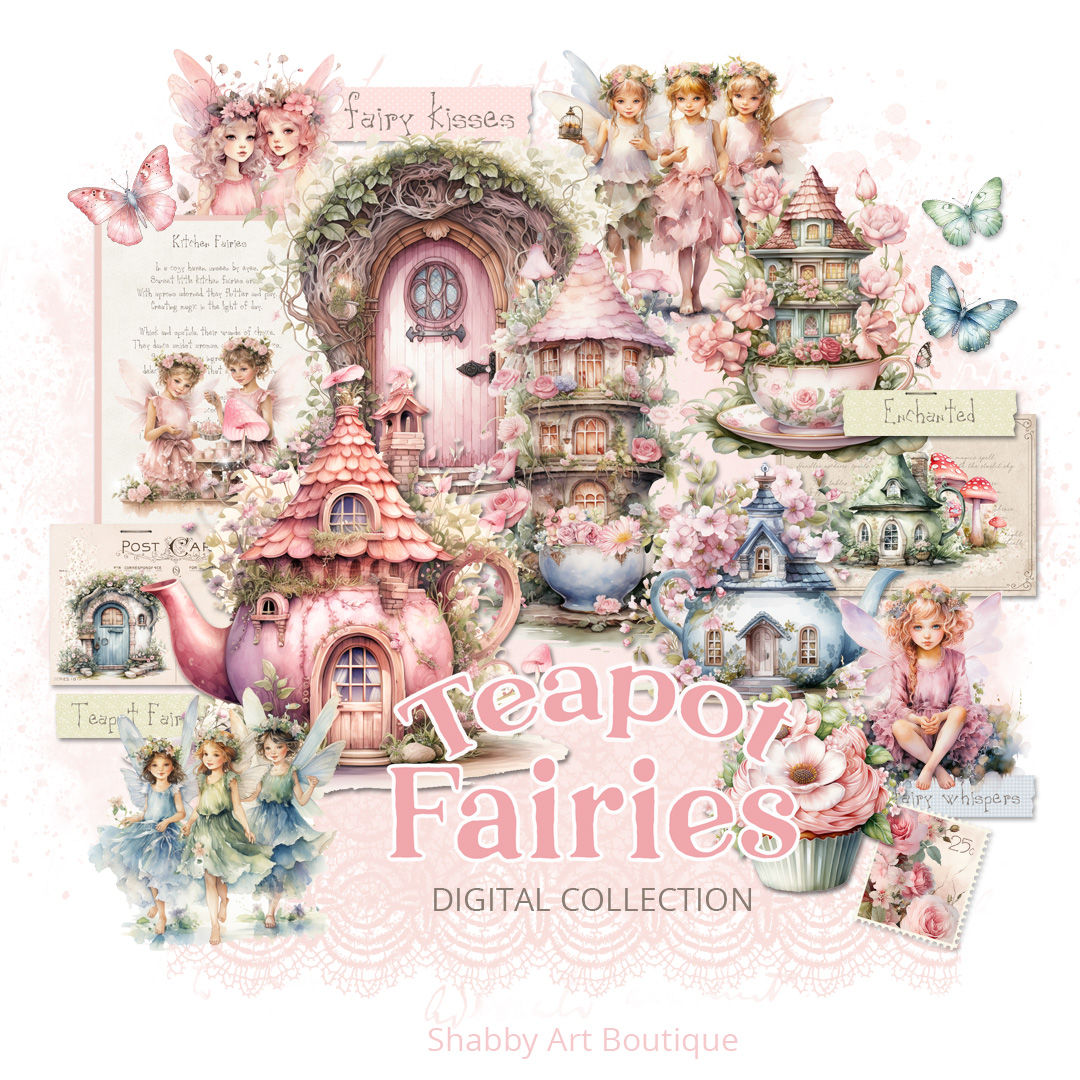 Watch the Teapot Fairies video on YouTube.
How to buy Teapot Fairies
This kit is available now in my Etsy store.
Click to see on Etsy – Letter (USA & Canada) paper size
Click to see on Etsy – A4 paper size
Add-On Kit ~ Fairies of Colour
The Fairies of Colour Add-On kit –> is available in my Etsy store HERE.
Dianne's Shabby Halloween Projects
Dianne from Shabby Reflections has been busy creating some spooktacular projects using the free printable Shabby Halloween mini kit.
First, she used the kit's papers and fussy cuts to assemble a Halloween exploding box filled with the adorable Shabby Halloween images.
It's a fantastic way to surprise someone special on Halloween.
But that's not all! Dianne also printed the charming little witch design on fabric and transformed it into the sweetest little pillow.
It's an adorable and inspiring project that is perfect for adding a touch of Halloween spirit to your home decor.
Thank you, Dianne, for sharing your creativity with us!
Craft Room members can connect with Dianne inside the Craft Room membership and on her Instagram account, Shabby Reflections and her new YouTube channel.
Elisa's DIY Pink Halloween Paper Clips Pack
Elisa from Elisa's Creations has been getting into the Halloween spirit too, using the mini Shabby Halloween kit to create a variety of delightful goodies for happy mail and gift-giving.
Her latest project is a DIY Pink Halloween paper clips pack, and you won't believe what she used to create these charming clips… a recycled ice cream box!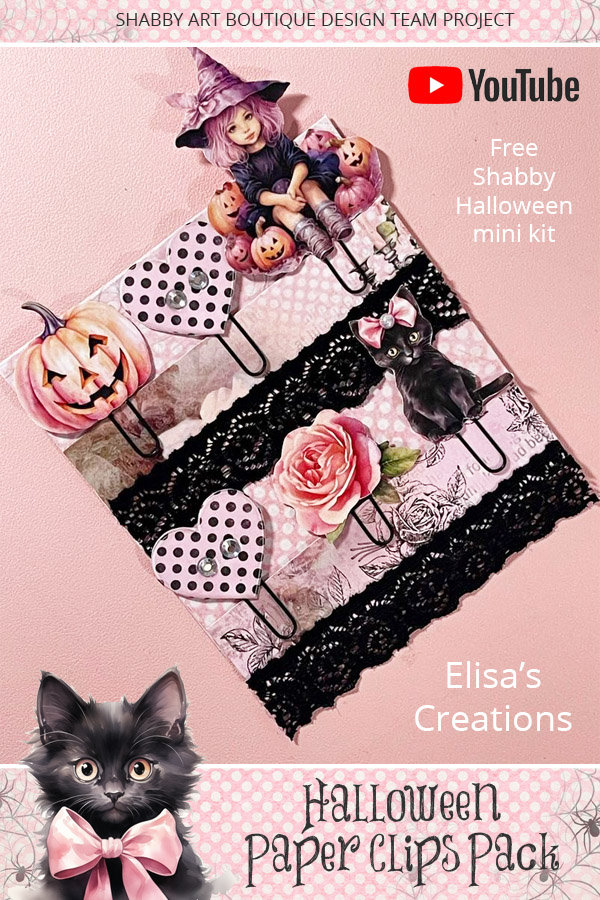 To learn Elisa's creative process and make your own adorable paper clips, be sure to check out her YouTube video tutorial.
Click the image below to watch, and don't forget to subscribe to her channel for more fantastic crafting ideas.
Thank you Elisa ♥
If you haven't download the free printable mini Shabby Halloween kit yet, download it HERE.
Carolyn's 'Memories' Journal
Last but not least, Carolyn from Carolyn's Paper Therapy embarked on a heartwarming journey this week by starting a 'memories' journal.
This ongoing project will serve as a repository for her thoughts, poems, scripture, letters, pictures, and more.
Carolyn is using leftover papers and ephemera from her previous journals to decorate the pages of this meaningful journal.
In her first video, Carolyn shows us how she beautifully decorated the covers of her 'memories' journal.
Click below to watch on YouTube and get inspired to start your own memory-keeping project.
Carolyn also shares her progress in a second video as she decorates the first pages of the journal using leftover elements from the Vintage Love kit.
It's a wonderful way to repurpose materials and create something truly special.
Thank you for inspiring us with your gorgeousness this week Carolyn ♥
You can connect with Carolyn on her YouTube channel, Carolyn's Paper Therapy.
These talented design team members have once again left us in awe with their incredible projects.
Whether you're into tea-themed gifts, Halloween crafts, or memory journaling, there's plenty of inspiration here to spark your creativity.
Be sure to follow their tutorials and keep an eye out for more fantastic projects in the future.
Happy crafting,
♥
Kerryanne
Let's be friends on….
Get instant access to the free printables in my Newsletter Printables
Library by joining my email newsletter subscriber's list.
I send out a weekly newsletters with updates on all things
'shabbilicious' at Shabby Art Boutique.