Hello creative friends,
If you are looking for something a little different in the Christmas card department this year, maybe you need one of these fun, three dimensional pop up box cards!
While they might look kinda complicated, they actually aren 't…. and they are even simpler when you have a ready made 'Print & Make' project like these… now available in my Etsy store.
Retro Pop Up Box card
The first one is a cute retro Santa and reindeer surrounded by presents and peppermints.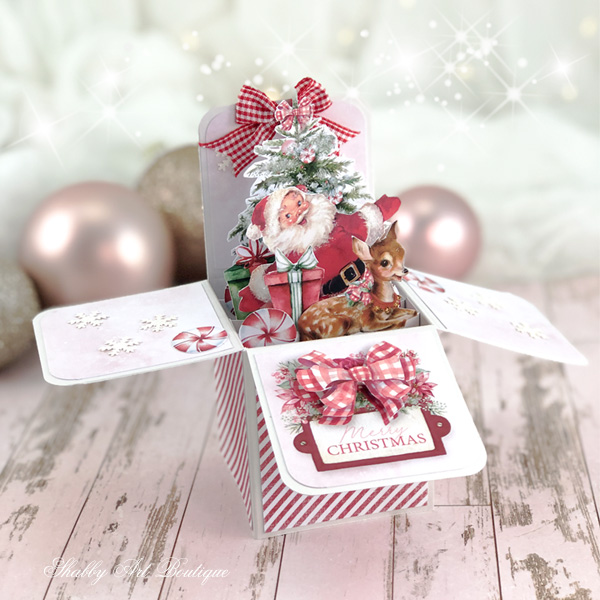 The box for the card is made from one sheet of card in either A4 or letter size (if you are in the USA).
All the elements for the card are in a 2 page PDF printable… simply print, cut and assemble.
All the measurements and assembly details are in a handy PDF tutorial.
The image above shows:
1. all the elements collapse to allow the box to fold up.
2. the box folds flat, so that you can pop it in a large envelope.
3. This view shows the 3 tiers of inserts that give the 3 dimensional affect.
4. The back panel does not have a foldable flap, so that you can use this area to write your Christmas greeting.
I love being able to add layering to my paper crafting; like this raised bow on the fold down flap at the front. It adds far more interested than a flat bow.
My elements in the retro card also had a sprinkling of glitter in a few places like Santa's coat, the base of the reindeer and the Christmas tree…. just for some Christmas sparkle.
Snow Children Pop Up Box Card
The second card is a sweet and shabby Victorian scene filled with children playing in the snow and a gorgeous Victorian St Nicholas dressed in a pink coat.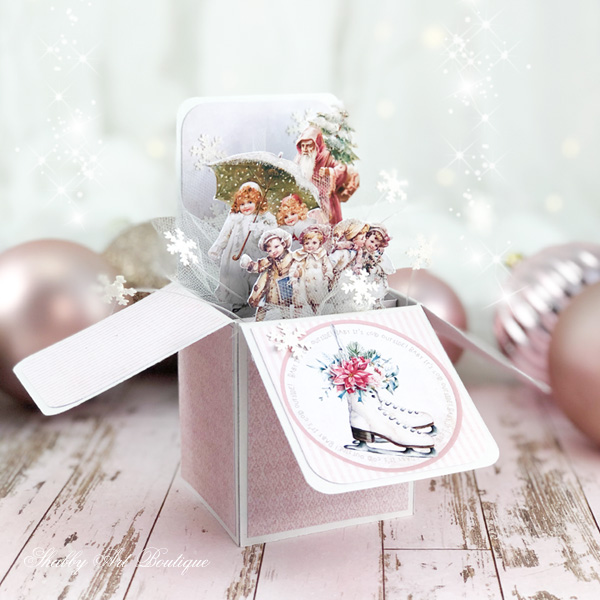 All the elements on this card have a sprinkling of German glass glitter for snowy sparkles and I even added in some glittery snowflakes cut from white glitter card.
I simply used a small snowflake paper punch to make the snowflakes and I added them to fishing line with a dab of hot glue. Once dry, I placed them randomly around the children at varying heights. The fishing line allows the snowflakes to bop around in the breeze like falling snow.
The finishing touch was some lightly gathered scrap pieces of white tulle that I placed in the front and back of the box for a floaty romantic look. I didn't measure these… they literally were small offcut pieces… but I think they add to the overall look of the box.
There are so many things to love about these pretty pop up box cards…. the fold flat so you can post them, they are free standing, they look more impressive than a store bought card, yet they are quite quick and easy to make.
Tip: you could even tuck a gift card in between the layers for an extra surprise!!
Thanks for pinning this image.
How to Purchase
This 'Print & Make' Christmas Pop-up Box Cards kit is now available in my Etsy store – CLICK HERE
Both the A4 and the letter paper size printable are available in the one listing.
Happy crafting my friends!
Hugs
♥
Kerryanne
Let's be friends on….
Get instant access to the free printables in my Newsletter Printables
Library by joining my email newsletter subscriber's list.
I send out a weekly newsletters with updates on all things
'shabbilicious' at Shabby Art Boutique.
I invite you to join our fabulous and friendly
Facebook group – Simply Shabbilicious
where you'll enjoy our friendly banter and inspirational creativity.