Hello creative friends!
Have you joined in with my monthly vintage postcard project?
We are now up to the seventh set of free postcards and July's printables are so sweet and angelic.
If you are also making the flip tag journal, it's getting quite thick now…. but still room for more yet!
One of my readers shared that she downloads the postcards each month to send in the mail to her friends…. isn't that such a lovely idea.
A year of Vintage Postcards
If you are new to this year long project, we are creating a collection of vintage postcards.
Every month I will be providing two vintage postcard printables to add to your collection.
Each postcard measures 9 cm x 14 cm (3.5" x 5.5") and has both a front and back image.
To construct the postcards:
1. Print the July PDF – 2 pages (see below).
2. Cut the postcards out as one complete card (front and back) and score down the centre where the front and back of the postcards meet.
3. Fold in half along the score line and use glue to adhere the front and back of the postcard together.
July Vintage Postcards
This month both postcards are designed by American illustrator, Ellen Hattie Clapsaddle.
At one time, Ellen was the most famous and prolific illustrator of postcards and greeting cards in the USA.
The postcards I've chosen for July are indicative of the Art Nouveau style that flourished between about 1890 and 1910.
The first postcard, titled The Hearts Key, depicts a sweet angel sitting on a key, while the second has a cherub leaning over a wall to offer a lady in blue a floral crown.
There's an extra tag this month made from another design by Ellen Hattie Clapsaddle. It's from the 'Fairy Season' collection released in 1903.
Download the Postcards
Click HERE to download the A4 sized PDF.
Click HERE to download the Letter size PDF (USA).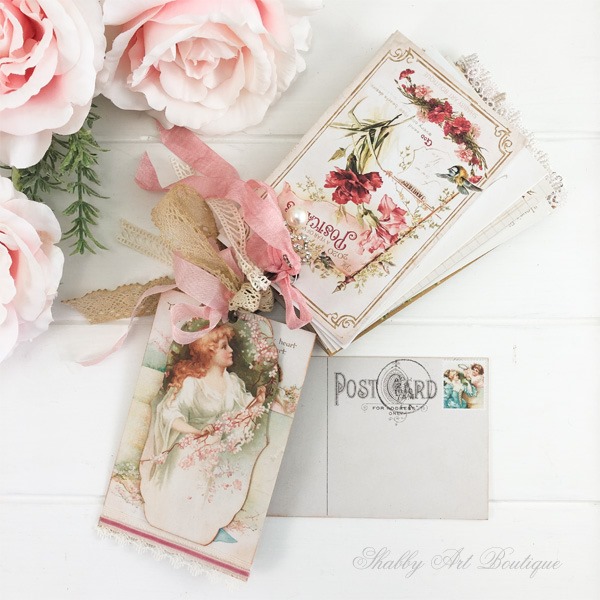 Download January through to June
If you are joining in now or maybe missed a month, here are the previous free downloads:
Thank you for PINNING this project!
Happy crafting my friends!
Hugs
♥
Kerryanne
I'd love for you to connect with me at:
Get instant access to the free printables in our Member's Only
library by joining my email newsletter subscriber's list.
I send out a weekly newsletters with updates on all things
'shabbilicious' at Shabby Art Boutique.
I invite you to join our fabulous and friendly
Facebook group – Simply Shabbilicious
where you'll enjoy our friendly banter and inspirational creativity.