We're all going on a summer holiday….
But we are stepping back in time to the Victorian era, when a holiday at the seaside included sun, sea, sand… and a pretty parasol to protect a lady's skin.
Seaside Adventures is the June kit for the Handmade Club.
It is themed around a Victorian lady's journal about a trip to the seaside and is presented in three chapters (themes): Rose Cottage, Seaside frolics and 'We all Scream for Ice Cream'.
It is romantic, feminine, pretty and shabby… and all wrapped up in an unexpected seaside colour palette of softest sage and blushing pink.
Chapter One – Rose Cottage
In a cottage by the sea, Victorian ladies in all their finery enjoy the delights of reading, writing letters and postcards, and seashore walks under a parasol to take in the fresh seaside air.
In this chapters embellishments you'll find beautiful double-sided Victorian postcards, watercolour parasols, vintage shoes and printable love letters that were actually sent between Elizabeth Barrett Browning and Robert Browning, perhaps two of the best known poets of the Victorian Era.
Chapter two – Seaside Frolics
Join the Victorian ladies as they stroll along the seashore, watch children playing in the sand, collecting seashells and perhaps even indulging in a 'naughty' dip in the sea.
Kit embellishments for chapter two include beautiful journal and trade cards set at the seashore, vintage shell illustrations, seagulls and flowers.
Chapter Three – 'We all Scream for Ice Cream'
No trip to the seaside is complete without enjoying the delights of a locally made ice confection from the ice cream cart on a hot summer's day.
The elements of this theme include more gorgeous Victorian trade cards, vintage inspired ice cream signs, pretty bunting, watercolour ice cream cart and of course…. ice creams!
But That's not all….
Along with a coordinated paper pack in both A4 and letter size, there is an extensive collection of Victorian themed graphics, plus a printable journal project included in the Seaside Adventures kit.
Choose from the many elements provided in the kit to create seaside themed projects or use the prepared journal printable to make your own journal. Many of the journal pages could also be used to make handmade cards and tags.
Seaside Adventures Journal and eBook Tutorial
Every page of my 'Seaside Adventures' journal contains uniquely designed papers, pockets, embellishments and my own watercolour designs.
This journal is available as a 'Print & Make' project… meaning that all the hard work has been done and everything you require to make this journal is already set up in two PDF files; one for printing on paper and the other one containing embellishments is for printing on cardstock. You simply print and make!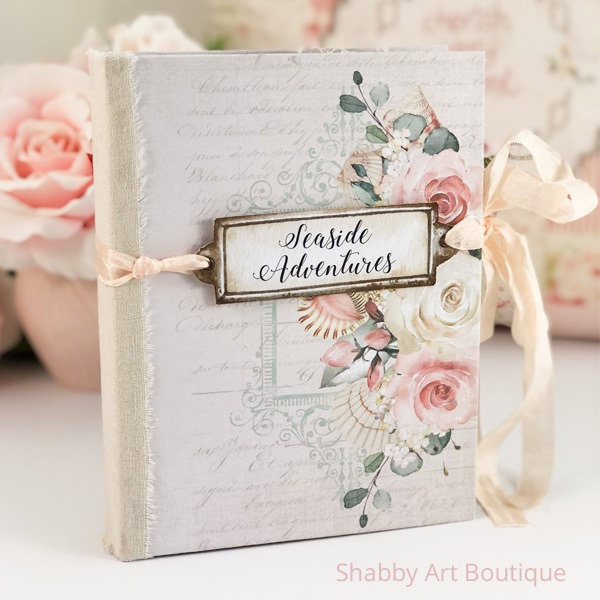 There's also a BONUS eighteen page eBook that will walk you through the process of creating this beautiful Victorian journal.
It has a step-by-step photographic tutorial and cover template.
I've also created a YouTube video flip through of the 'Seaside Adventures' journal so you can get a close up of all the artwork on the journal pages.

There are so many different options for using the June 'Seaside Adventures' kit, so over the next couple of weeks I hope to inspire you with other paper craft projects that I'll be sharing on my blog.
How to get this kit
For more information on how to subscribe to the Handmade Club and to read the member's reviews, please visit my Handmade Club page.
[Thank you for pinning this image]
Happy crafting my friends!
Hugs
♥
Kerryanne
I'd love for you to connect with me at:
Get instant access to the free printables in our Member's Only
library by joining my email newsletter subscriber's list.
I send out two newsletters a month with updates on all things
'shabbilicious' at Shabby Art Boutique.
I invite you to join our fabulous and friendly
Facebook group – Simply Shabbilicious
where you'll enjoy our friendly banter and inspirational creativity.