I'm lucky enough to live in a gorgeous part of the world that enjoys a year round temperate climate.
This means that most days are picnic worthy… and we love a good picnic!
As you would expect, we have quite a variety of family sized picnic baskets… but nothing that was small enough for a picnic for two.
On my thrifting adventures this week I found the elusive small picnic basket I've been coveting.
She was the perfect size… albeit a little battered and worn… she was the ONE.
There were some minor repairs required…
Before applying a single coat of Annie Sloan Chalk Paint® in Pure White.
Nothing too much… just a little shabby 'whiteness', which still allowed some of the actual rattan weave to show through for that shabby distressed look we all love.
I didn't even have to prime… chalk paint is that good. You literally just slap it on!
A thin layer of wax for protection and she was ready for stage two of her make-over.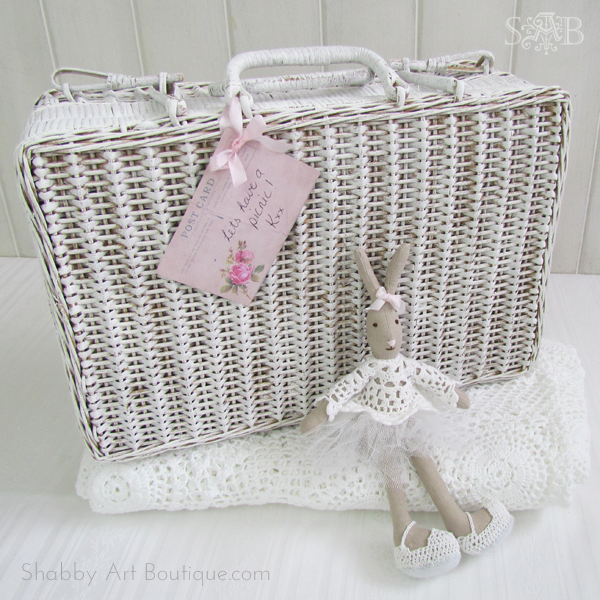 Next I dressed her up inside with a pretty fabric liner and pink gingham ribbon trim.
The make-over is complete and now my picnic basket for two is ready to hit the picnic circuit.
Her debut outing is an upcoming thrifting adventure with a dear friend…
And isn't she simply perfect for a little high tea soiree between venues!
This was such an easy project using Annie Sloan Chalk Paint®.
I've been singing the praises of chalk paint for quite a few years… and now it's even easier to get with Annie Sloan Chalk Paint® being distributed throughout Australia.
Annie Sloan Chalk Paint® is very easy to work with. It very rarely requires any preparation, such as sanding or priming, and can be used indoors or outside, on just about any surface… wood, concrete, metal, matt plastic, earthenware and much more. That's one of the things I love most about it.
It dries fast too so you can add second or third coats quickly and believe me, gorgeous results have never been so simple and straightforward to achieve.
How exciting is this…
An Annie Sloan Chalk PaintTM GIVEAWAY
The people at Annie Sloan heard how much I love their product, so they have very nicely offered some of their amazing product for a Giveaway here at Shabby Art Boutique.
The Prize:
One of my Australian readers will win Annie Sloan 2 x 1 litre Chalk PaintTM, wax and a brush.
RRP – $200
How to enter:
In the comments section on this post, please tell me…
What project would you like to use or try Annie Sloan Chalk Paint on?
Let's see how creative you can get!
The winner will be chosen based on their answer and notified by email. Please make sure there is a way to contact you. Anonymous entries will not be accepted.
This Giveaway is open to Australian residents only.
Competition ends Wednesday 24th July, 4 pm (AEST)
Terms and Conditions:
· The name of the promotion is: Annie Sloan Unfolded competition
· The promoter is Shabby Art Boutique in conjunction with Annie Sloan Unfolded
· The conditions of entry are outlined above. Please answer the question in your comment and only one entry per person.
· Employees, immediate family members, retailers, suppliers, associated companies and agencies are not eligible to enter.
· The giveaway will close on Thursday 24th July. Comments submitted after this time will not be considered for the giveaway.
· This is a game of skill. The winner will be awarded based on the strength of their answer to the question – "What project would you like to use or try Annie Sloan Chalk Paint on?"
· The prize will be in the form of product which will be sent to the winner once address details have been provided after the competition has closed.
· The results of the giveaway will be published on this site on Friday 25th July.
· Prizes are not redeemable for cash and are non-­‐transferable
· The total prize value is $200
· The competition is open to Australian residents only.
· If for any reason beyond the Promoter's control the agreed prize is not available, a product of equal or greater value will be provided.
· The Promoter is not responsible for prizes once they have been dispatched to the winner.
Good luck everyone. I can't wait to pick the winner!