Today I'm sharing a project I've made using some of the elements from the December kit for the Handmade Club.
It's a vintage shabby flip tag that I created to show members that it is okay to venture outside of the box when you receive these graphic kits.
In this months kit I supplied a vintage perpetual calendar in several sizes; A4, letter and 5" x 7" for journal making.
However, for this project I made the calendar pages even smaller…. 3.5" x 5" (9 cm x 13 cm), which was perfect for a tag. The individual PNG files are provided in the kit, making it easy to resize the graphics.
While the calendar pages were the basis of my flip tag book, I also added in various other tags using some of the elements from this kit, as well as a few from previous kits…. and bibs and bobs from my craft stash.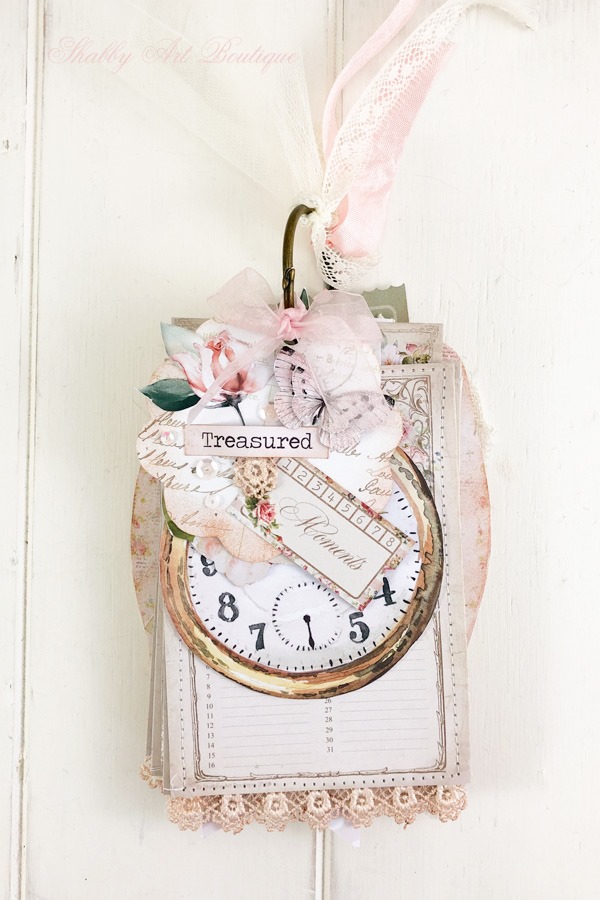 The final project is a layered book of tags secured with a binder clip.
Wouldn't this make a lovely gift for a special friend or family member…. or perhaps just for YOURSELF.
I placed the calendar pages back to back and used one of the tabs contained in the kit as the hanger, giving me six calendar tags.
Each one has a lace edge and has machine stitching around the perimeter.
To make the project more functional, I also included the notepaper page from the kit, so small notes could be added.
All of the kit elements I used in the making of this tag book have been resized to suit the project.
The bookmark is also from the kit, but the mauve rose is from my own craft supplies.
Hand dyed lace was added to many of the tags…. isn't this green lace simply gorgeous!
Some of the larger tags at the back of the tag book were cut in various shapes using paper from the kit.
They were printed double sided on 250 gram matt photo paper.
I added in pretty scraps of vintage cheesecloth, lace, sequins and graphic embellishments.
Some items were sewn together, while others were glued.
This was such a fun afternoon project… and one that I hope inspires you to think outside of the box.
The kits from the Handmade Club are yours to create and play with and I hope they bring you much enjoyment.
If you are perhaps new around here and would like to know more about the Handmade Club, I have a page that explains how it works – click here for the Handmade Club.
Of course you are also welcome to email me with any questions.
This flip tag book was created using the perpetual calendar from the current December kit, A Moment in Time.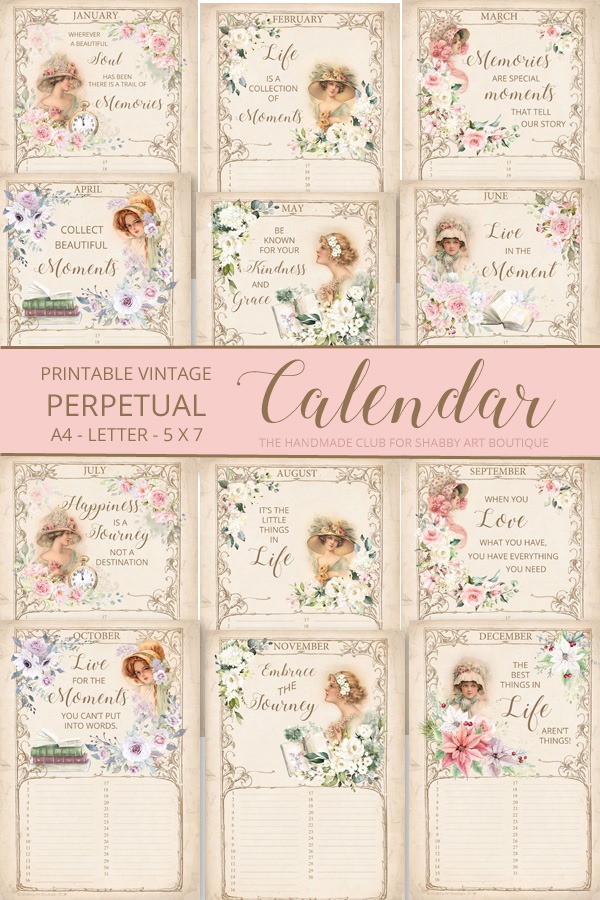 Until next time, happy crafting my friends!
Hugs
♥
Kerryanne
I'd love for you to connect with me at:
Get instant access to the free printables in our Member's Only
library by joining my email newsletter subscriber's list.
I send out two newsletters a month with updates on all things
'shabbilicious' at Shabby Art Boutique.
Follow on Bloglovin or join our Facebook group Simply Shabbilicious.