Have you ever been to a lavender field before the harvest…
When the long lines of blooms wave gently in the wind… and the delightful scent permeates the air?
Lavender fields encapsulate the essence of Provence and were the inspiration for my latest Handmade Club kit; French Vintage Farmhouse.
I used this kit to create a blooming lavender banner that would be perfect for spring.
Not only are all of the elements included in the kit, but I've also made a separate printable PDF file to make the lavender banner.
It's available to print in both A4 and letter size.
Of course you could assemble the banner any way you like, this is just how I decided to make mine.
I also added a few extra embellishments to my banner, like scraps of lace, ribbon, buttons, flowers and sequins.
My very favourite part of creating this project is relaxing with a coffee, cutting out all the elements and just playing around with it….. there's no right or wrong way to make it.
I aim to add many layers to each banner pennant and may change a grouping several times before I actually decide to glue it all together.
Some of the pennants are actually sewn together and others are glued with a clear craft or white glue.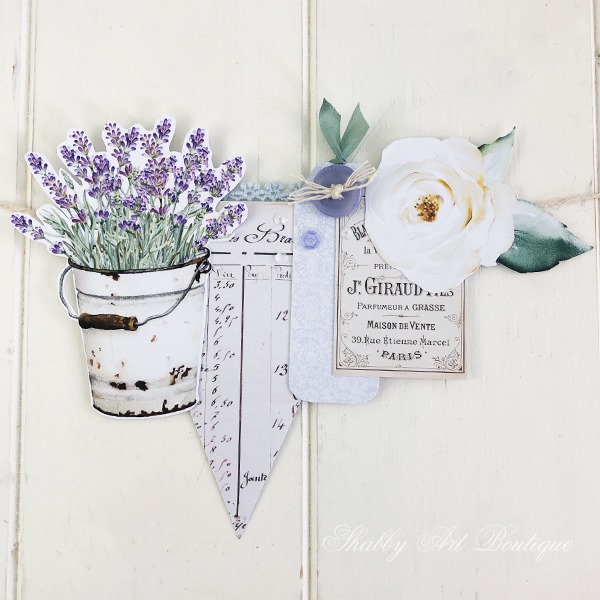 For this banner I used a length of cotton string to make it into a long garland, by gluing each banner pennant to the string. I also added in a few pegs for texture.
If you are already a member of the Handmade Club, this printable PDF file is included in the French Vintage Farmhouse kit this month.
Simply download and print it out on light card or as I did, on 250 gram matte photo paper.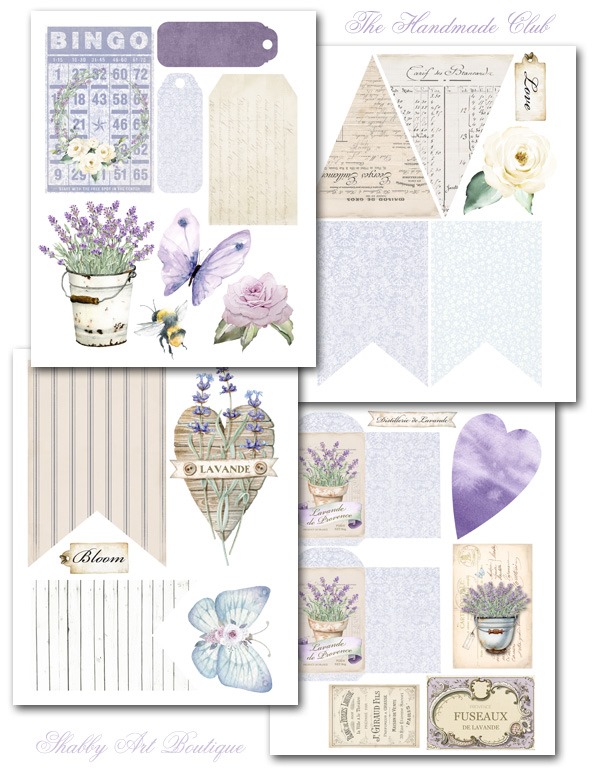 If you are not yet a member of the Handmade Club, you can read more information about how to subscribe to the monthly kits HERE.
The January kit, French Vintage Farmhouse
is available from 15th January until the 14th February, 2020.
I hope you found this project inspiring!
Happy crafting my friends!
Hugs
♥
Kerryanne
I'd love for you to connect with me at:
Get instant access to the free printables in our Member's Only
library by joining my email newsletter subscriber's list.
I send out two newsletters a month with updates on all things
'shabbilicious' at Shabby Art Boutique.
Follow on Bloglovin or join our Facebook group Simply Shabbilicious.