You know it's a good week when you see your postman's face peeking through the studio door not once, but twice!
Apparently, I get a lot of parcels…. we seem to chat weekly and have even set up a secret hiding place for those times I'm not home to answer the door.
But this week I was home and received several parcels; two of which were an absolute joy to receive!
This post contains affiliate links.
Do you notice anything new on the wall of my sewing corner?
There's a beautiful embroidery stitched and gifted to me by my very talented friend, Jenny of Elefantz.
Isn't it just gorgeous!! And Jenny knows me so well… she has used two of my favourite Tilda fabrics.
Thank you from the bottom of my heart Jenny for this beautiful embroidery and bird hanger. Handmade gifts truly are the best and I'm so happy to add this to my growing gallery of sewing art on my craft room wall.
If you'd like to see more of Jenny's beautiful stitchery patterns, make sure you visit her website.
The other lovely parcel was a package of pretty, out of print Lecian fabrics that I purchased from my favourite shabby fabric Etsy store, Sprint Promenade.
I have a few project planned for this fabric…. eventually, but for now I am enjoying just looking at it.
The Shabby Art Boutique craft room is an ever evolving room.
I've been moving things around to improve the work flow and have also changed out the vignettes on top of my IKEA Kallax units.
I love seeing and being inspired by my creative projects while working in the craft room and the top of the units are perfect for storing and displaying them…. what could be cuter than Maileg look-a-like rabbits and Tilda dolls.
All of my boxes are filled to capacity with supplies, but I am slowly working my way through them and getting them better organised.
Whenever I share photos of my creative space I receive lots of questions about how neat my room is. Yes, it really is this clean…. well, at least one day a week. I always start my week by restoring order, packing up and cleaning my craft room on Monday mornings.
Naturally, it does get quite messy while I'm working, but I personally find it hard to focus if working amidst chaos. I try to put things away at the completion of each project and do the big tidy up on Mondays.
I'll admit that sometimes when I'm paper crafting the whole floor can be covered in paper offcuts and there's not a spare inch of clean desk to be found!!
I now have some of my Christmas cuties hanging out in the art corner…..
While it may be too early for some, I'm already working on my ideas and projects for Christmas 2019. I like looking up and seeing my Tilda reindeers and Christmas Pixies.
Thinking about Christmas always gets my creative juices flowing. When do you start planning and working on your Christmas projects?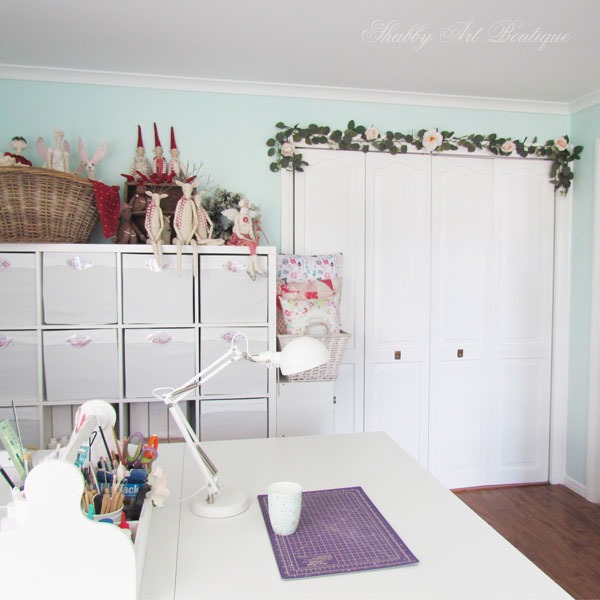 Although I enjoy using red during the Christmas period, my new designs for this Christmas are more focused on vintage neutrals and pastels…. but we'll see what happens!
Thanks for popping in for a visit in my craft room.
I'd love to see where you create.
If you belong to our Simply Shabbilicious Facebook group,
please feel welcome to pop in and share a photo of your creative space.
Happy crafting my friends!!
Hugs
♥
Kerryanne
I'd love for you to connect with me at:
Get instant access to the free printables in our Member's Only
library by joining my email newsletter subscriber's list.
I send out two newsletters a month with updates on all things
'shabbilicious' at Shabby Art Boutique.
Follow on Bloglovin or join our Facebook group Simply Shabbilicious.