It's no secret… I love a chalkboard wall.
Mine is in the kitchen, but I have several others in my home that are in frames.
Today I'm sharing 5 tips and techniques for creating a chalkboard wall… or any surface whether that be a door, fridge, or framed board.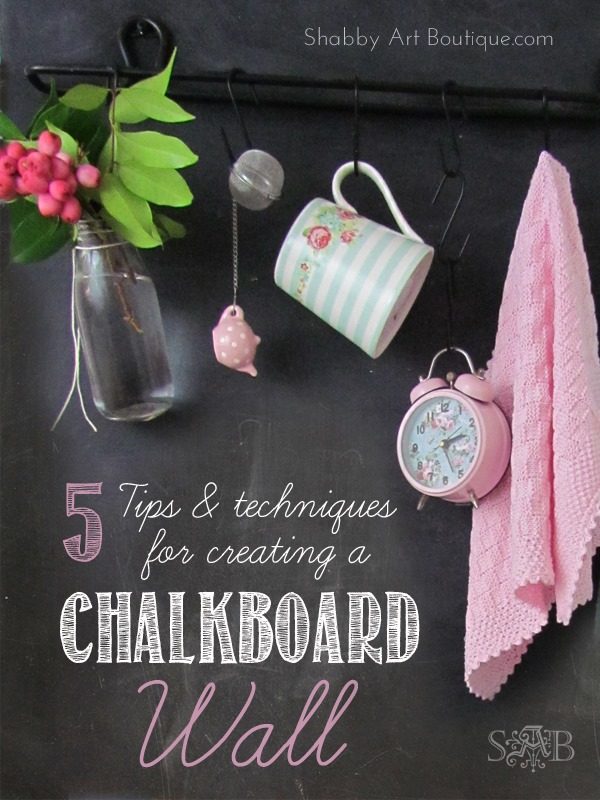 With the popularity of chalkboards in recent years, there has been an influx of chalkboard paint options.
I've tried many, but have gone back to my original chalkboard paint… the humble bottle of black Gesso. It never fails and with its origins dating back to Egyptian times, you know it is a winner.
No matter which paint brand you use, always carefully read the label to ensure you adhere to drying times and number of required coats. One tip I always give in regards to painting is to do light coats, but more of them. That way you'll achieve a professional finish without brush strokes.
You can't achieve a great look without great preparation, so make sure you sand your surface well before painting. Any lumps, bumps or dents left in the surface before painting will cause the chalk to catch when writing on your chalkboard surface.
It is important to season your chalkboard before writing on it with chalk.
Once your surface is completely dry, take a stick of chalk and rub it over the entire surface of your chalkboard, then erase. Now it is ready to use!
There are several chalk options available; chalk pencils, chalk markers and regular sticks of chalk.
Here's a simple tip – you can sharpen regular chalk using a pencil sharpener, so you have a pencil point to write or draw with!
Every so often I clean down my chalkboard with a damp sponge and re-season with chalk.
For general cleaning I have a chalkboard eraser, but when I'm creating a new chalkboard art I like to use cotton buds and baby wipes to remove or correct my design.
If you are not keen to paint a whole wall or door with chalkboard paint, maybe you'd prefer something a little smaller… like a free 8" x 10" chalkboard printable to frame.
This free chalkboard printable can be downloaded HERE.
If you decide to give a chalkboard wall a go, I'd love to hear about it.
Happy crafting,
Hugs
♥
Kerryanne
I'd love for you to connect with me at:
Follow on Bloglovin
or if you'd like my posts delivered directly to your Inbox
Subscribe to Shabby Art Boutique by Email
If you'd like a private pass to all things 'shabbilicious, sign up today for my fortnightly newsletter.
It contains personal stories, sneak peeks, recommendations, discounts and freebies.