Hello creative friends,
Can I just say that I'm tickled pink with how well A Cottage Life kit has been embraced… ♥
You know, it's always kinda scary when you dare to do something a bit different. I wasn't sure that everyone would love runner ducks with fabric bodies or crazy patchwork chooks…. and the piglet, well, just between you and I, he nearly didn't make the kit, but turns out many of you thought he was pretty cute!
When I was painting the designs for this kit, I ventured back to my childhood.
Those carefree fun days running bare foot through the paddocks, hoping not to step in a fresh cow pat… collecting the eggs, chasing chooks back to their pen in the late afternoon… and the smells and sounds of country life.
I wanted A Cottage Life to feel and look like my memories of a hot summer's afternoon in the country and seeing the amazing projects that you've all been creating with this kit just warms my heart.
Design Team Inspiration
Today I am sharing MORE fabulous inspiration from the Handmade Club Design Team.
Isabelle ~ Les Ateliers d'IB
Isabelle created this sweet book page roll to display all of the May kit pretties.
Isn't this such a lovely way to feature the beautiful Helen Jackson altered postcards.
Click video above to visit and subscribe to Isabelle's YouTube channel.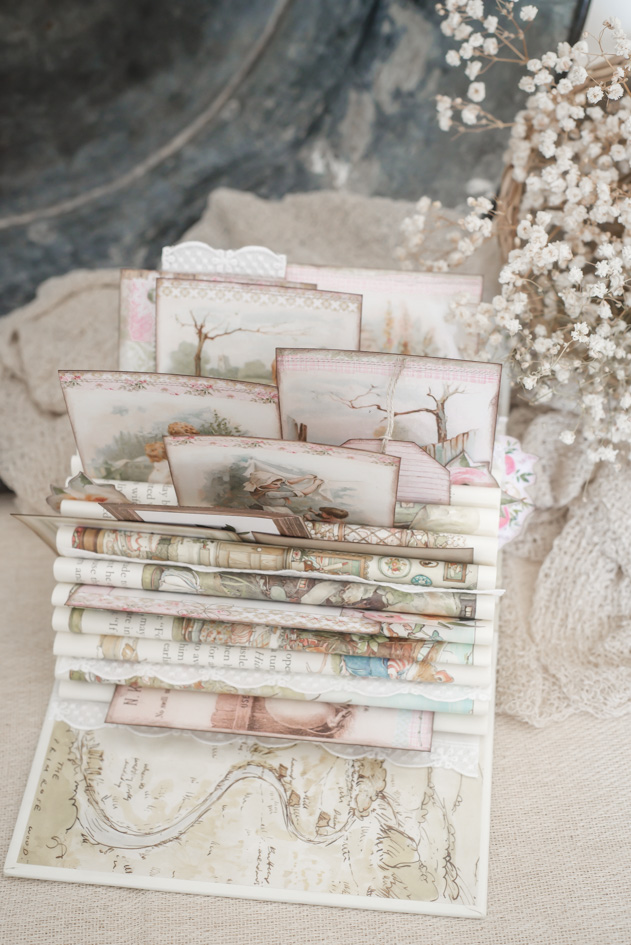 These books are so quick and easy to make and really are a fabulous away to share paper craft embellishments.
Jennifer ~ Crafting Sweetness
Jennifer's second project this month using the May kit is this gorgeous farmhouse notebook featuring the whimsical animals.
Combined with the patchwork papers and fresh summery colours, it'll make a very pretty addition to her handbag this season.
Pop over to Jennifer's Instagram to see all of the fabulous notebook pages.
Genevieve – Bella Stitchery
Genevieve provides our scrapbook layout inspiration every month and for May she has shown us 3 different ways to use the pretty altered Helen Jackson postcards… from cheery pinks to moody greys. They are all beautiful.
For more scrapbook inspiration, visit Genevieve on Instagram at Bella Stitchery.
Thank you to these wonderful ladies for sharing their creativity with us again this month.
I hope you are inspired ♥
If you'd like to see what's included in the Handmade Club kit for May 2021, please click HERE.
Happy crafting my friends!
Hugs
♥
Kerryanne
Let's be friends on….
Get instant access to the free printables in my Newsletter Printables
Library by joining my email newsletter subscriber's list.
I send out a weekly newsletters with updates on all things
'shabbilicious' at Shabby Art Boutique.
I invite you to join our fabulous and friendly
Facebook group – Simply Shabbilicious
where you'll enjoy our friendly banter and inspirational creativity.