When I sat down to start designing the April kit for the Handmade Club, our challenging times were foremost in my thoughts.
Given that the majority of us are staying safe and isolating at home right now, there's more time for crafting… but for many the buying of craft supplies is more difficult, and in some cases not affordable, so I decided to create a kit that would serve you better.
April's kit, The Vintage Dressmaker, is a collection filled with useful craft storage items, so you can make use of what you already have, while organising your craft supplies.
The Vintage Dressmaker kit oozes femininity and elegance.
It has a neutral and pastel colour palette with an added pop of rich burgundy, which can be found in the beautiful flowers painted by renowned painter and botanist Pierre-Joseph Redouté (1759 –1840).

Printable embroidery floss keeper and spools.
What's in the April kit:
• Vintage style button cards.
• Lace and ribbon boards in 3 sizes from small to large.
• Crafting labels.
• Embroidery cotton spools.
• Embroidery cotton/floss keepers.
• Floral tape measures and paper buttons.
• Stationery and ephemera.
• Tags, journal and trade cards, and pre made words.
• A collection of graphic embellishments.
• A set of full page papers (in both A4 and Letter size) to use in crafting, traveller notebooks and journal making.
• Two eBook tutorials.
• Two printable projects for making a needle pouch and a spool holder.
There's a printable needle pouch project with full step-by-step instructions.
And a printable with instructions for these sweet lace boards
and storage box with metal feet.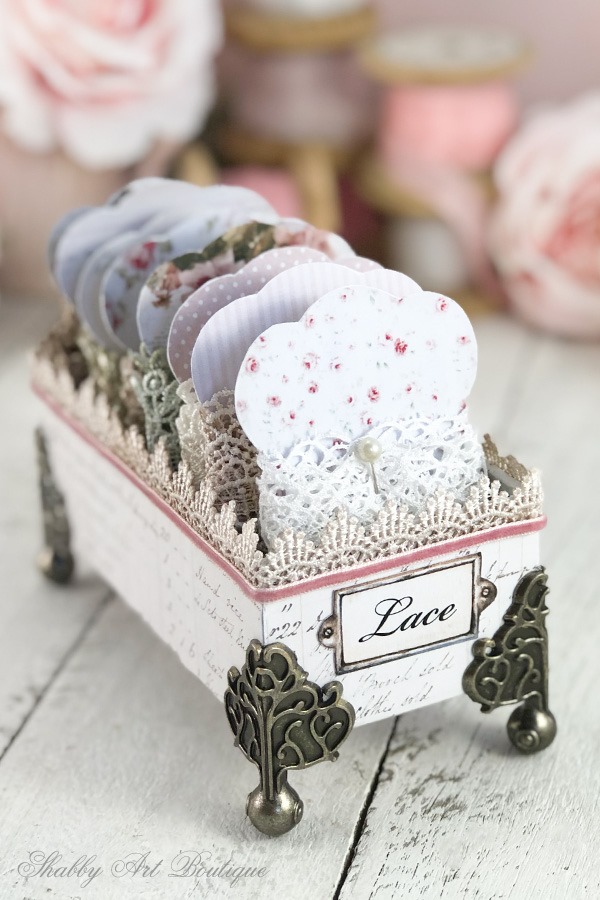 Plus large printable buttons for use in journals and paper crafting projects.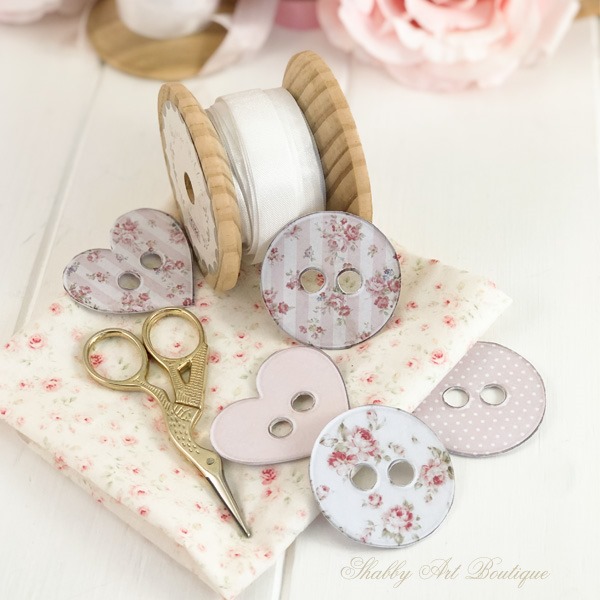 And many more graphic embellishments and papers.
There's definitely a lot on offer this month and the dismal Australian dollar is making it a bargain price for international buyers right now.
For more information on The Vintage Dressmaker kit, please visit my Handmade Club page.
We might be social distancing right now, but luckily we can still connect with others online.
I know I've taken great pleasure from the positive crafting community we have in my Facebook group, Simply Shabbilicious. If you've not joined yet, please do and I promise we'll lift your spirits with our inspiring shares and crafty chatter.
Happy crafting my friends!
Hugs
♥
Kerryanne
I'd love for you to connect with me at:
Get instant access to the free printables in our Member's Only
library by joining my email newsletter subscriber's list.
I send out two newsletters a month with updates on all things
'shabbilicious' at Shabby Art Boutique.