Ten years ago I started a blog post here on Shabby Art Boutique that read…..
Once upon a time, out in the blogosphere, there was a vintage girl living in a modern day world. She dreamed of an old-fashioned Christmas, simply filled with homemade and home-baked. She knew that a stress free and enjoyable Christmas would require planning and preparation, so she devised a 12 week plan. She called it… 'Simply Christmas'.
Who knew then that ten years later I'd still be presenting an annual event that evoked the simple joys of an old-fashioned Christmas.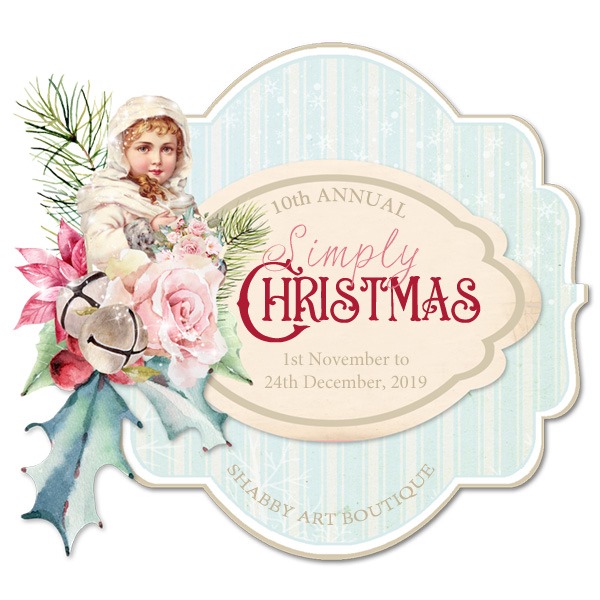 Thank you for joining me in 2019 for the…
10th Annual Simply Christmas!
While the event may have changed a little over the last decade, it still encapsulates my original vision of 'putting the homemade and home baked back into Christmas'.
For the next 8 weeks until Christmas Eve, I will be sharing lots of free crafting projects, printables, recipes, Christmas decorating and gift ideas.
Christmas Planner
Traditionally, I kick off this event every year with a free printable Christmas Planner.
And this year I've created this A5 (5" x 7") sized Christmas planner using a gorgeous set of vintage Christmas postcards from 1914.
Home to lists and recipes, calendars and gift ideas, this simple tool is your reference for all things Christmas and will keep you on track for a stress free 'silly season'.
These sweet war time postcards depicting children enjoying the season were the perfect addition for my planner pages.
Included in the 2019 Christmas Planner are: calendar pages; diary pages; lists for cards, emails, gifts, shopping, menu plans, groceries and notes.
How you use your printable Christmas planner is up to you.
Options include:
Make a simple planner for use on a clipboard

Make a paper planner booklet for your handbag

Get creative and make a hard cover Christmas planner journal.
Download the 2019 Christmas Planner here:
Download Letter size HERE – Download A4 size HERE.
I've also included 6 of the full sized vintage postcards for you to download and use in your crafting or Christmas planner.
Click HERE to download for letter size – Click HERE to download for A4 size.
PIN this image for later.

If you came here for the shabby 2019 Christmas Planner,
it is available as a bonus printable in my
October Handmade Club HERE.
Happy Christmas crafting my friends,
Hugs
♥
Kerryanne
I'd love for you to connect with me at:
Get instant access to the free printables in our Member's Only
library by joining my email newsletter subscriber's list.
I send out two newsletters a month with updates on all things
'shabbilicious' at Shabby Art Boutique.
Follow on Bloglovin or join our Facebook group Simply Shabbilicious.