Welcome to my weekly series, Shabbilicious Sunday.
Please grab a comfy seat, something to drink and sit back, relax and join me as we visit the home of another of our shabbilicious friends.
Today's Shabbilicious Sunday takes us all the way to Las Vegas in the US, where we are popping in to visit Meegan from What Meegan Makes.
Meegan, a mother of 7 and grandmother of 24, lives with her husband in a condo that she has lovingly decorated in her own beautiful style that she describes as… cottage style with a vintage flair.
How to make a rustic ladder chandelier.
Meegan's home is infused throughout with her vintage finds, thrifted furniture make-overs, DIY and handmade items.
Vintage pieces like these salt and pepper shakers make great bud vases.
…And what about a vintage shoe turned into a planter!
Meegan has called Nevada home for 15 years, but lived most of her life by the ocean. Her love of the coast has been seamlessly woven into her décor with shells, sea glass and pops of her favourite colour, blue.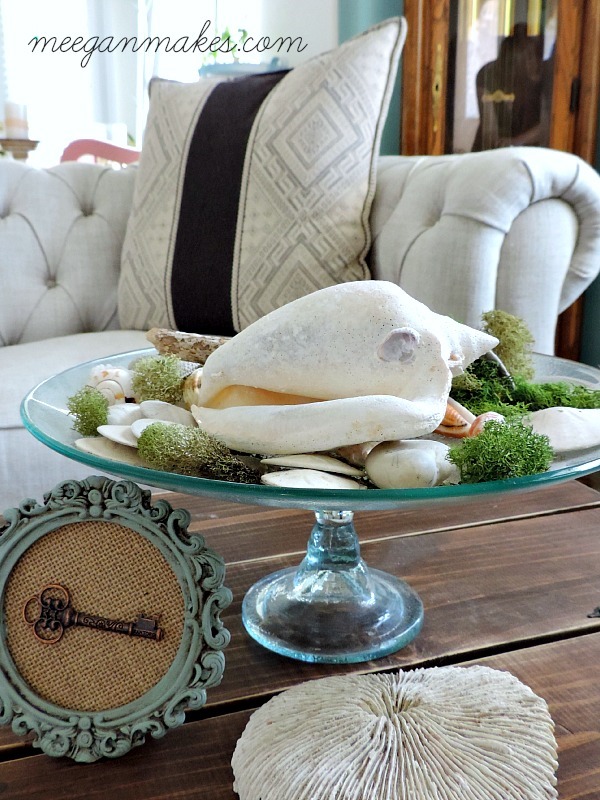 Meegan says "I love the ocean…. the white foaming waves, the sound of waves crashing, the feel of the water, searching for shells, the birds, and the smell of the crisp, salt air".
Find out how to make Meegan's sea glass tray here.
Meegan has transformed all of her vintage furniture pieces herself and they can be seen dotted around her lovely home.
This piece belonged to Meegan's grandparents.
Asked what her favourite piece of furniture is right now and she replied "my new sofa that my husband surprised me with for Mother's Day".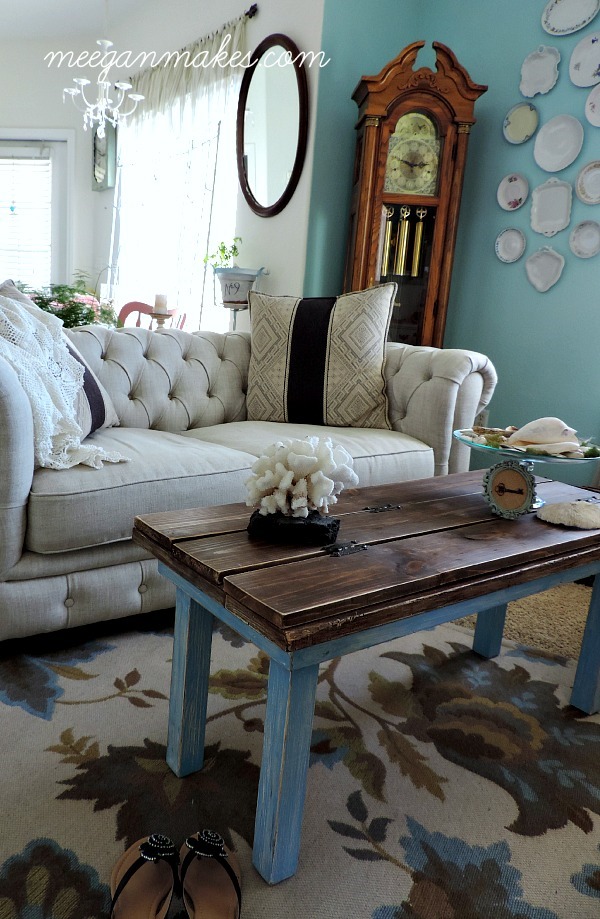 Find out how Meegan made the easy plate gallery wall here.
When it comes to decorating advise, Meegan says it is okay if you don't like what you try the first or second time. Rearrange furniture, accessories, and change curtains as many times as you want. When you get the feel that you want for your home, you will know it. It will make you calm and peaceful.
Thank you for allowing us to take a wander around your lovely home Meegan.
Meegan's blog, What Meegan Makes is filled with lots of decorating advise, ideas and tips, DIY and crafting projects and recipes.
You can also join Meegan at… Pinterest Facebook Hometalk Google + Stumble Upon Bloglovin' twitter Instagram
As Meegan has shown, it is easy to add a hint of coastal charm to your home with a few simple additions. For your convenience, I have added this 'Get the Look' section with affiliate links and hope that it inspires you.
Meegan's cohesive look was achieved by sticking to a limited colour palette and adding in small coastal elements like shells, sea glass and blue decorative pieces.
1. Sea glass 2. Blue jar 3. Sea shells 4. Coastal Baskets
5. Burlap Beach Pillow 6. Demijohns 7. Blue Lantern
If you enjoyed today's tour, please check out last weeks Shabbilicious Sunday with guest Vibeke of Vibeke Design.
Happy Sunday my friends,
Hugs ~ Kerryanne
I'd love for you to connect with me at:
Follow on Bloglovin
or if you'd like my posts delivered directly to your Inbox
Subscribe to Shabby Art Boutique by Email
If you'd like a private pass to all things 'shabbilicious, sign up today for my fortnightly newsletter. It contains personal stories, sneak peeks, recommendations, discounts and freebies.
Plus, you will also get a free copy of my eBook, 5 Tips for creating a Shabbilicious Home.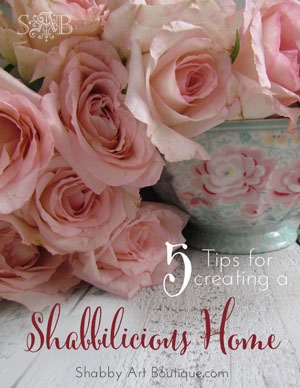 Sign up for my newsletter HERE and don't forget to confirm the sign up email.