I still remember the very first time I flicked through a 'Tilda' book.
It was Sew Pretty Homestyle, which I think may have been Tone Finnangers first Tilda book.
One of my students, a gorgeous English lass that was new to the class, brought the Tilda book to art class with her one night.
Instead of painting, we girls sat perched around that book 'oooing' and 'ahhing' at the pure delight of the new to us, Tilda designs.
I'm pretty sure most of us ordered that book from Book Depository that very week, and so began a love affair with all things Tilda and also ordering online with Book Depository. That was almost a decade ago.
That sweet English lass was Vikki from Sew Useful Designs and she too became adored by all in the class and introduced us Aussie girls to many a new thing from OS.
I'm not exaggerating when I tell you I've made just about all 35 projects in that book…. some several times over.
It's still my favourite Tilda book and I think that is not just because of the fabulous projects, but also the memories associated with a group of girls excitedly comparing notes, finished projects and a fondness for Tone Finnanger's designs.
In Sew Pretty Homestyle, Tone Finnanger has provided project designs for each room in the house, plus lovely figures like angels, stumpy legged dogs, cute cats, happy horses and good natured teddy bears.
I love the soft muted colour palette, pretty embroidered embellishments and the overall homely look of the designs.
It was this book that taught me how to speak and interpret Tilda… if you've ever used a Tilda pattern you'll know what I mean [wink].
Nordic languages don't translate well into English, so the first few Tilda books were a little… hmm, shall we say difficult to decipher the instructions. The full size pattern templates are brilliant, as are the how to diagrams, so if you can sew a little you'll make it through okay. I wouldn't let it put you off buying this beautiful project book.
This was a project I made from the Sew Pretty Homestyle book (2011), but I added a pink tutu and the 'cat' embroidered letters. I love that these designs are basic and easily adapted to your own style.
This book was produced before Tone Finnanger had her fabric collections, so the fabrics used are examples only. That makes this a perfect book for crafters in countries where her products are not sold.
If you've already fallen in love with Tilda, then make your house a home with this irresistible collection of simple hand-sewn accessories.
Without hesitation, I heartily recommend this, my favourite Tilda book.
Tilda – Sew Pretty Homestyle
For your convenience I've supplied my affiliate link for purchasing it either at Amazon or Book Depository.
Hugs ~ Kerryanne
I'd love for you to connect with me at:
Follow on Bloglovin
or if you'd like my posts delivered directly to your Inbox
Subscribe to Shabby Art Boutique by Email
If you'd like a private pass to all things 'shabbilicious, sign up today for my fortnightly newsletter. It contains personal stories, sneak peeks, recommendations, discounts and freebies.
Plus, you will also get a free copy of my eBook, 5 Tips for creating a Shabbilicious Home.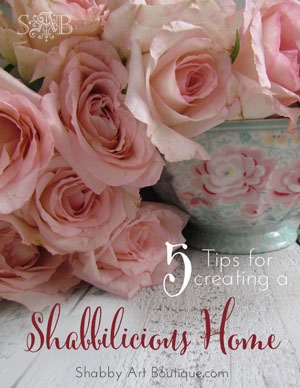 Sign up for my newsletter HERE and don't forget to confirm the sign up email.