Can you relate?
Mind you, I'm not complaining. I love, love, love a book that completely engrosses you… absorbs you into its pages, so that you really DO have to keep turning the pages.
Even when hubby patiently says "righto, light off' and I reply 'nearly to the end of the chapter'… but that chapter goes on for another couple of hours.
Or…. I open my book in the airport lounge hoping to fill in some time before my flight boards and within minutes all the noise of travellers rushing past, children crying and loud speaker announcements just ceases to exist.
When I've entered a whole different world where it is possible to block out all the external noise around me… that my friends, is a good book!
[affiliate links contained in this post]
Last month I was incredibly busy and even though I had a book picked to share for Book of the Month, I didn't manage to squeeze it in, so I've got two books to share this month.
Now to be completely honest, I haven't quite finished this first book, but it is actually two books in one and a hefty 600+ pages.
Jenny Colgan is a new to me author, but she has written numerous best selling novels and won many awards and I can see why. She has a fresh and easy banter style about her writing, which feels a little like I'm sitting having a coffee with a friend, as she tells me the story of her life.
The two books contained in this compilation are Little Beach Street Bakery and Summer at Little Beach Street Bakery.
The story follows the life of Polly Waterford as she starts over after a relationship ends. She's lost everything as a bankrupt and has to move miles away from everyone, to a sleepy little seaside resort in Cornwall, where she lives alone above an abandoned shop. And so Polly takes out her frustrations on her favourite hobby: making bread. With reserves of determination and creativity Polly never knew she had, she bakes and bakes and bakes… and people start to hear about it.
And so the story continues with fun characters she meets, the bakery, a new love interest (of course) and summer just around the corner. I love this character, Polly… I want to be her friend and give her a hug and say 'good on you girlfriend'.
If you are looking for a great summer read, I heartily recommend this book. I know I'll be seeking more books by Jenny Colgan for sure.
You can check out Jenny Colgan books on:
Amazon – Little Beach Street Bakery: A Novel
Book Depository – Jenny Colgan books
With summer officially started in the northern hemisphere, I thought I'd review another one of Tone Finnanger's Tilda books, Tilda's Seaside Ideas.
In Tilda's Seaside Ideas you'll find projects for spring and summer décor.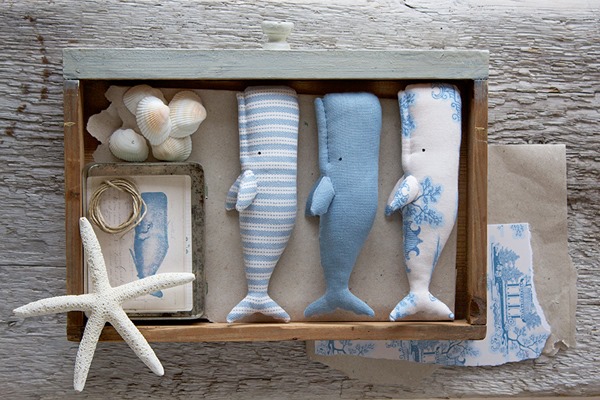 The main theme is maritime, with playful fabric whales, jellyfish, sea urchins and a doll with rubber boots and a sailing jacket.
There is also a chapter about life at the beach, with jewelry, scarves and ice lollies (ice creams).
I adore these dolls with knitted cardigans, although I do have to add, the knitting instructions are a tad hard to understand, but I think anyone who can knit will be able to work it out (or wing it).
The fabrics featured in this book have now been retired, but as each Tilda collection is retired, a new one replaces it. There are always lots of gorgeous fabrics to choose from, so please don't ever let that put you off buying a lovely Tilda project book.
I've made many of the nautical themed projects from this book and loved every one of them.
This and many other Tone Finnanger's Tilda books are available from:
Book Depository – Tone Finnanger
Amazon – Tilda's Seaside Ideas
If you have any questions about either of the books I've reviewed here, please feel free to ask in the comments.
Drink tea – read books – be happy.
Hugs – Kerryanne
I'd love for you to connect with me at:
Follow on Bloglovin
or if you'd like my posts delivered directly to your Inbox
Subscribe to Shabby Art Boutique by Email
If you'd like a private pass to all things 'shabbilicious, sign up today for my fortnightly newsletter. it contains personal stories, sneak peeks, recommendations, discounts and freebies.
Sign up for my newsletter HERE and don't forget to confirm the sign up email.