Hello shabbilicious friends…
Come on in….. I'm working in the craft room this week.
It's been super hot here, so I'm staying cool under the air con.
It's not often that I get to dedicate a big slab of time to just being creative…
and believe me, it feels good for the soul.
While I've worked on several smaller projects, I've had this bigger one on the go for several days.
I really enjoy one-of-a-kind pieces like this.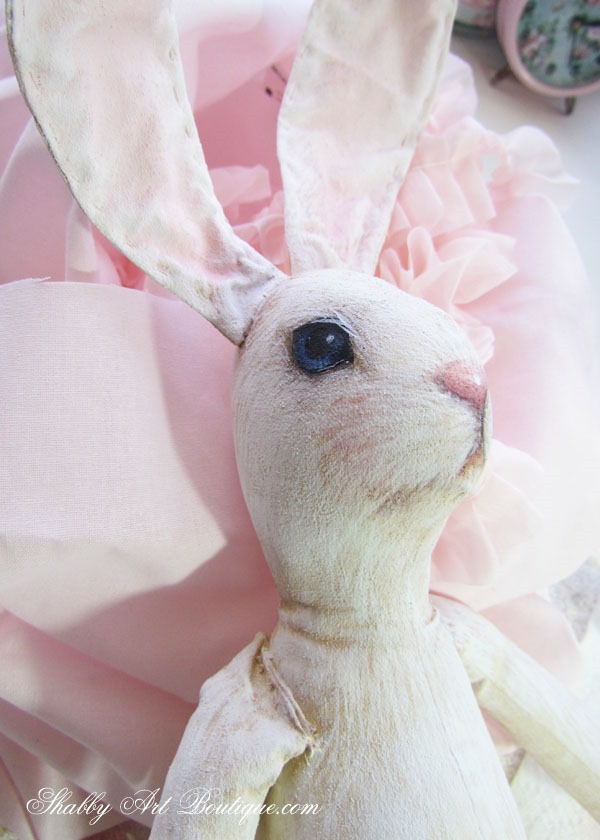 I think most people would be surprised at just how many hours it takes to paint fur on fabric… but I actually found it very therapeutic.
Next on the list was tailoring a pretty pink linen twin set and a floral crown.
Let me introduce you to… Petal.
She's the largest painted bunny I've ever made and I'm quite fond of her,
but she'll be leaving soon to live with someone else… will it be you?
Tomorrow I'll be sharing the details of the giveaway!
Happy crafting ~ Kerryanne
I'd love for you to connect with me at:
Follow on Bloglovin
or if you'd like my posts delivered directly to your Inbox