Hello my friends,
Welcome to day 2 of having a little look around my creative space.
Yesterday I shared my patchwork papered doors and my Tilda storage area.
I've been quite spoilt over the past 22 years to have had two large studio spaces, so last year when we moved to the resort and I had to make do with a spare bedroom to craft in, I wondered how I would do it…
But it turned out okay and I'm quite comfortable now in what has become my little romantic look, shabby craft room.
I've managed to amass quite a large collection of crafting and art supplies over a 30 year career in this industry, but I don't use all of the things, all of the time.
The first thing I did was sort, box and label everything into two groups; my infrequently used supplies are now in our storage unit and the things I use all the time are here in my craft room.
As you can see, on this wall I have 3 shelf units that house my paper craft collection, sewing machines and sewing supplies and haberdashery.
My fabric stash is in the double cupboard I shared yesterday with the patchwork doors.
Living opposite the beach is problematic in that the sea air rusts all metal, so it is important to keep my tools boxed and stored correctly.
On the plus side, having everything in labeled boxes appeals to my neat freak tendencies! [giggle]
I like having the muslin curtains on all my shelving units too, as it adds a lovely soft and romantic feel to the room.
The top of the shelving units was utilized for more storage space for my vast button collection and my scrapbooking embellishments.
I used more of the lovely papers from the Tilda Country Escape paper pad to make this 25 drawer storage unit.
It holds all my scrapbooking embellishments… like paper flowers, brads, eyelets, pearls and rhinestones etc. I suspect you all know by now that I like to organize and sort things, so it's the perfect solution for sorting all my bits and pieces into their own little drawer.
When I'm paper crafting, I lift it down and keep it on my desk.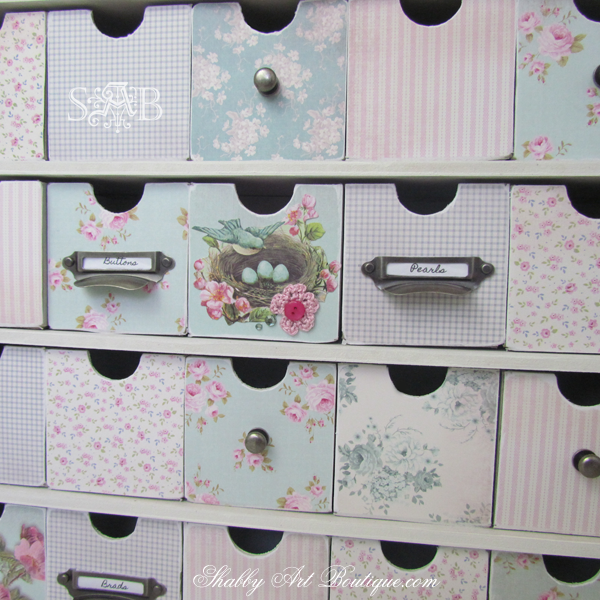 I'll be back tomorrow to show you the other side of my creative space, where I like to work.
Added: Craft Room Tour day 1 & Craft Room Tour day 3.
Until then,
Shabbilicious hugs ~ Kerryanne