Hi creative friends,
For most of my adult life I have given my mum handmade gifts for Mother's Day.
It started when I was a teen and crafting and art were my thing…
And to be honest, most likely born out of lack of funds at the time.
A few years on and it had become a tradition and one that my mum not only preferred, but had come to expected.
Forty odd years later…. and handmade is still my go-to for very special people in my life.
I feel it's the ultimate heartfelt and personal gift.
12 Handmade Gift Tutorials for Crafters
With many countries around the world celebrating Mother's Day on May 9th, I've put together 12 of my handmade tutorials to make gifts for mothers (or friends) who craft or sew.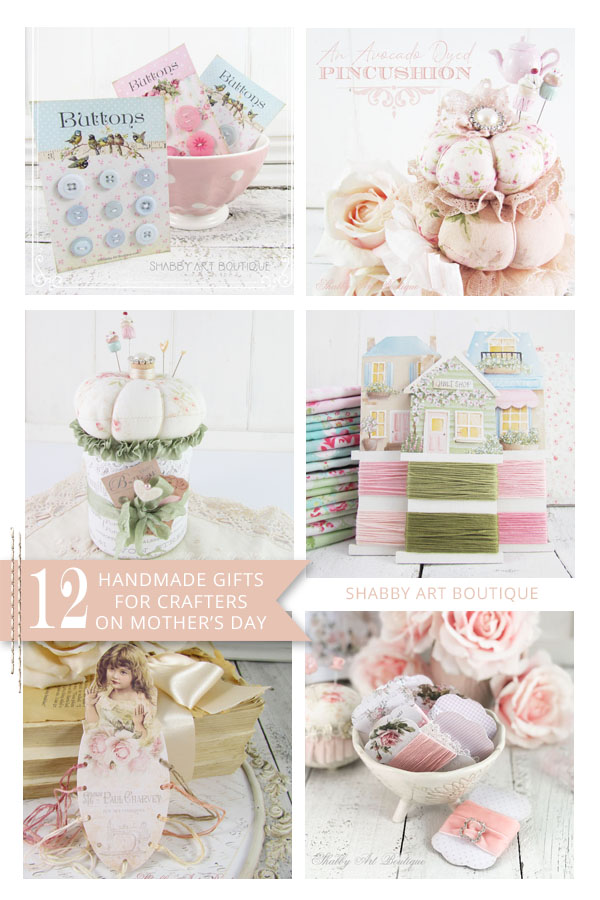 #1 – Printable lace & ribbon boards
These pretty, shabby printable boards are such a quick and easy project.
Add some pretty laces, ribbon or trims and you'll have a gorgeous shabby gift – click here for printable.
#2 – Avocado Dyed Pincushion
This tutorial shows you how to dye fabric with avocado first…. to use to make this sweet 3 tier pincushion.
Find out how I made the decorative pin toppers HERE.
#3 – Vintage Embroidery Floss Organisers
Sewers are always looking for new ways to store their embroidery floss, so a few years ago I designed 3 vintage ladies to use for embroidery projects.
This is a printable that can be adhered to balsa or heavy card and then cut out.
Click here –> to see the tutorial and download the printable.
#4 – Button Cards
These shabby chic button cards are perfect for featuring specialty buttons, for use on handmade cards or to decorate your creative space.
Or maybe pop a few into a card for mum on Mother's Day!
You'll also find this vintage button card printable (below) in the newsletter subscribers free printable library.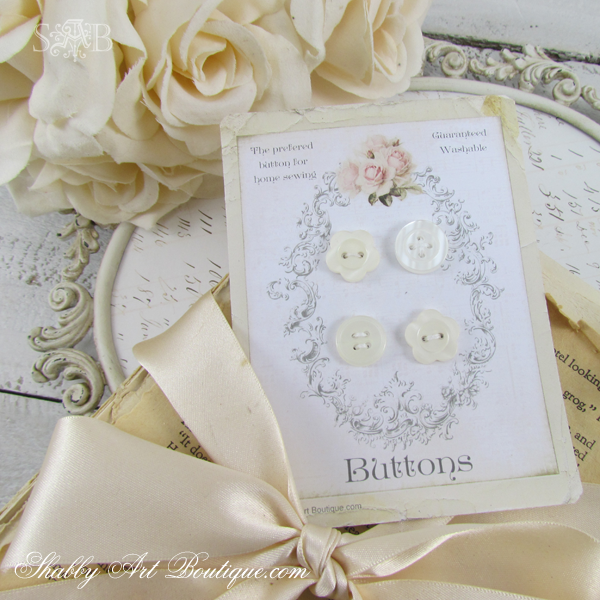 #5 – Simple Pincushion
This sweet little pin cushion started out as a tin can recycle.
It was super easy to make…. but oh so cute!
#6 – Crafty Printables
This crafty shabby tag and the 10″ x 8″ 'Happiness is Homemade' printables are free to download HERE.
Pop the 10″ x 8″ print into a frame for a quick gift idea… or tie the shabby scissor tag to a gift for craft lovers.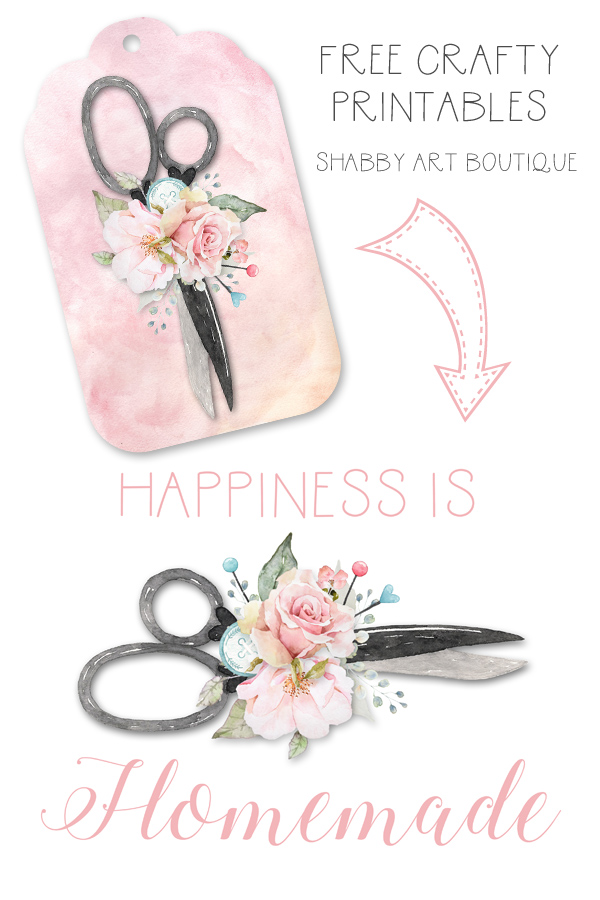 #7 – Pretty Pincushion
This pretty little pincushion was made from a small paper mache round box and scraps of fabric and trim.
It might be small, but it is super practical and cute… and quick and easy to make!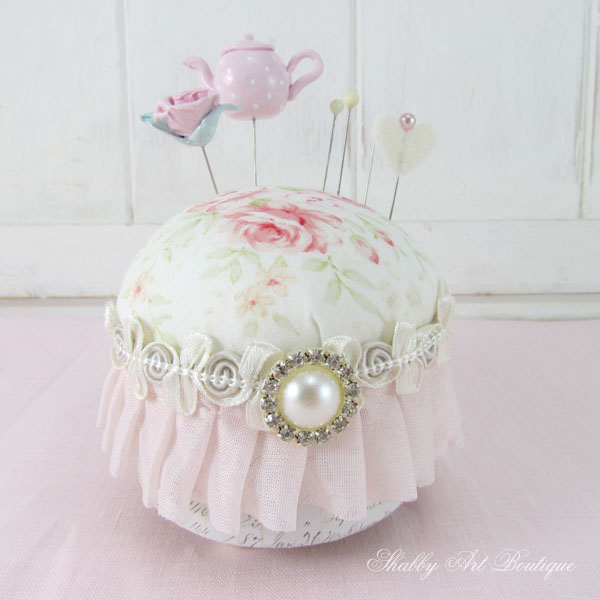 #8 – Large Lace Boards
As any crafter and sewer knows, the best way to organise your laces and keep them tangle free is to store them on boards.
The free printable and tutorial for the lace boards can be found HERE.
#9 – Vintage Needle Book
This project is from quite a few years ago, but I still use this needle book today and it holds every possible type of needle.
See the full tutorial and fabric printable HERE.
#10 – Hand Painted Embroidery Floss Bobbins
If you like to dabble with paint, these hand painted house and shop embroidery floss bobbins might be the perfect project for you.
Simply adapt the pattern to suit your skill level…. that's the wonderful thing about this design, it looks just as cute in a more naïve painting style.
#11 – Faux Patchwork Needle Keeper
This hanging needle keeper is the perfect size to hang in a crafting nook or craft room and it is super quick and easy to make.
You don't even need to know how to create patchwork because this projects shows you how to make faux patchwork!
#12 – Magnetic Pin Bowl
Perhaps the quickest ever project… at about 30 seconds, but truly a very useful sewing or craft room addition.
I used a sweet vintage bowl to make my magnetic pin bowl.
I hope you have been inspired by one or more of these handmade gift ideas for Mother's Day.
Don't forget, you can always visit my Tutorials page (tab at top of the web page) for more than 350+ free tutorials and printables at any time.
Happy crafting my friends!
Hugs
♥
Kerryanne
Let's be friends on….
Get instant access to the free printables in my Newsletter Printables
Library by joining my email newsletter subscriber's list.
I send out a weekly newsletters with updates on all things
'shabbilicious' at Shabby Art Boutique.
I invite you to join our fabulous and friendly
Facebook group – Simply Shabbilicious
where you'll enjoy our friendly banter and inspirational creativity.