Hello shabbilicious friends,
Can you believe we are just one week out from Christmas.
I still had so many projects I wanted to share with you… but I'm just about out of days!
So, today is a mixed bag of free printables and other offerings. First up, I have two more printable sheets to add to your Christmas planner; the Christmas Day Menu and a Groceries List.
You can download the planner pages HERE.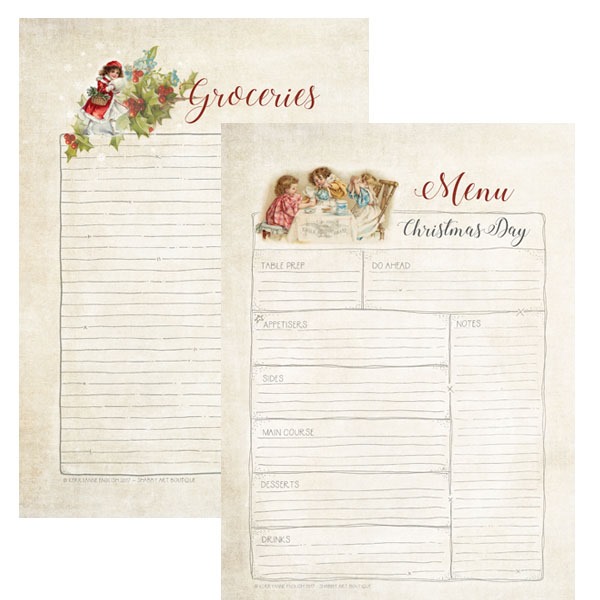 Recipe Cards & Tags
Next up, I designed these printable vintage recipe cards and matching tags for use with those last minute Christmas cookie and food gifts.
The recipe card has a back and front, so you can score the card in the centre and fold in half.
Download the Vintage Recipe Cards HERE.
Download the Vintage Baked Tags HERE.
Christmas Pyramid Boxes
Thank you to all my sweet readers who have emailed to let me know I had a broken link on these little pyramid boxes. It is now fixed, so you can download the printable template for the pyramid box and the printable Christmas paper HERE.
Giveaway Winner
A few weeks ago I shared my Winter Skating Angel that I made from the Tilda's Winter Delights book and I also had a giveaway for a Tilda package containing a copy of the book, a set of Angel wings and Tilda fabric.
I'm excited to announce that the winner of that giveaway was Shirley Flavell of New Zealand and her package is already making it's way across the pond to her!!
I'll be back tomorrow with another fun gift for you all!!
Hugs
♥
Kerryanne
I'd love for you to connect with me at:
Follow on Bloglovin
or if you'd like my posts delivered directly to your Inbox
Subscribe to Shabby Art Boutique by Email
If you'd like a private pass to all things 'shabbilicious, sign up today for my fortnightly newsletter.
It contains personal stories, sneak peeks, recommendations, discounts and freebies.