Hi creative friends,
It's been quite a week of inspiration here at Shabby Art Boutique with three Design Team projects using the new Vintage Love kit.
Today I'm thrilled to share with you two more gorgeous projects from Charmain and Jennifer.
Charmaine ~ Two Shabby Shoes
Charmaine created the sweetest little box stand to hold her handmade envelopes and tags she made from the Vintage Love kit.
There's so many gorgeous layers and extras that make this box extra cute, so click on the YouTube video below to see how Charmaine created the box.
Don't forget to subscribe while you are there!
Charmain has also included a tutorial in the video to show you how she created the lovely pocket tags and envelopes.
As Charmaine shows, it is easy to achieve beautiful results with printable tags and just a few additions like laces, flowers and muslin.
The Vintage Love kit lends itself to many different occasions like Mother's day, baby shower, birthday and Valentines.
How handy to have a pretty box filled with ready to use tags and envelopes…
And wouldn't it be the perfect gift for that friend that seems to have everything!
Has Charmaine inspired you to make one of these pretty boxes for yourself?
You can connect with Charmaine on her new socials for Two Shabby Shoes on Instagram and YouTube.
Thank you Charmaine ♥
Jennifer ~ Crafting Sweetness
Jennifer is well known for her gorgeous handmade cards and she has created a beautiful set of 6 cards this month using the Vintage Love kit.
I especially love the way Jennifer added a belly band to these two cards… isn't that clever!
Jennifer used decorative papers from the paper collection as the base on the next two cards and then added in a few fussy cuts elements.
They are gorgeous cards that could be used for a multitude of occasions.
Jennifer's second project is a sweet metal decor heart to use on her tiered tray.
She started with a metal heart from Dollar Tree and decorated it with several elements from the kit.
Jennifer used foam tape to give the elements dimension and then added in some paper flowers.
It's a simple project, yet very cute!
Ginger Kisses Kit
I'd also like to mention that Jennifer was unwell over the Christmas period and wasn't able to share her last Christmas project using the Ginger Kisses kit until after Christmas.
Her Christmas Loaded Pocket is absolutely gorgeous and well worth you taking a look and pinning for next years inspiration.
Click the below image to watch on YouTube.
PIN for later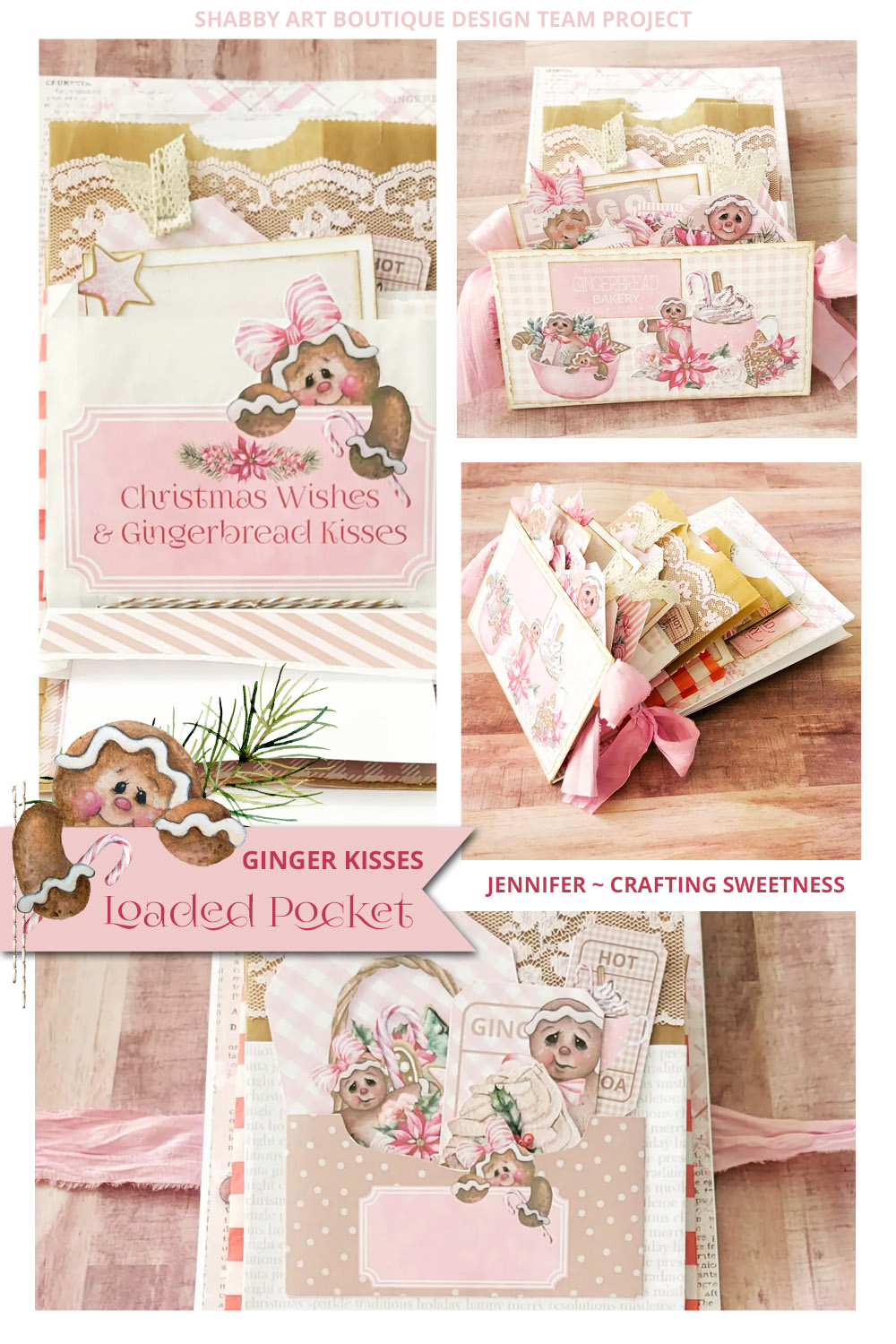 Love all of these is projects Jennifer. Thank you for sharing them with us ♥
To connect with Jennifer and see more of her fabulous paper craft projects, visit her on her Crafting Sweetness Instagram or on her YouTube channel.
The Vintage Love Kit
To find out what is included in this kit –> click HERE.
Click here –> to view the A4 Vintage Love listing on Etsy.
Click here –> to view the Letter (USA) Vintage Love listing on Etsy.
You can also pick up the free printable mini Vintage Love kit HERE.
It's a perfect add-on for the main kit.
Happy crafting,
♥
Kerryanne
Let's be friends on….
Get instant access to the free printables in my Newsletter Printables
Library by joining my email newsletter subscriber's list.
I send out a weekly newsletters with updates on all things
'shabbilicious' at Shabby Art Boutique.