Hello friends,
Come on in…. let's have tea and chat awhile.
I know I've been a little absent of late… just popping in here twice a week or so.
Unfortunately, about a month ago I caught a head cold, which I thought would pass in a day or two. It didn't. That virus took hold and soon morphed into a sinus infection, before moving south to my chest. It's been a very snotty, snuffily, miserable few weeks, I can tell you.
Apart from the germ fest, I was also pretty fed up with the changes to algorithms on social media and news feeds, which makes sharing online so difficult and impossible to get seen by your friends.
I don't know about you, but sometimes I just have to escape the craziness of social media. The perfect time presented itself when I was unwell, so I unplugged and spent more time reconnecting with the real world and less time feeling frustrated with Facebook and Instagram.
I think perhaps I also needed to recharge my creative mojo, so I immersed myself in a few different projects and even some painted canvases. A change of medium is perfect for kick starting creativity again and was the perfect tonic for me.
I'm feeling all happy and chirpy now, which I think in part, is because I'm breathing normally (at last) and spending time in the studio. I decided that my craft room needed a BIG tidy up and a mini make-over, so expect to see a craft room update post next week.
You may also notice a few housekeeping changes on my blog.
I always strive to make the user experience as easy as possible on Shabby Art Boutique. I want you to be able to visit without having to deal with annoying advertising or pop-ups. I hope that you know you can always navigate around my website using the navigation bar at the top of the page.
There are new social media sharing buttons on every post, to make pinning and sharing easier for readers, plus the hover PIN button is back on all of my images…. I'm really not sure what even happened to the original one!
I've been updating my Boutique on Amazon and using their new option for different categories…. but this is still a 'work in progress' and will receive some more tweaking.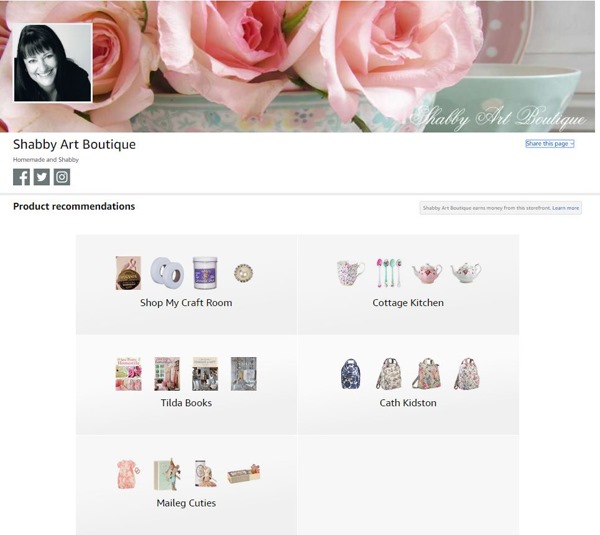 On my mini sojourn to the craft room I've also put together new artwork for selling on Etsy and in my Society 6 store. I just need to upload to the respective sites, which I think will happen over the weekend. There are also lots of new product lines for Society6, like cutting boards, coasters and trays, which is pretty exciting too!
So, a few things have been happening around here and I think you can expect to be seeing me pop up more both on social media and here on my blog.
Don't forget, you are welcome to join our private Facebook group, Simply Shabbilicious, where we encourage sharing of creative projects, DIY and of course, friendship.
Hugs
♥
Kerryanne
I'd love for you to connect with me at:
Follow on Bloglovin
or if you'd like my posts delivered directly to your Inbox
Subscribe to Shabby Art Boutique by Email
If you'd like a private pass to all things 'shabbilicious, sign up today for my fortnightly newsletter.
It contains personal stories, sneak peeks, recommendations, discounts and freebies.