Wouldn't it be grand to live on a street where the road was made of candy floss pink ric-rac. . .
With sweet little houses created from Shabby Fabrics and scrappy patches.
A street where the flowers are petite crochet blooms with French knot centres. . .
And all the houses in the row are stitched together with crazy free motion stitching.
My Shabby House Tea Towels are a simple afternoon project. . .
That make a gorgeous gift for a 'shabby at heart' friend.
The fun part is. . . there is no pattern for this project.
It is all cut by hand without measuring and is basically a variety of rectangles, squares and triangles.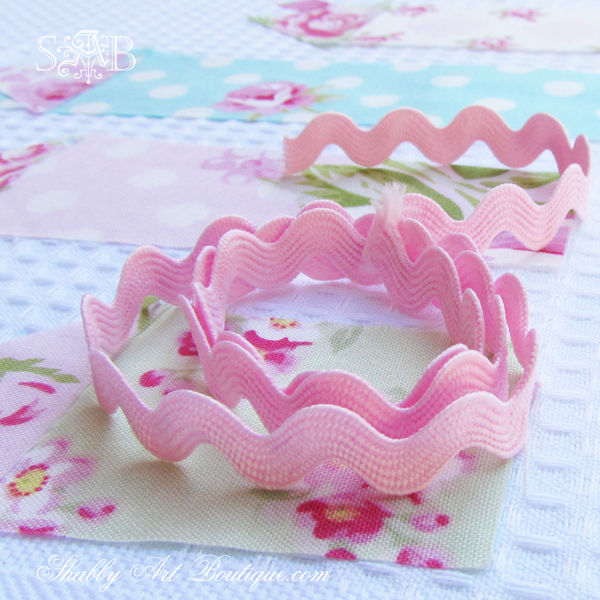 Materials
White cotton tea towel,
Visoflex Applique paper,
A variety of fabric scraps – for this project I'm using this amazing Tanya Whelan Rosey fabric in pink, aqua and mint that I got from my friends at Shabby Fabrics,
Ric-Rac – in a coordinating colour,
White and grey sewing cotton,
Sewing machine and usual sewing supplies,
Iron and ironing board.
Note: this is a great project for using those little scrappy fabric off-cuts from other projects.
Instructions
1. Iron Visoflex (or alternative applique paper) to back of fabric scraps.
2. Cut shapes out to make simple houses… no need to measure and be exact with this project. The quirkier the better!
3. Remove paper backing and position house pieces on tea towel and iron (no steam) to adhere.
4. Cut little doors and windows and iron in position.
5. Thread you sewing machine with white cotton in the bobbin and a darker colour through the machine. I used dark grey with this one, but also use dark brown occasionally.
6. Using a free motion foot, stitch all around the houses. . . there's no right or wrong with this. . . just have fun!
7. Knot and secure any cotton ends at back of project.
8. Sew a coordinating piece of wide Ric-Rac below your design (optional).
Note: Be sure to wash all fabrics and tea towel before starting this project to allow for shrinkage.
This is a project that you can get really creative with. Try using different embellishments, buttons, laces, doilies etc.
[pin for later]
Here's another one of my projects using the Tanya Wheelan fabrics from Shabby Fabrics. . . it's a tutorial for making shabby Faux Patchwork
A huge thank you to my sponsor Shabby Fabrics.
They have spoilt me with the most gorgeous of fabrics. Check out their amazing website for lots of shabby fabric yumminess!!
The website is really easy to navigate and order from and they ship world wide very quickly too.
I'd be thrilled if you'd like to connect with me at the following places. . .
Follow on Bloglovin
or if you'd like my posts delivered directly to your Inbox
Subscribe to Shabby Art Boutique by Email
Shabbilicious hugs ~ Kerryanne