Hi creative friends,
This post is about new beginnings… and saying goodbye to something I loved.
Sadly, after 3 wonderful years, the Handmade Club closed last week.
There were several reasons for this, which I've explained to the members…. but it was time.
As one door closes, another opens!
And this week is all about new beginnings.
I'm still designing, still making a monthly kit… and most importantly, I'm getting back to working in the craft room every day.
The Shabby Garden House Kit
Even though the Handmade Club is now gone, I'm still creating the monthly kits… but I am delivering them in a new way.
Everything I create and design from now on will be available in my Shabby Art Boutique Etsy store.
The good news is, this is available to everyone and you no longer have to be a member of the club to be able to purchase my kits…. plus, I will be adding the archived club kits to Etsy over the coming months.
So, let's see what I have for you this month….
The March kit, The Shabby Garden House takes you deep into the garden where the wildflowers grow.
Here you'll find a beautiful garden house filled with whimsical pretties that will make any shabby heart sing!
This kit is delightfully spring themed and also has a nod to Easter with a few of the graphics.
The colour palette for this kit is perfect for spring with a pop of brighter shabby colours entwined in the beautiful blooms, whimsical characters and tea time treasures.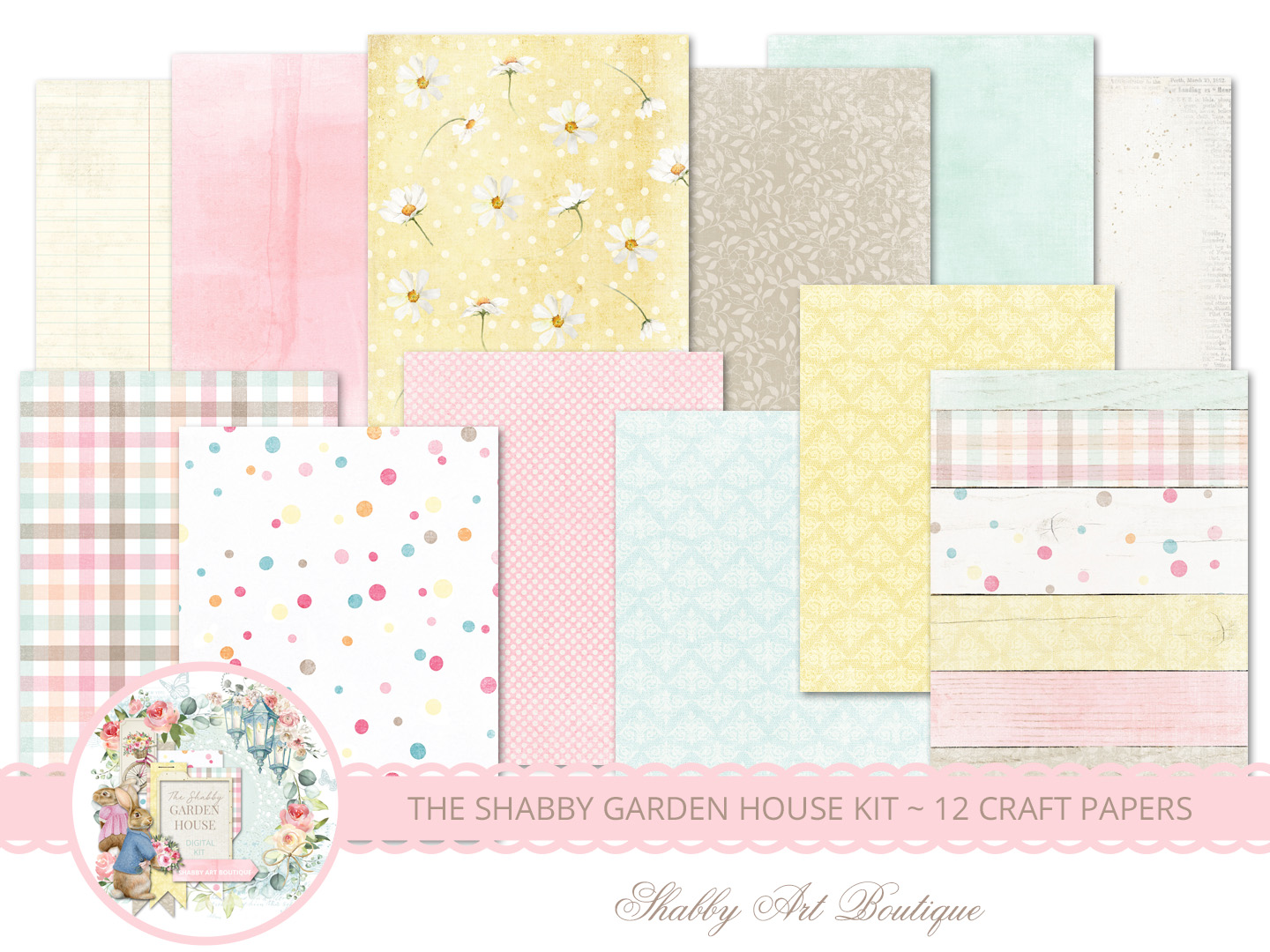 This kit contains: 10 full sized decorative papers, 12 coordinating crafting papers and 22 journal papers (5″ x 7″).
There are 80+ graphic elements…. including cards, tags, pockets, tabs circles, labels, words and lots of graphic images.
These are available in a 22 page, ready to print fussy-cut PDF file.
Plus, there are 3 zip files of graphics provided for use with cutting machines.
How to buy this kit
The Shabby Garden House kit is available to purchase from my Shabby Art Boutique Etsy store.
It costs US$6.50
Click here —> for the USA letter paper size listing for The Shabby Garden House kit.
Click here —> for the A4 paper size listing for The Shabby Garden House kit.
PIN for later
If you'd like to achieve optimal results with printing, please read my Top 3 tips for printing graphics at home post.
I'll start adding my other kits from next week.
Happy crafting!
Hugs
♥
Kerryanne
Let's be friends on….
Get instant access to the free printables in my Newsletter Printables
Library by joining my email newsletter subscriber's list.
I send out a weekly newsletters with updates on all things
'shabbilicious' at Shabby Art Boutique.
I invite you to join our fabulous and friendly
Facebook group – Simply Shabbilicious
where you'll enjoy our friendly banter and inspirational creativity.