Have you discovered the slow sewing movement?
It's all about grabbing your needle and thread, your basket of bits and bobs and slowing down to enjoy the simple process of sewing by hand.
For me, it has another element…. savouring the journey of adding bits of fabric and pretty notions without planning, without perfection… simply meandering along… taking slow breaths and quieting the mind. I've made it almost a meditative practice and one that I thoroughly enjoy.
This past weekend I abandoned my planned projects to take in some 'ME' time and a slow sewing project was the perfect way to unwind.
I started by gathering a basket of pretties; inspired first by a piece of spotty pale blue fabric. I added to that some other blue fabrics, embroidery cottons, buttons and embellishments. It was quickly apparent that I was making something using a limited palette in shades of blue. In a way, that made it even easier, to just relax and sew.
I don't always have a finished project in mind when I slow sew because I try to remain focused just on the sewing. As I was adding swatches of fabric to my main panel, I was leaning towards a heart design.
Hearts are often my go-to project when I want something simple.
Whether they are flat or stuffed, hearts make great gifts or decor items.
I added a backing fabric to my slow sewing panel and created a heart shape using my sewing machine. I left an opening near the base of the heart, so I could stuff it with craft wadding.
Next step in the process is adding some more embellishments like mini crocheted flowers, a heart pin, mini cotton spools, plus snippets of lace, ribbon, doilies and other pretty bits and pieces.
Slow sewing will not only give your creativity a boost, but it is also the perfect way to de-stress.
And, you can spend a mere hour or two on a mini project on tackle a much larger on-going project.
I think my pale blue heart will make a perfect gift for a crafty friend!!
PIN for later ~ thank you for sharing my project.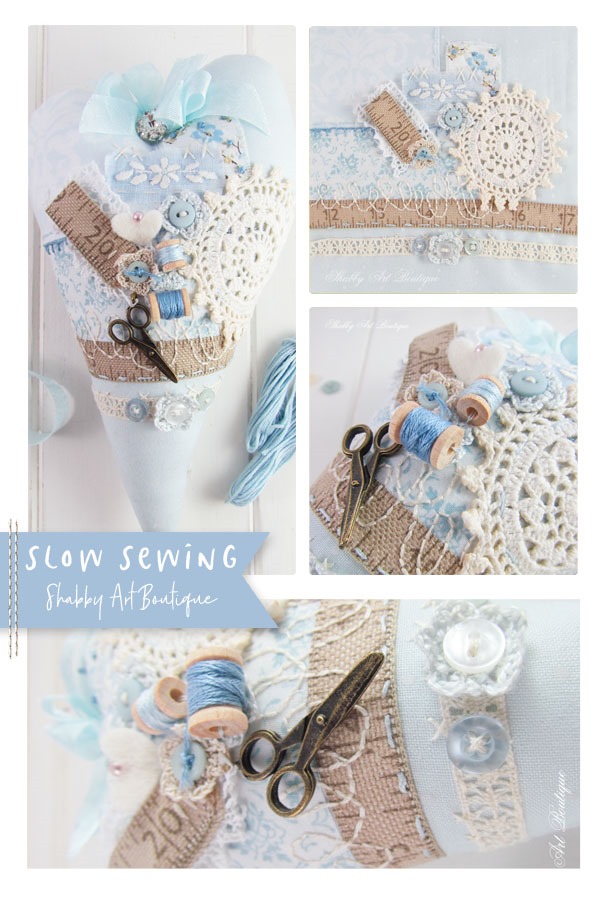 Happy 'slow sewing' my friends.
Hugs
♥
Kerryanne
I'd love for you to connect with me at:
Follow on Bloglovin
or if you'd like my posts delivered directly to your Inbox
Subscribe to Shabby Art Boutique by Email
If you'd like a private pass to all things 'shabbilicious, sign up today for my fortnightly newsletter.
It contains personal stories, sneak peeks, recommendations, discounts and freebies.