Sometimes others don't share our visions.
Well…
that would be quite often if you lived in my house.
I seem to be the only visionary with a creative edge…[sigh].
Like this for example…
I see two empty tomato cans waiting to go out to the recycle bin and I say….
"I could recycled these tins into twine holders to hang in the studio!"
My husband gives me one of those quizzical looks…
They are sort of a cross between 'do I need to respond to this' and 'what is she talking about".
I've never really deciphered this strange look that comes over him.
I figure after 29 years together that it's not his "I should pack my bag and get out of here" look, so I mostly just ignore it.
Regardless of the lack of interest from the family, I took those empty tins and put them to good use.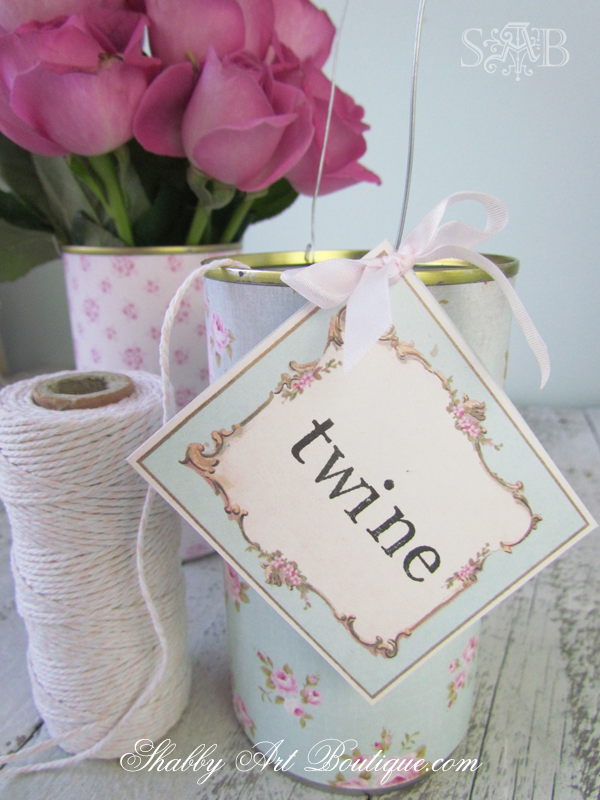 Using a nail and hammer, I made a small hole in the base of the tins for the twine to be threaded through and then another two holes at the top on either side to attach a wire hanger.
The addition of some pretty scrapbook paper, cut to fit and glued in place, made them all pretty.
They even double as a vase for pretty roses if you don't put a hole in the bottom.
I'm lovin' this tangle free way to store my bakers twine… and now I just need a couple more tins for the remaining rolls of twine.
I'm sharing my shabby twine holders with these friends this week:
The Scoop, Project Inspired , French Country Cottage, Sundays at Home,
I'd be delighted if you'd like to connect with me at the following places. . .
Follow on Bloglovin
or if you'd like my posts delivered directly to your Inbox