Hello shabbilicious friends,
As we roll (or should that be hop) our way in to the Easter break this week, I've been busy moving things around the house…. making a few seasonal changes.
Did I tell you I'm smitten with these Tilda lambs?
I'm sure I did… and I definitely need more!
Actually, one of the very clever members of our Simply Shabbilicious Facebook group made a pair of these Tilda lambs and dressed them in the sweetest clothes. Perhaps a set of clothes for my lambies should be next on my list. Could they be any cuter!
I'm excited to be having a four day 'staycation' over the Easter break, which I plan on spending in my craft room.
I'm not even sure which of the zillion project ideas I will tackle, but a big crafting session is well overdue and bound to be both cathartic and energising! Hopefully I'll have something to share with you next week.
What are your plans for this special weekend?
For all you cottage lovers out there… and that's probably most of you, there are few new products I thought I'd share with you today.
The latest Tilda book, Sunshine Sewing is now available.
The book has 12 summer themed projects, including two quilts, pillows and soft toys. The projects are so bright and colourful and while it does use the latest Tilda fabric collections, you can use different fabrics if the brighter colours are not your thing!
Book Depository currently has the book marked down by 30%, so if you collect the Tilda books, I'm sharing my affiliate link for the book HERE – Buy Sunshine Sewing by Tone Finnanger.
Also worth a look… the new Summer 2018 GreenGate catalogue.
Personally, I'm loving the pretty 'Meryl' collection in soft pinks and blues.
How gorgeous is this apron!
But I'm also really loving the gentle colour palette of the new 'Meadow' collection too…. especially that teapot. I just can't decide… green and cherry… or pink and blue.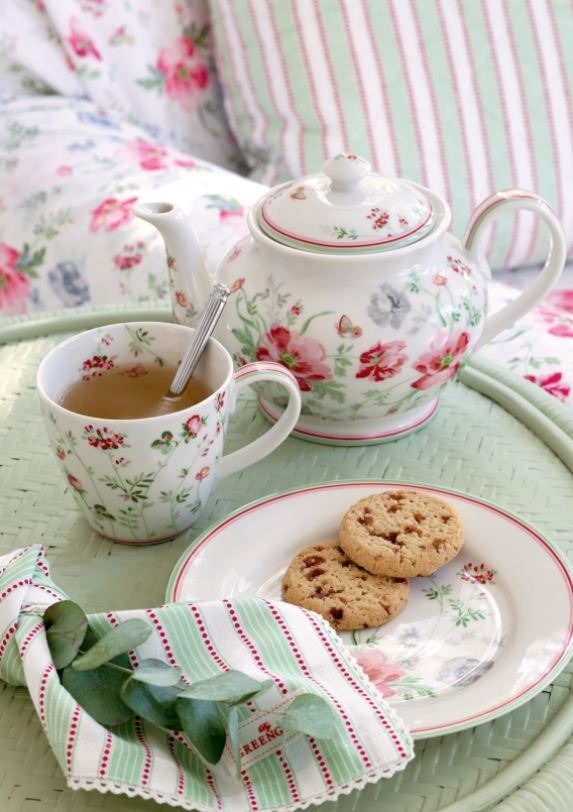 I wish we had more GreenGate stores here in Australia. Two that you can try are online stores Ruby & Rose Interiors and Scandinalia. The later is actually the Australian distributor of GreenGate, but they don't have the complete range available.
For my US friends, I've purchased quite a few times from Originated Shop in Europe, who always carry the complete range. Everything arrives packaged well too.
Hugs
♥
Kerryanne
I'd love for you to connect with me at:
Follow on Bloglovin
or if you'd like my posts delivered directly to your Inbox
Subscribe to Shabby Art Boutique by Email
If you'd like a private pass to all things 'shabbilicious, sign up today for my fortnightly newsletter.
It contains personal stories, sneak peeks, recommendations, discounts and freebies.