Welcome to Shabbilicious Sunday!
Today we are visiting the enchanting, almost fairy-tale like cottage of Dana Komm in Germany.
This is Dana… she is such a sweetie!
Perhaps you can already tell from her adorable window garden cottage that things are pretty whimsical around here.
Come… let's step out of the woods and into her enchanting cottage home.
Dana's kitchen is an eclectic mix of pretty pastels, mix and match china collections, vintage pieces and handmade items.
There's lots of pretty GreenGate and Cath Kisdton pieces.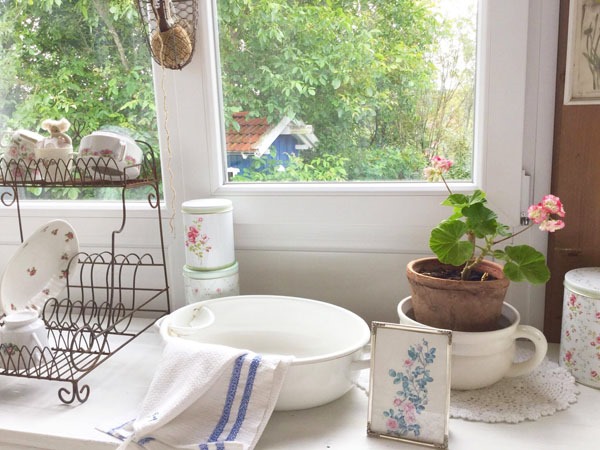 This room is so cheerful with its abundance of windows and cottage elements like pretty wallpaper, throws, doilies and table cloths.
Do you see all the handmade Tilda pieces too?
Open shelving allows Dana to display her pretty collections.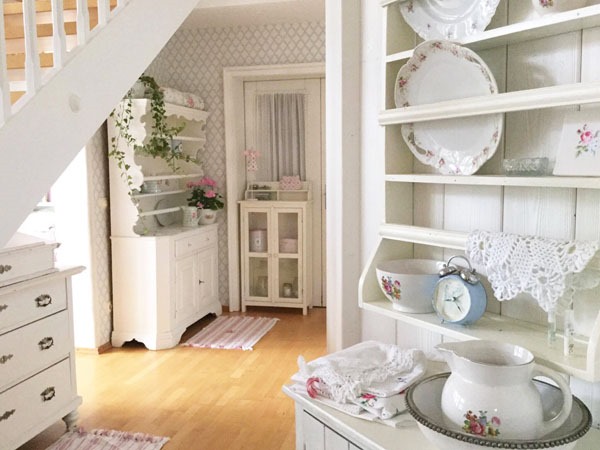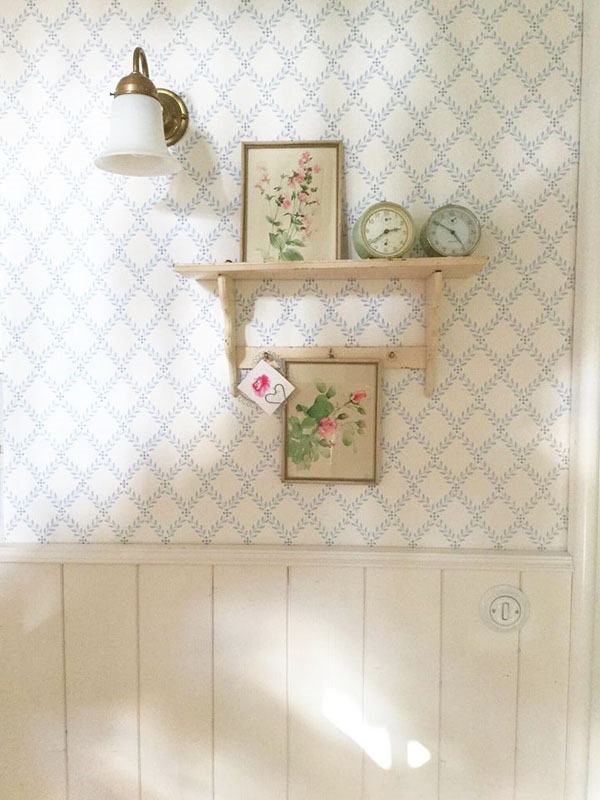 This Chippendale sofa (below) is Dana's favourite piece of furniture.
Throw in a mix of pretty pastel checks and florals and you have a charming décor style that Dana calls 'Shabby Swedish'.
The bathroom has more handmade Tilda projects.
A collection of Dana's handmade quilts add the final cottage element.
If you love the whimsical charm of handmade Tilda projects, many of Dana's pretty Tilda pieces shown here are from the book, Sew Pretty Homestyle.
For your convenience, I'm supplying my direct affiliate links for
(both have free worldwide shipping).
Dana once had a pretty blog where she shared beautiful photos of her cottage home… many of these you'll now find on Pinterest, but sadly she no longer has social media or a blog.
I'm very grateful to Dana for sharing her latest home photos here today on Shabbilicious Sunday and for allowing me to share them regularly on my Facebook page too.
I feel all that is left to say from our fairy-tale cottage visit is…
And they lived happily ever after!!
You can see more Shabbilicious Sunday home visits on my new
Happy Sunday my friends,
Hugs ~ Kerryanne
I'd love for you to connect with me at:
Follow on Bloglovin
or if you'd like my posts delivered directly to your Inbox
Subscribe to Shabby Art Boutique by Email
If you'd like a private pass to all things 'shabbilicious, sign up today for my fortnightly newsletter. It contains personal stories, sneak peeks, recommendations, discounts and freebies.
Plus, you will also get a free copy of my eBook, 5 Tips for creating a Shabbilicious Home.Sign up for my newsletter HERE and don't forget to confirm the sign up email