Welcome to Shabbilicious Friday
This is the place we come to each week to share all that is
'shabbiliciously gorgeous'
This includes anything pretty like romantic cottage, farmhouse, shabby chic transformations, decorating & DIY, room reviews, vintage finds, French inspired loveliness, yummy recipes . . . or anything else that will make our shabby hearts sing!
This week I shared my first room make-over in our new house
. . . and had a frank discussion on my crazy list making.
Just in case you have a scary list making obsession too,
I included a free download of my planner.
I had a devil of a time picking features this week.
There were just so many gorgeous shabbilicious projects and eye candy to choose from.
I hope you had a chance to pop around and see a few.
These are just a few of my favourite picks this week. . .
Follow the evolution of Anne's magnificent farmhouse kitchen over at
Kathleen of Faded Charm has a Garden House.
Not just any Garden House. . .  hers is one filled with all manner of gorgeous vintage things. You'll be green with envy I'm sure.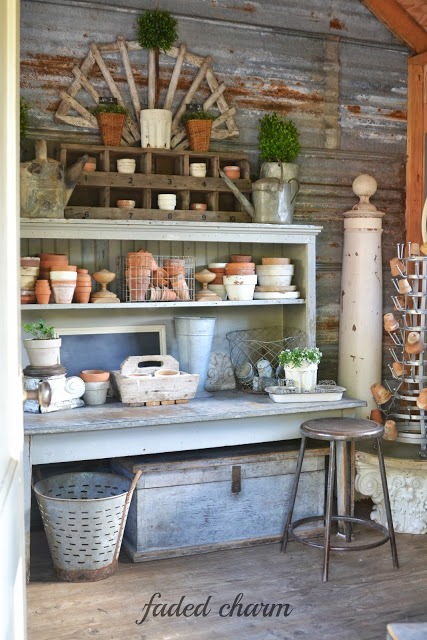 You'll be surprised at what natural product Kathy from A Delightsome Life
used to dye this fabric such a beautiful shade of blush.
Karin at Art is Beauty gives detailed instructions on how to build your
own farmhouse table.
Find out what Meegan Makes does with extra wedding flowers
from her bridal arrangements
Please feel free to grab a 'Feature' button if you were featured today.
I truly appreciate everyone who takes the time to link up at the party each week. Your beautiful projects are a source of inspiration to many and together we are building a lovely community of 'shabbilicious' friends.
If you are new here at the party, let's stay in contact. My follow options are on the sidebar and I'd love to follow you too.
Now it is your turn to show us what you've been up to this week.
Remember, this is a party for all things. . .
'shabbilicious'
I'd appreciate it if you linked back to the party please, so others can join us too. . .
And be sure to share the love and visit some of the other gorgeous links.