Hello creative friends,
I'm sorry I've been a little absent from social media this past week or so….
There's been a lot happening in my life of late and I felt a wave of exhaustion slowly creep in.
When I feel overwhelmed I tend to retreat to the sanctity of my crafting space…. 'my happy place'. I recognised that I needed to have some quiet me time to reflect and restore my energy…. and I'm sure you will agree, creativity is always such a great healer.
Although I've now moved on to my July kit, there was a piece of artwork on my watercolour board that was inspiring me to make something else with the Rose Garden Tearooms kit.
It was a tearooms shop that I painted and was originally going to include in the kit, but decided not to at the last minute.
It was calling out to me to be finished and I knew exactly how I wanted to use it.
I made a happy mail folder to send to a friend.
[I apologise for the lighting… I filmed it at night.]
It's a flip folder to hold embellishments, teabags and small printables and is small and flat enough to send in the mail.
It wasn't until I had finished this project that I felt I should have included the shop image in the kit after all.
So, I created a small printable PDF file that is an additional file for the Rose Garden Tearooms kit, should you wish to create this folio too. The extra PDF contains the two covers and the two altered papers I created specifically for this project.
How to purchase this additional file
The Happy Mail folder PDF file is now available on Etsy —> click HERE to see it.
To make this project as described below, you will also need the Rose Garden Tearooms kit… this is an additional file that adds to the papers and graphic elements in the kit.
You'll find the Rose Garden Tearooms kit on ETSY —> HERE for the A4 size listing and HERE for the (USA) letter size listing.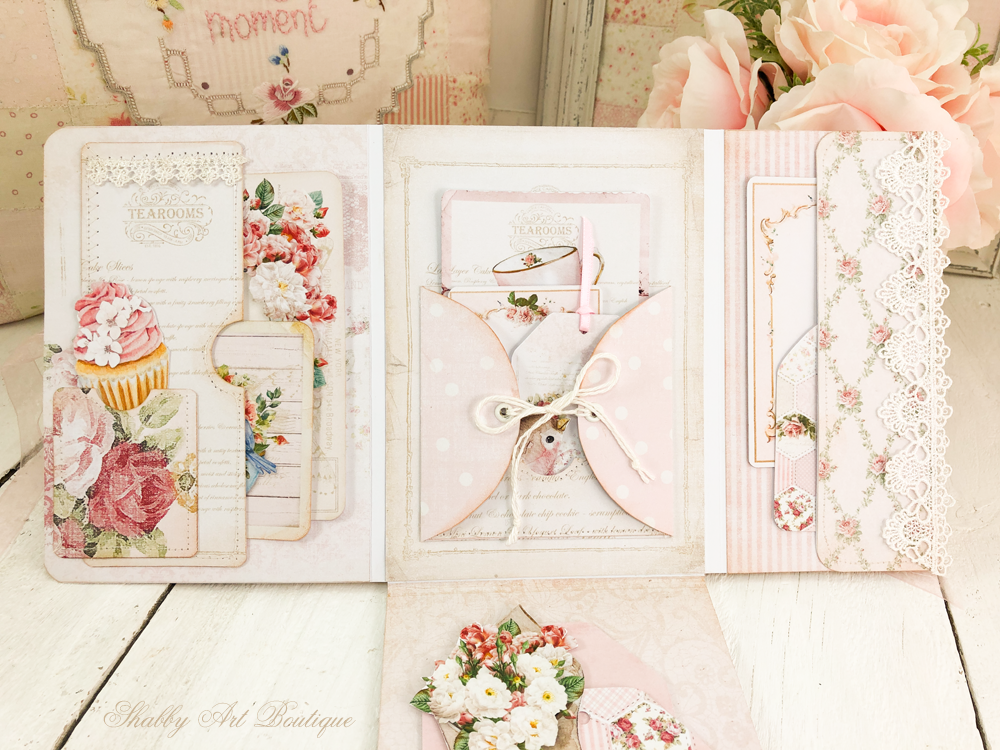 As I was enjoying some personal crafting time and flying by the seat of my pants on this project, I didn't make a step-by-step tutorial for this project.
I know someone will ask me, so here's the dimensions and basic instructions….
How to make this happy mail folder:
The pages are a standard 5″ wide by 7″ high. I created the structure of the folder first using white cardstock and then adhered the papers to the constructed folder.
With the exception of the 2 pages I provided in the bonus printable, all other papers are from the 5″ x 7″ file in the kit. Embellishments are from the fussy cut PDF file. Note… you could use any papers you like.
I created two sheets 10 1/4″ wide by 7″ high. There's a 1/4″ spine scored between two 5″ x 7″ pages.
I took the two sheets and overlapped them in the centre (glue together), creating a 3 panel page. Having the two pages adhered together to form the middle panel gave the project stability.
The panel on the far right is folded back on itself to create a 2″ pocket on the inside.
The flip down page measures 10 1/2″ high x 5″ wide. There's a 1/2″ tab at the top that is adhered to the middle panel at the base. The lower 3″ turns back on itself to create a pocket on the inside.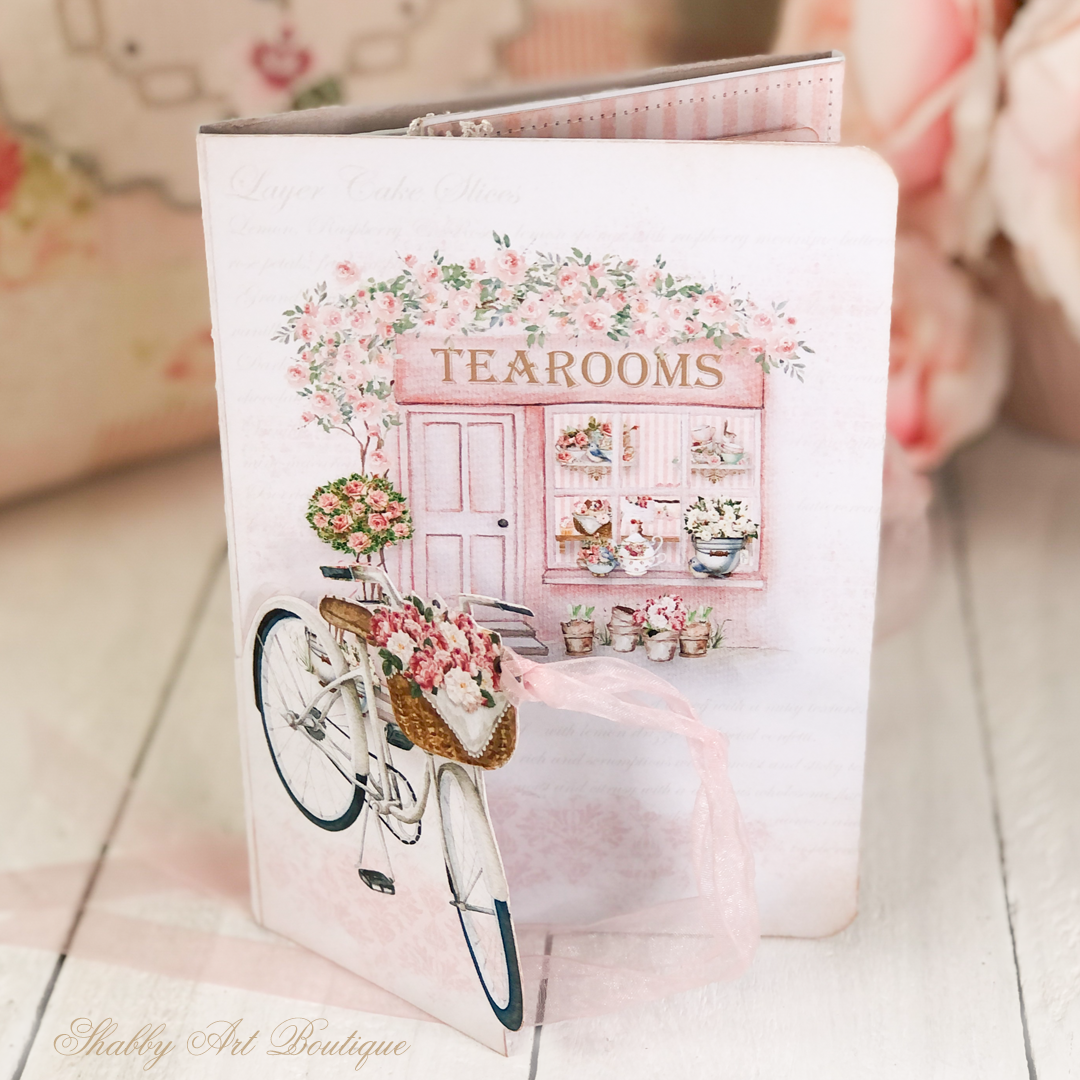 The front cover has a fold out extra layer that includes the bike, which I used as a closure for the folder.
Ordinarily, I use seam binding to secure my paper projects and I regret using ribbon on this occasion. I think I'll amend that before I send it.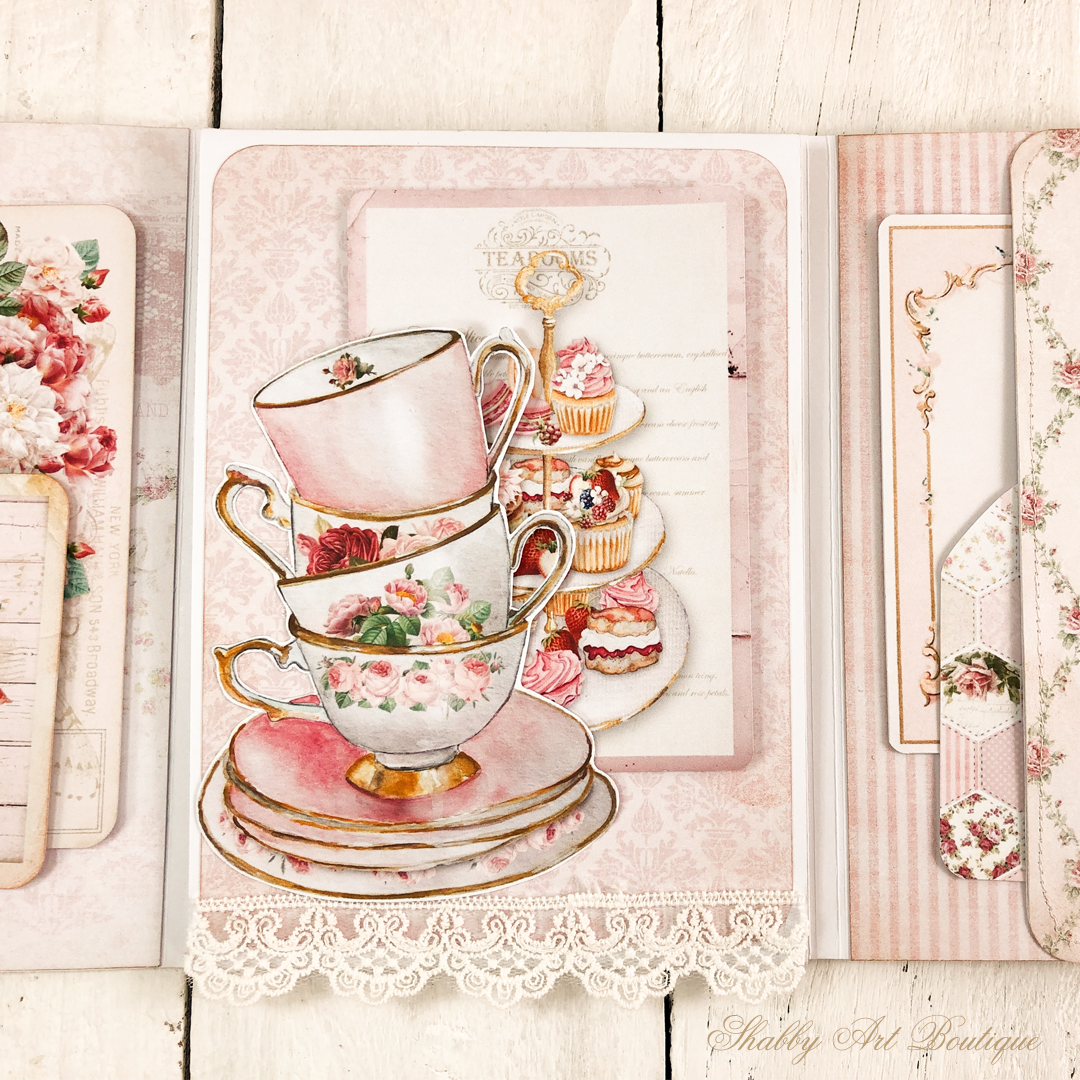 I created a variety of pockets and tuck spots to adhere to each page.
And the back cover has an envelope with string and button closure.
Happy crafting my friends!
Hugs
♥
Kerryanne
Let's be friends on….
Get instant access to the free printables in my Newsletter Printables
Library by joining my email newsletter subscriber's list.
I send out a weekly newsletters with updates on all things
'shabbilicious' at Shabby Art Boutique.
I invite you to join our fabulous and friendly
Facebook group – Simply Shabbilicious
where you'll enjoy our friendly banter and inspirational creativity.