I love super quick craft projects… and this one took just 10 minutes!!
What I especially love is that it is so simple, yet something we all need…
It's a mini Christmas Wish List folder, that is small enough to tuck into your handbag or any other secret hiding spot.
I've already filled my lists with ideas for gifts for my family, so that when I'm out shopping I can tick of any items I purchase. It's also a great place to jot down ideas when you see them.
The 2 page printable contains a 4" x 6" pretty vintage design front cover and 6 name lists. Of course, if you require more than 6 lists, you can print more pages.
Materials:
Printable – download HERE,
Matt Photo paper,
1/2 sheet of scrapbooking paper,
Craft knife,
Mod Podge or white glue,
Embellishments – I used a sprinkle of German Glass Glitter and a piece of silk ribbon.
Instructions:
1. Download 'Christmas Wish List' file to your computer.
2. Print designs on matt photo paper (ordinary printer paper can be used instead).
3. Using a sharp craft knife, trim pages to size.
4. Cut a piece of scrapbooking card 8" x 6". Using a stylus, score vertically down the centre of card and fold in half to form a folder that measures 4" x 6' when closed.
5. Adhere the vintage graphic with Mod Podge to the front cover, ensuring all air bubbles are removed.
6. Place your trimmed list sheets on the inside of folder and staple to hold in place – see above photo.
7 Optional – I chose to add a little sprinkle of glitter in the snow areas of the front cover to make it sparkle, but not too much because this folder is going in my handbag. I also added a length of pretty silk ribbon tied with a bow.
You can decorate your folder any way you like… mine is just an example.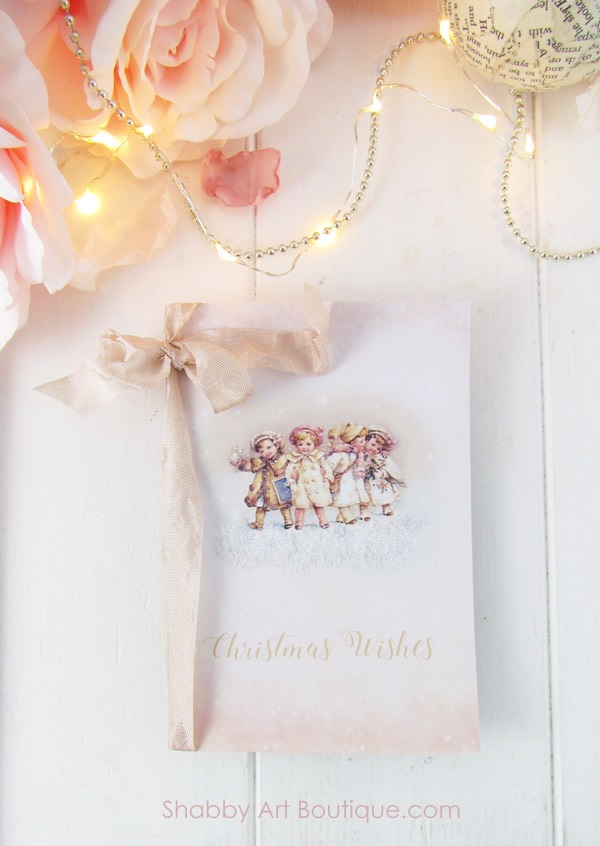 We all need shopping wish lists at Christmas
and there is no reason why they shouldn't be pretty!!
I have more projects just like this on my Tutorials page.
You'll have to scroll down to the bottom of the page for the Christmas projects.
Happy festive crafting my friends!
Hugs ~ Kerryanne
I'd love for you to connect with me at:
Follow on Bloglovin
or if you'd like my posts delivered directly to your Inbox
Subscribe to Shabby Art Boutique by Email
If you'd like a private pass to all things 'shabbilicious, sign up today for my fortnightly newsletter. It contains personal stories, sneak peeks, recommendations, discounts and freebies.