Welcome everyone. . .
It's that time of the year again when we kick off 'Simply Christmas' for another year.
If you are new here, this is my annual event to put the homemade and home baked back into the holidays.
Simply Christmas demonstrates how to take back the holidays with an easy to follow blue print for adding a homemade touch to everything we do. This event takes you from planning and preparation in November through to Santa's Supper on Christmas Eve. . . so that the days leading up to Christmas are relaxed and enjoyable.
Activities include fun family orientated projects, tutorials and how-to's, yummy recipes, gifts, giveaways and free downloads . . . plus a weekly link party too.
If you'd like to help spread the word. . . here's a button for your side-bar. I'd be tickled pink if you could let your friends know, so more people can join in.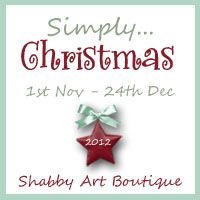 While tomorrow is the official launch date, I do have a little something for you today. . . the first issue of the FREE quarterly Shabby Art Boutique E-zine.
This inaugural issue is a Simply Christmas special that I hope will inspire and excite you in the lead up to this wonderful time of year.
This FREE quarterly Shabby Art Boutique E-zine is for all those who love shabby, French inspired, farmhouse and vintage living. Each issue will featuring beautiful homes, gorgeous home decor and exciting tutorials by talented artisans and bloggers.
Reserve your copy of the next issue of Shabby Art Boutique E-zine by subscribing HERE
I hope you will join me in putting the homemade and home baked back into the holidays with 'Simply Christmas' at Shabby Art Boutique.
Hugs ~ Kerryanne