Whether you say 'Mom' or 'Mum', there's one thing for certain…. our beautiful mothers deserve to be spoilt and pampered on their special day.
Why not show your mother how much you love her with a handmade Mother's Day card.
This one couldn't be easier…. I've already made all the elements and popped them into a free printable for you. It's available now on our Newsletter subscribers Member Freebies page.
If you've not yet subscribed to the newsletter, you can do so HERE.
There's two different printing sizes as well; letter for the US and A4 for the rest of the world.
The printable contains two sheets; a background paper and a set of pretty elements.
How you use these is up to you, but I've included images and a brief tutorial here of how I used them.
I love to add lots of layers for texture and interest, but this card is super quick and easy.
As a guide, I've included affiliate links to the items I used to make my card.
Should you make a purchase from these links, I'll get a small payment into my crafting fund.
How I made my Mother's Day card:
Supplies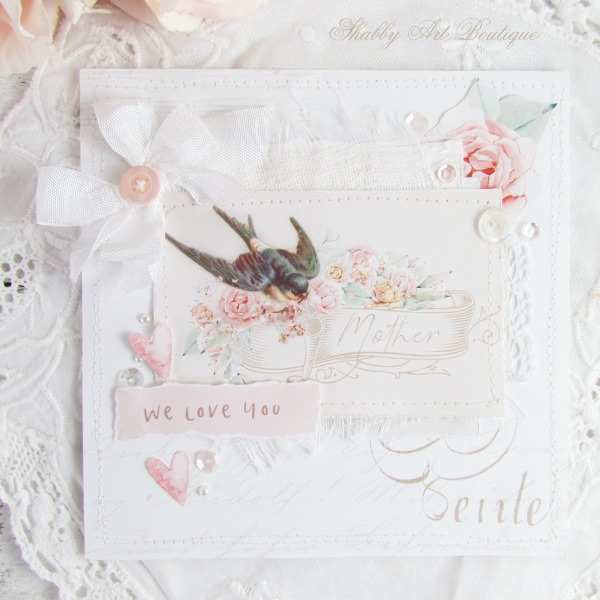 Instructions
1. Print the free vintage Mother's Day printable on matt photo paper – or paper of your choice.
2. Cut out all of your elements using a sharp craft knife. I cut out a piece of the backing paper to fit my card.
3. Using a sewing machine, set to the longest stitch length, stitch around the backing sheet and the vintage bird graphic. Secure loose cottons at back of paper cut-outs.
4. I distressed the edges of my vintage bird graphic and the small pieces of scrapbook paper I used behind it to give a more shabby, vintage look.
5. Assemble your card by adhering the backing sheet to the front of the card. Next, start layering all of your elements; I used two pieces of scrapbook paper and a piece of muslin behind my vintage bird graphic.
6. I used foam dots to give a 3D effect to the 'We Love You' banner and the pink heart above it. The rest of the elements; flower, pearls, sequins, lace, buttons etc are adhered with small dots of clear glue. Finish off with a seam binding white bow.
There are no rules with this type of crafting… just simple layering and having lots of fun!!
Happy crafting my friends!
Hugs
♥
Kerryanne
I'd love for you to connect with me at:
Follow on Bloglovin
or if you'd like my posts delivered directly to your Inbox
Subscribe to Shabby Art Boutique by Email
If you'd like a private pass to all things 'shabbilicious, sign up today for my fortnightly newsletter.
It contains personal stories, sneak peeks, recommendations, discounts and freebies.