Hi creative friends…
With Easter just a few weeks away now, I've been thinking about packaging for some mini Easter Eggs.
As a family, we don't go over the top with giving gifts at Easter, but I would like to share a small Easter token with my guests on Easter Sunday.
These little mini milk cartons have been my go-to for small gifts for a couple of years now. They are just perfect for holding smaller items.
Last year I included a 'Print & Make' file in the February Handmade Club kit for these sweet pastel Easter milk cartons… they were hugely popular and since then I have received so many enquiries from crafters wanting to make them.
Soooo, this week I decided to share a free printable mini egg carton with you, so you can make your own Easter gift boxes….
But I didn't stop at one!
I created a set of 4 coordinating vintage Easter cartons, which are now available in my Etsy store for a small fee.
I also listed the original set of 4 pastel bunny Easter Egg cartons as well…. so you have a choice of two sets of four cartons.
How to download the Mini Easter Egg Cartons
The free PDF printable for the Easter Milk Carton gift box is ready to download in the Newsletter Subscribers Printable Library – the password to this page is on the bottom of your latest newsletter.
Not yet a member?
No problem, simply sign up for the Shabby Art Boutique newsletter with an email address and get instant access to all of the free printables in the library.
Please note: you must add my email address to your email contacts list to prevent the newsletter going to your spam folder – kerryanne @ shabbyartboutique (dot) com
Note: This printable is for personal use only and not to be sold as either a digital or finished item.
Click here —> for my full copyright and policy disclosure.
If you are interested in these Easter Milk Carton printables, you'll find them in my Etsy store…..
How to make the Mini Easter Egg Cartons.
1. Print the file onto card or as I did, use 250 gram matte photo paper. You don't have to print the whole document. If you only want to print one of the cartons, just choose that individual page to print in your printers printing options.
2. Using a sharp craft knife and a metal ruler, cut out the design.
3. Score the dotted lines with a scoring tool or bone folder by placing your metal ruler where you want your fold to be, and run the bone folder along this straight edge to make a clean score line, then fold.
4. Using white glue or a glue stick, apply glue to the side tab to close the box. Next, apply glue to the tabs at the bottom of the box and fold in to close the bottom of the box.
5. Fold your creases at the top of the box to form the carton top. I used my hole punch to make two holes in the top and threaded a length of ribbon through to tie a bow to secure the top of the carton.
Note: there are essentially 4 layers of folded card in that top section of the box, which may be too thick to get your hole punch through. I placed my hole punch where I wanted my hole to be and squeezed the hole punch quite firmly to indent the card, then I opened the top out slightly and punched a hole through 2 pieces of card first and then the other two pieces of card. Repeat for the hole on the other side of the carton top.
Aren't these mini Easter egg cartons cute!!
Filled with shredded tissue and a handful of Easter eggs, they'll be perfect for gift giving to friends and family or as a token gift for work colleagues or teachers.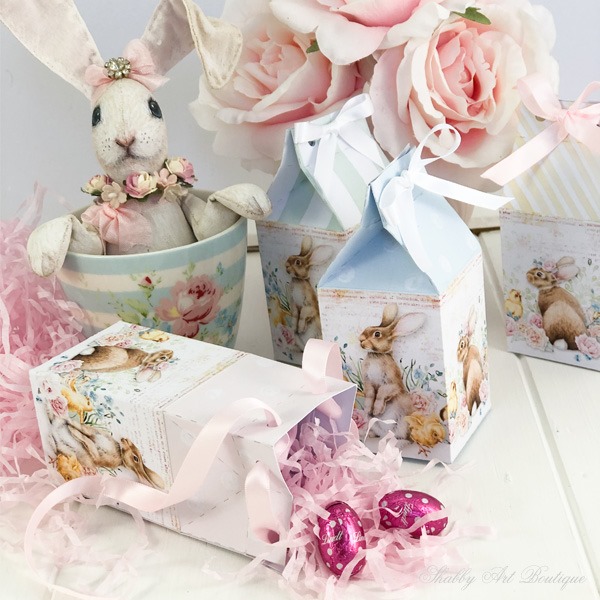 Both sets of mini Easter egg cartons are provided in a 5 page printable PDF file (available in both A4 and letter size).
I hope you enjoy this quick and easy Easter project.
Happy crafting my friends!
Hugs
♥
Kerryanne
Let's be friends on….
Get instant access to the free printables in my Newsletter Printables
Library by joining my email newsletter subscriber's list.
I send out a weekly newsletters with updates on all things
'shabbilicious' at Shabby Art Boutique.
I invite you to join our fabulous and friendly
Facebook group – Simply Shabbilicious
where you'll enjoy our friendly banter and inspirational creativity.