Hello creative friends,
Today I am sharing my top 3 tips for printing graphics at home.
As a graphic designer, this is without doubt the topic I receive the most questions about and the good news is….. it's actually very easy to achieve perfect printing at home with just a few basic tips.
My Top 3 Tips
Tip #1 – Use the Correct Paper
Are you using the right paper for your project?
Paper is more complex than you might think!
I see a lot of paper crafters printing images on copy paper, however, copy paper is a thinner weight paper designed for use with text-based documents. It tends to absorb liquid ink and when used for printing graphics, it gives a heavily saturated, slightly wet look with less crisp images.
Matte Photo Paper
The ideal paper for printing graphic images is a coated paper like matte photo paper.
Coated papers are chemically treated to help the paper be a better printing substrate. It has a coating on it that seals the paper and restricts the ink being absorbed, therefore allowing the ink to sit on top of the paper in a crisp defined dot. Matte photo paper will give your the most optimal print quality for images.
Not all papers are created equal, so always purchase well known brands.
Tip # 2 – Change your printer settings
Now that you've chosen the correct type of paper, let's look at printing.
Standard default printer settings are set up for printing text. To achieve fabulous results with printing your own graphics at home you need to adjust your printer preferences for printing images.
While all printer brands vary slightly, the printer preferences will be similar.
First step is to select the type of paper you are using for your project. You'll find this in the drop down menu under 'Media Type'.
In the example shown below, you can see that I have changed my media type from Plain Papers to Photo Papers —> and then —> Matte Photo Paper.
Next step is to change the Print Quality.
There are usually two options; Standard and High (sometimes called 'Best'). Always choose the High setting.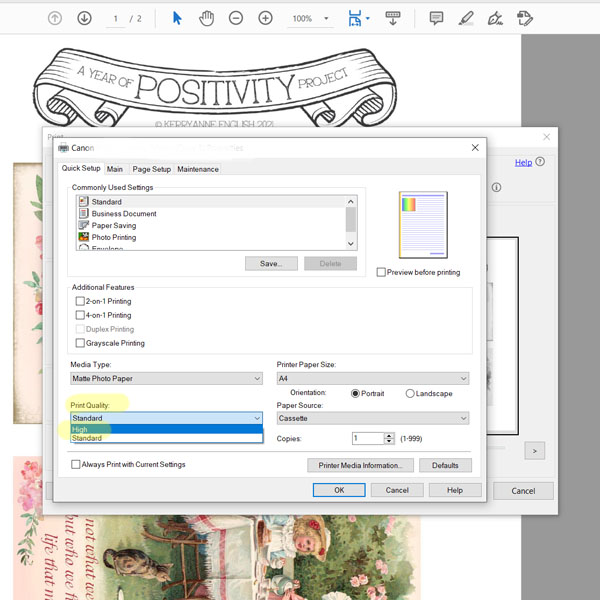 Some additional things to keep in mind with printing on your home printer, is the quality of the ink and being sure to replace ink cartridges when colours become lighter and less vibrant.
Tip #3 – Use the correct graphic size
When you download graphics from a designer, whether they are a freebie or paid for, they will be provided as high resolution 300 DPI graphics.
So what is 300 DPI?
Print resolution is measured in dots per inch (or "DPI"), which means the number of dots of ink per inch that a printer deposits on a piece of paper. So, 300 DPI means that a printer will output 300 tiny dots of ink to fill every inch of the print. 300 DPI is the standard print resolution for high resolution graphics and the size required to achieve best print results.
In basic terms….. the more dots per inch, the better the print quality.
Images on the web are most often uploaded at 72 DPI, so that the images are small and quick to load.
For this reason, a web image at 72DPI does not have enough pixels to give a sharp, optimal outcome when printed.
This is why crafters who go to Pinterest and save and print a web image, get blurry and poor quality print results.
These images are intended for web viewing, not printing.
Important information about Copyright
I think the previous statement actually leads into another point that is important to raise…. there are many myths and misconceptions about copyright in the paper crafting genre.
Online photos and graphics are protected by copyright law, just like any other original work.
Unless you own the copyright to an image or have a license or permission from the owner, printing a copy of an image or posting it online (even in a junk journal) without permission is a violation of copyright. It's up to the copyright holder to decide whether to sue for copyright infringement…. and these days that is happening more often.
I'm horrified when I see crafters online stating in Facebook groups that "if it is online, it is free to use".
Sadly, this is an uneducated view and misleads others into doing the same thing.
Copyright is not 'waived' when text or images are posted on the internet. Copyright owners decide how they would like people to use their online content. Guidelines for using online text and images usually appear on a website's 'terms of use' page, so friends, please always cover yourself and ask before taking or using something that belongs to someone else.
PIN this for later use!
I hope my 3 top tips will help you achieve the best possible results with printing graphics on your home printer.
Watch out for my next 'Top Tips' post about resizing and using your downloaded graphics.
Happy crafting my friends!
Hugs
♥
Kerryanne
Let's be friends on….
Get instant access to the free printables in my Newsletter Printables
Library by joining my email newsletter subscriber's list.
I send out a weekly newsletters with updates on all things
'shabbilicious' at Shabby Art Boutique.
I invite you to join our fabulous and friendly
Facebook group – Simply Shabbilicious
where you'll enjoy our friendly banter and inspirational creativity.