I always start my week enthusiastically making plans, jotting down important To-Do's and scheduling time in the craft room.
Sometimes those weeks pan out well and I feel like I accomplish a lot…. but sadly, this is not going to be one of those weeks.
I'd planned on sharing a few new shabby projects with you, however, they are in various stages of completion or waiting to be photographed. I guess we'll just save them for next week!!
All is not lost, because I do have something special for you and an announcement.
First, a free 8" x 10" printable for Mother's Day that you can print off and frame.
It's available on my Freebies page for all newsletter subscribers…. I'm assuming most of you have already signed up, but if you haven't, you can subscribe to my newsletter HERE.
The link to the Freebies page and the password for anyone who has forgotten it, is in today's newsletter.
As always, the printable is for personal use only and the terms and conditions of use are in the printable PDF file.
Now on to the other accomplishment for this week…. finally, my Etsy Shop is open and I've started loading digital printables.
You can check it out here – Shabby Art Boutique Etsy Shop
It's a work in progress and still lots of digital products to upload, but I have started with a few Mother's Day printables and will continue to add more over the weekend.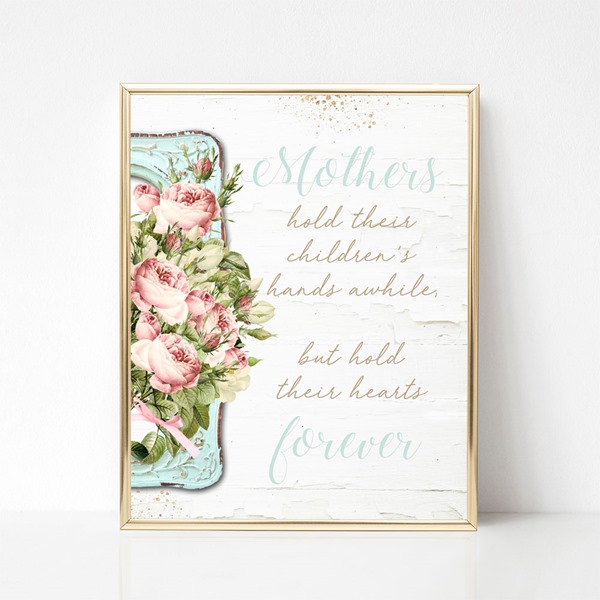 I hope your week has been more productive than mine!!
I'll be back tomorrow for our Create, Bake, Grow & Gather party.
Happy crafting,
Hugs
♥
Kerryanne
I'd love for you to connect with me at:
Follow on Bloglovin
or if you'd like my posts delivered directly to your Inbox
Subscribe to Shabby Art Boutique by Email
If you'd like a private pass to all things 'shabbilicious, sign up today for my fortnightly newsletter.
It contains personal stories, sneak peeks, recommendations, discounts and freebies.