Hi creative friends,
Today, we're taking a closer look at one of the shining stars in the world of crafting… our friend Nicola Mason of My Shabby Craft Corner.
You might know her as a vital member of the Design Team and a proud ambassador for Shabby Art Boutique… and let me tell you, she's always lighting up the crafting world with her boundless creativity and enthusiasm.
Let's dive into the shabby world of Nicola's creativity and discover why she's such a treasure for Shabby Art Boutique.
One of the most fantastic things about Nicola is her ability to create stunning projects for every single kit that Shabby Art Boutique releases.
It's like she has an endless well of inspiration, and she generously shares it with the world.
Nicola crafts beautiful stories with every project she undertakes…. whether it's amazing shabby handmade journals, intricate lacy confections, or delightfully whimsical home décor pieces.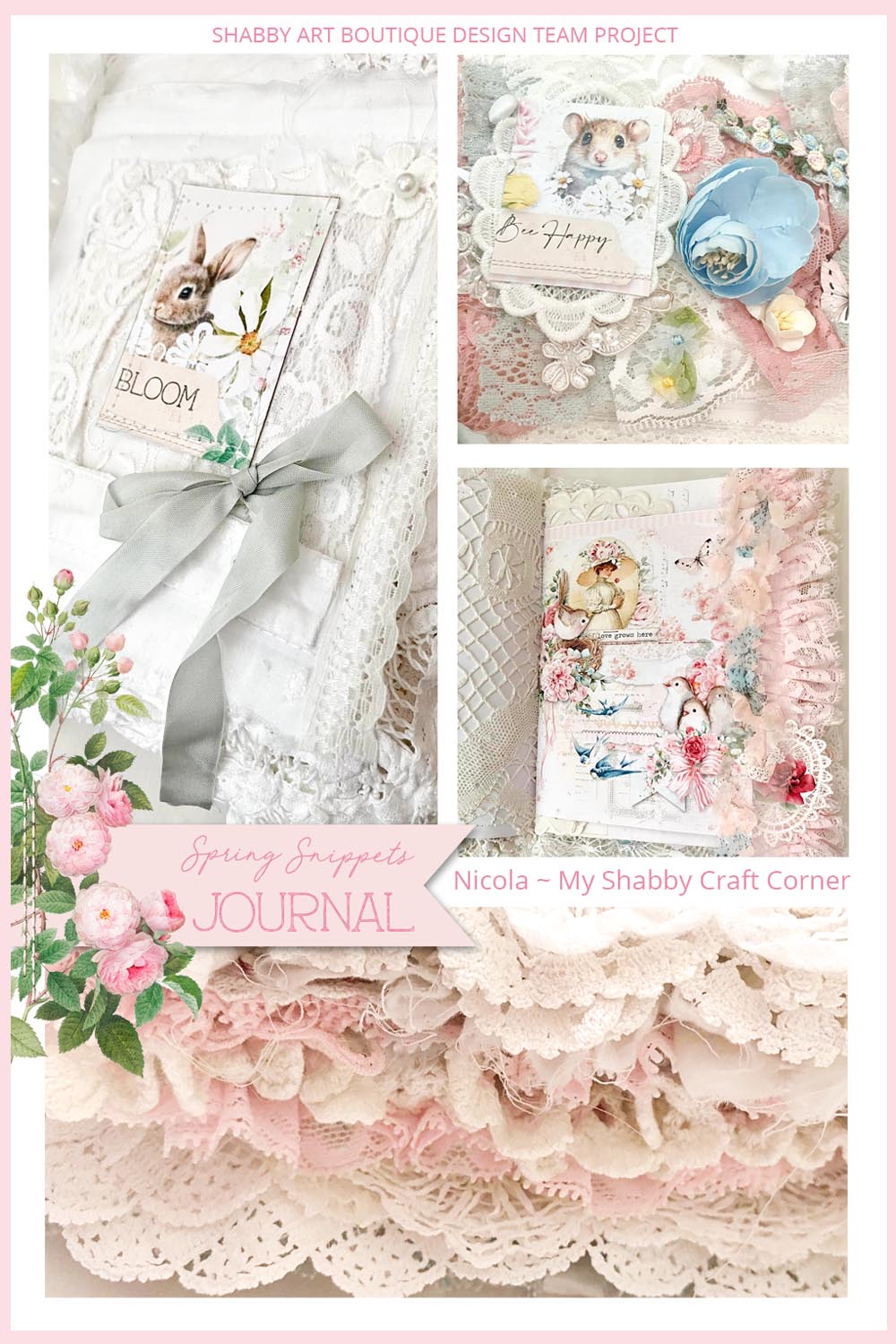 Nicola's creations always have that unique touch that makes them stand out. And she doesn't stop there….
Her talent is undoubtedly impressive, but what truly sets her apart is her generous spirit.
She's not just about crafting for herself; she's all about spreading the crafting love…. Nicola goes above and beyond to share her techniques, tips, and ideas with the crafting community, both at Shabby Art Boutique and in her own Facebook group, Shabby Journals Crafts and More.
As an ambassador for Shabby Art Boutique, Nicola plays a vital role in bringing the crafting community together.
Her ability to connect with crafters of all levels, from beginners to seasoned artisans, is a testament to her welcoming and inclusive personality.
She's like a friendly guide, showing fellow crafters how to make the most of their kits and crafting materials.
Her passion for crafting is contagious, and she inspires others to embark on their own crafting journeys.
It's not an exaggeration to say that Nicola Mason is an absolute asset to Shabby Art Boutique.
Her creative input and dedication to the craft shine through in every project she shares.
She brings a unique perspective to the Design Team and has helped shape the direction of my business with her innovative ideas.
Nicola Mason is more than just a crafter; she's a crafting powerhouse… and a beautiful friend.
Her creativity, generosity, and passion for crafting make her an invaluable member of the Shabby Art Boutique family.
Whether you're a seasoned crafter or just dipping your toes into the crafting world, you're sure to find inspiration and guidance in Nicola's work.
So, the next time you see one of Nicola's beautiful creations, take a moment to appreciate the magic she brings to the world of crafting.
I'm lucky to have her, and I can't wait to see what amazing projects she'll conjure up next!
Thank you, Nicola, for being an inspiration to us all ♥
How to Connect with Nicola
You'll find Nicola on her 'My Shabby Craft Corner' accounts: Instagram and YouTube
Be sure to subscribe to her YouTube channel, so you can keep up with all of her fun tutorials.
Join Nicola's Shabby Journals Craft & More Facebook group.
Happy crafting,
♥
Kerryanne
Let's be friends on….
Get instant access to the free printables in my Newsletter Printables
Library by joining my email newsletter subscriber's list.
I send out a weekly newsletters with updates on all things
'shabbilicious' at Shabby Art Boutique.