Hi creative friends,
The gorgeous Design Team projects just keep on coming for May and we are so spoilt this week.
Honestly, you won' t believe the gorgeousness that is here to inspire us!
Nicola ~ My Shabby Craft Corner
Nicola has really spoiled us with beautiful shabby and inspiring projects for the new May Craft Room digital kit, Meadow View Lane.
Within hours of the kit being released, Nicola has already put together the most stunning shadow box scene of Meadow View Lane under the oak tree.
PIN for later.
How sweet and adorable is that beautiful scene!
Nicola even made an oak tree out of clay…. I'm so enamoured by her sweet, sweet shadow box.
Click the video below to see a sneak peek of Meadow View Lane.
Next, Nicola has started working on Miss Penelope's journal.… just the cover and vintage lace is enough to win your heart.
Let's watch Nicola decorate her journal in a YouTube 'Craft with Me' video…..
Thank you Nicola… you have truly inspired us this week , sweetie ♥
You can connect with Nicola on her 'My Shabby Craft Corner' accounts: Instagram and YouTube
Be sure to subscribe to her YouTube channel, so you can keep up with all of her fun tutorials.
Join Nicola's Shabby Journals Craft & More Facebook group.
Meadow View Lane Collection
The Meadow View Lane Collection is an exclusive kit for the Craft Room membership.
The doors to the craft room open up twice a year for new members, and will open again on May 20th.
For more information, visit the Craft Room.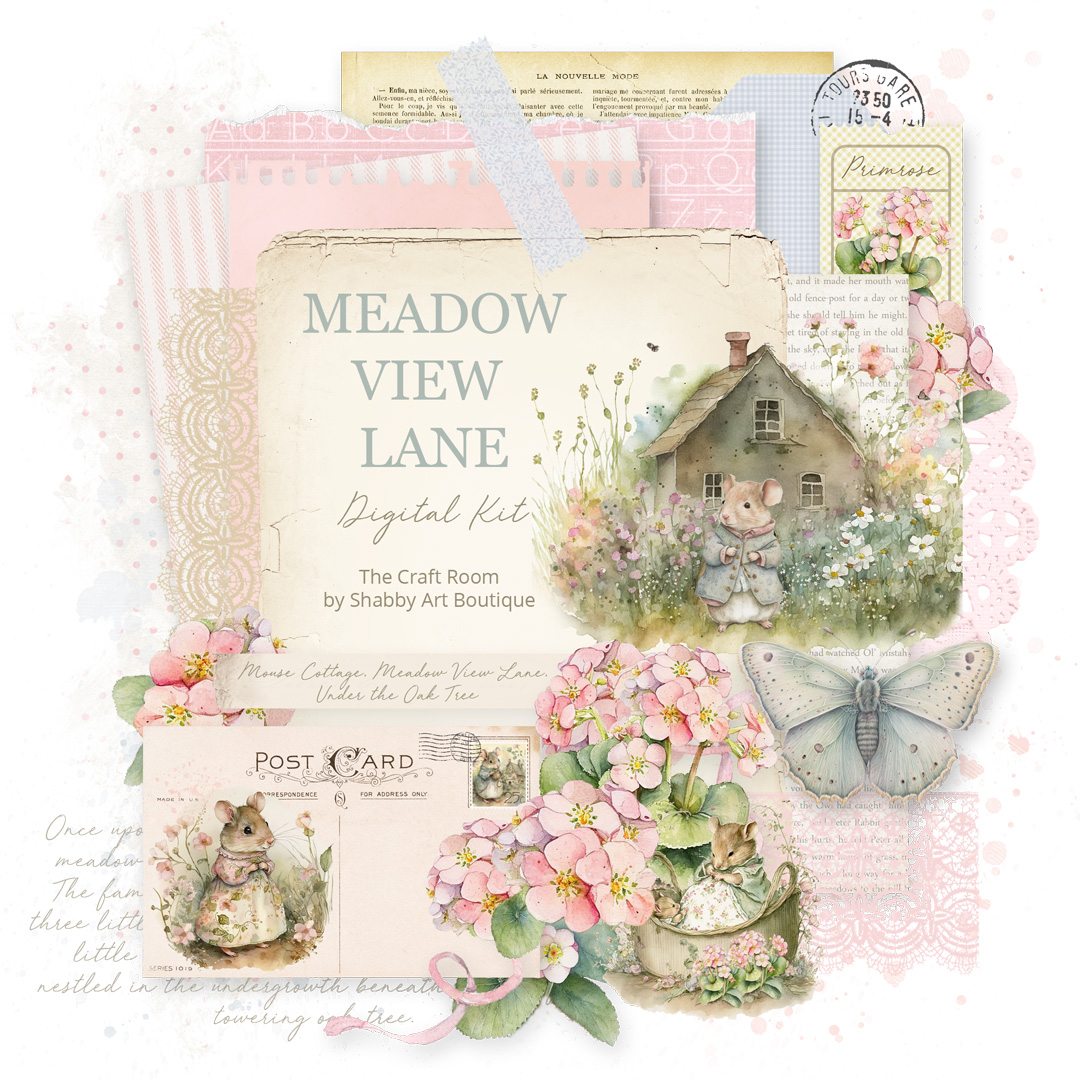 Charmaine ~ Two Shabby Shoes
Charmaine's projects are always exquisite and meticulous… she has such an eye for detail.
This week, Charmaine has shared a project she's been working on for a while and I absolutely love the concept of this reference journal.
I definitely need to be making one of these…. because even I can never remember what is in each kit.
Click the video below to watch Charmaine explain how she made her stunning reference journal.
PIN for later
What an amazing idea Charmaine!
You can connect with Charmaine on her new socials for Two Shabby Shoes on Instagram and YouTube.
Thank you Charmaine, this project is stunning, sweetie ♥
Sandy ~ Septeria18
Sandy is cooking up something spectacular this week using the Spring Snippets mini kit.
Here's her flip through of the kit on YouTube.
We all love Sandy's projects, so be sure to subscribe to her Septeria18 YouTube Channel so you don't miss any of her upcoming tutorials and follow Septeria18 on Instagram.
You'll find Sandy's gorgeous embellishments in her Septeria's Room Etsy Store.
Anna ~ Serenity Creations
This week Anna has used the Meadow View Lane collection from the Craft Room membership to create a sweet whimsical paperclip mini album.
I adore the way she worked the tiny mini file folders into the pages… way too cute ♥
Click the video below to watch Anna flip through the pages of this tiny 'mousey' album.
This project is so sweet and petite Anna… thank you ♥
You can connect with Anna on her Serenity Creations YouTube channel and at Serenity Creations on Instagram.
Wow… what a lot of shabbilicious gorgeousness we've had this week, lovelies. I hope you feel inspired to create.
Happy crafting,
♥
Kerryanne
Let's be friends on….
Get instant access to the free printables in my Newsletter Printables
Library by joining my email newsletter subscriber's list.
I send out a weekly newsletters with updates on all things
'shabbilicious' at Shabby Art Boutique.