The craft room has been a hive of activity recently with the preparations for my daughters wedding and Christmas.
With so much going on, I lacked the 'oomph' to go over the top for Christmas this year… deciding instead to keep it simple for our first year in our new home.
I previously shared how I decided on a crafting theme for Christmas in my craft room, when I posted my DIY Makers Christmas Wreath project, filled with all the crafting goodness I love.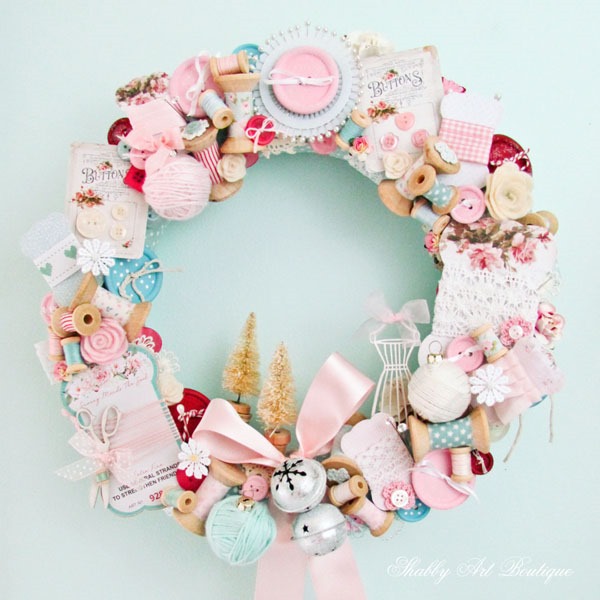 But one day last month I was strolling through an Australian department store and spotted tubes of 'shabbilicious' baubles…. gorgeous sparkly baubles in shades of pink, aqua and gold.
It was like they were designed especially for my craft room!!
I actually didn't buy then straight away…. because I was after all, planning a no fuss Christmas with just a few trees and fairy lights that I already had in storage.
I'm sure you know how it is though….
I kept thinking about those shabby chic baubles and how they perfectly matched my aqua walls and realised I needed to find a way to incorporate them into my SIMPLE 'crafting' Christmas theme.
So, I added one extra element to my Christmas craft room… a big pine garland.
I've had this particular garland for over 20 years. It's been my favourite garland EVER because of how thick and lush it was, but it has finally started to show its age.
That actually made it the perfect candidate to try out the bag of snow flock I purchased on Amazon months ago (here's my aff. link to check out what I used). Can't even begin to tell you how much I LOVE this product!! I've already used it a lot this Christmas and will share some more projects later.
Once the old garland was all iced up, I suspended her over the craft storage unit and added the perfectly matching shabby chic baubles.
When the morning sun shines through the French doors the baubles sparkle and shine…. making everything 'Merry & Bright'.
Before I positioned the garland, I made sure that I moved my storage boxes around so that the boxes I wouldn't need throughout December are at the top of the unit, behind the garland.
The rest of my crafting room is filled with my usual crafting supplies and I added in a few Christmas elements like mini trees, my handmade decorations and a new 'JOY' banner.
Continuing with the crafting theme, this printable banner is perfect for a sewing or craft room. I added little spools of cotton between the pennants and hung it from the shelf unit where my Tilda Reindeers are sitting.
I've added this to the newsletter subscribers free printables library, so you are welcome to download it.
If you are not yet a member, that's okay…. you can subscribe to my newsletter here and get instant access to the free printables.
Of course it wouldn't be Christmas without adorable Christmas Pixies.
I have a free tutorial on how to make the Christmas Pixies HERE.
The Christmas decor doesn't end there…. the sewing corner of the craft room has a festive vibe too; another garland that also got the snow flock treatment hangs over the hutch, a Christmas banner from the October kit of the Handmade Club hangs above it on the wall….
Plus there is the the Makers Wreath, a skating Tilda Angel, a Foxie lady in a cherry red coat and pretty flickering lights and candles.
I've kept to my aqua, pink and cherry colour palette in this corner.
There's something very magical about working in a Christmas themed room…..
Perhaps it is the scented candles… or the flickering of a flame…
Maybe it is the glittered baubles sparkling in the morning sun.
Whatever it is, it is an absolute JOY to be spending creative time in my craft room each day.
May your days be 'Merry & Bright' too!
[PIN for later]
Happy Christmas crafting my friends,
Hugs
♥
Kerryanne
I'd love for you to connect with me at:
Get instant access to the free printables in our Member's Only
library by joining my email newsletter subscriber's list.
I send out two newsletters a month with updates on all things
'shabbilicious' at Shabby Art Boutique.
Follow on Bloglovin or join our Facebook group Simply Shabbilicious.