Hi creative friends,
I'm so excited to share more Jingle Christmas inspiration with you today.
All of our Design Team are so talented and have very different styles, so I feel confident that you will always find something that speaks to your heart and inspires you.
Today I am featuring Charmaine from Two Shabby Shoes and Cheryl from Little Red Papeterie.
Charmaine ~ Two Shabby Shoes
Charmaine of Two Shabby Shoes has created a fabulous magical Reindeer food box for her Jingle Christmas DT project.
She used the papers and fussy cuts from the kit to cover every panel of the box, including the lid and inside the box.
It truly does look magical with all the layers, textures and glittery pretties.
If you have a child in your life, be sure to watch Charmaine's flip through of this project on her YouTube channel, Two Shabby Shoes.
Click the image below to go to YouTube… and be sure to click subscribe!
Even the inside of the box is beautifully decorated on every panel.
Charmaine filled the box with these sweet bags of Reindeer food.
I love how she has added the names of Santa's Reindeers to each bag.
This is such a fun and magical project and one that you could easily adapt to any box you may have. I hope it has inspired you!
You can connect with Charmaine on her new socials at Two Shabby Shoes on Instagram and YouTube.
Thank you Charmaine ♥
Cheryl ~ Little Red Papeterie
Last week I shared the gorgeous Christmas journal in the making from Cheryl at Little Red Papeterie
This week she has added more pages and ephemera…
I adore this beautiful reindeer and bow belly band… how clever.
You can see a reel that shows it in more detail on Cheryl's insta account.
I look forward to seeing all these amazing pages come together to form what's going to be an amazing Christmas journal.
You can connect with Cheryl on her Facebook, Instagram and YouTube channel, Little Red Papeterie.
Thank you Cheryl…. these pages are so beautiful ♥
How to buy Jingle Christmas
This kit is now available in my Etsy store under the Christmas tab.
Click here –> for the letter (USA) Jingle Christmas kit.
Click here –> for the A4 Jingle Christmas kit.
Coupon Codes
Please enjoy these new storewide coupon codes for sales of US$10, US$15 and US$20.
Don't forget to enter the discount codes at checkout!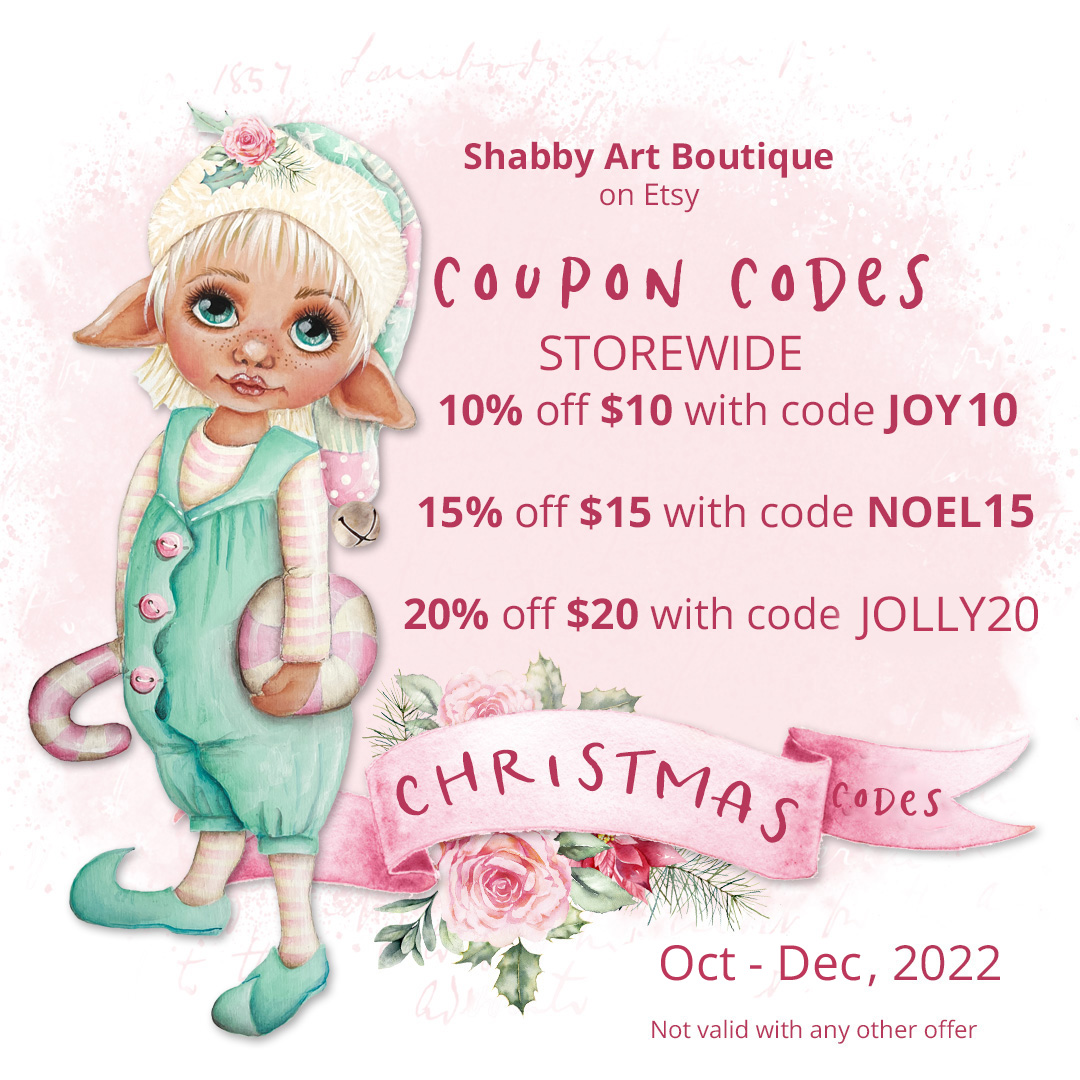 Happy crafting!
Hugs
♥
Kerryanne
Let's be friends on….
Get instant access to the free printables in my Newsletter Printables
Library by joining my email newsletter subscriber's list.
I send out a weekly newsletters with updates on all things
'shabbilicious' at Shabby Art Boutique.
I invite you to join our fabulous and friendly
Facebook group – Simply Shabbilicious
where you'll enjoy our friendly banter and inspirational creativity.