The presence of candles creates the magical, soft glow that transforms any room into one of mystique. They create an ambiance of comfort and fantasy… and isn't it true, that everyone looks better by candlelight!!
It's no secret: women love candles!
We do… well, all the women I know love candles.
And I'm tipping there's a bunch of women all over the world that loved my Christmas Township Candle holder last year…
Because that baby went viral!!
I'm not sure why…. it was just a coffee jar that I prettied up.
In fact, I made quite a few of them to use for an outdoor dinner party and they were all slightly different townships.
The problem was… I only intended to share the candle holder as inspiration for others. I explained briefly in a blog post HERE how I made it, but I didn't supply a template. I didn't actually have a template!!
I made each of my townships by hand… first drawing the design and then cutting it out with a scalpel knife. One of my friends asked me why didn't I use my Silhouette?
It's as simple as this… it was a hands on 'plan as I go' kind of project that I didn't think I'd be blogging about later.
Throughout 2014 I've been inundated with email enquires; What jars did I use? Where can I buy the jar? Where's the pattern? Why didn't you supply a pattern template etc…. plus lots of crazy questions that defy logic, but they did give me a laugh.
So here's the 2014 new improved
Christmas Township Candle Holder
with a pattern and two ways to make it.
This post contains affiliate links, which I may earn a small commission on
and I will undoubtedly spend it on more craft supplies for SAB.
Township Candle Holder Template
The template I've provided below can be used to either cut out a paper surround for your jar using last years instructions for a paper surround…
Or, you can use it to paint the township onto the outside of the jar using the instructions further down in this post.
To save the images, simply click on the template photo below to open at actual size in another window. Right click and save to your own computer.
To resize your template, open the template image in a Word document. Measure your jar to determine the perimeter circumference (outside jar for cut-out and inside jar for painted project) and enlarge the two parts to meet that requirement. Join part A and part B together to make one long template.
Frequently asked questions:
What size and type of jar did you use?
I used Mocona coffee jars in different sizes, because that's what I had on hand.
You could use any kind of recycled glass jar, vase or even a wine glass. The template can be adjusted to fit.
If you spray the Santa Snow on the outside, won't it rub off?
Yes it will. I designed these illuminated candle holders to be a feature on a dinner table for one night, however, we have used them multiple times and they still sit in my cupboard waiting to be used again and the snow is still intact.
I designed this project for my own use. It wasn't my intention to design a project for others to make, so they could post it as a gift or let their children play with it. This is one of those DIY projects that is meant to be looked at and admired.
Note: I'm adding a wire hanger to my township candle holders this year, so I can more easily move them around.
Couldn't you spray the Santa Snow inside the jar?
Santa Snow may be flammable, so I wouldn't spray it inside the jar where a naked flame will be used. It would be okay if you were using one of those flameless battery operated candles.
Also, please DO NOT put the paper template inside the jar!! I've had so many emails about this. My instructions do clearly say "wrap it around the outside of the jar".

Materials
Glass jar,
DecoArt Americana acrylic paint – Lamp Black,
Small round paint brushes size 2 and 4,
1/4" flat brush,
Can of Santa Snow,
Wire for handle (optional),
Isopropyl Alcohol Spray and clean cloth.
Instructions for making painted township
1. Clean jar with soapy water and remove any labels.
2. Wipe outside of jar using Isopropyl alcohol spray to remove any residue and then avoid over handling jar.
3. Measure the inside of your jar using a scrap piece of paper. Make your template to fit this measurement and then insert inside of jar. I used a little piece of cello tape to hold it in place, so it wouldn't move while I was painting it.
4. Rest your jar on a soft cloth – I used and old tea towel. Try not to handle the bottom of the jar too much as grease from your skin may affect how well your paint adheres to the jar. Using your small round brush and the black paint, start painting the design, using the template as a guide. You may decide to add other things or trees… I actually added a little fence beside the church on one of my jars.
5. The first coat of paint will be patchy… that's okay. Leave it to dry and when you paint on the second coat it will be opaque. Set aside to dry.
6. If you are going to make a wire hanger for your jar, add that now.
7. Place your painted jar inside an old cardboard box and lightly spray the top third of the jar with the Santa Snow. Do not spray inside the jar. Leave to dry.
8. Last year I added Epsom Salts to the top of my jar for an added effect
8. Insert tea light candle/s. I used 3 candles inside my larger coffee jar.
If you are making your own Christmas Township Candle holders, I hope you enjoy yours as much as my friends and family enjoyed mine last year.
If you enjoyed this post, make sure you check out my free Tutorials page with 250+ projects and free printables.
Happy Christmas crafting,
♥
Kerryanne
I'd love for you to connect with me at:
Follow on Bloglovin
or if you'd like my posts delivered directly to your Inbox
Subscribe to Shabby Art Boutique by Email
If you'd like a private pass to all things 'shabbilicious, sign up today for my fortnightly newsletter.
It contains personal stories, sneak peeks, recommendations, discounts and freebies.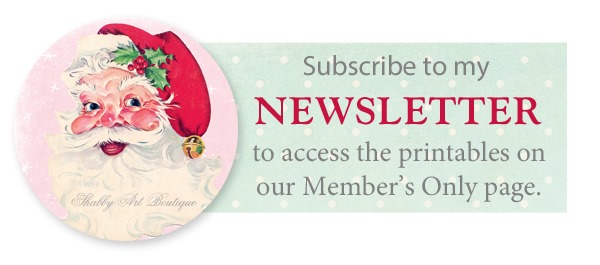 These tags are FREE to download for Newsletter Subscribers.