Hi creative friends,
The Shabby Art Boutique Design Team has been hard at work this past week, bringing you delightful and innovative paper craft projects that will ignite your creativity and inspire you to embark on your own fabulous paper crafting journey.
Carolyn is working with The Craft Rooms, Meadow View Lane kit, while Sandy has showcased the latest Etsy kit, Simply Roses Fussu-cuts.
Carolyn ~ Carolyn's Paper Therapy
The Meadow View Lane collection was inspired by fairy tales and a fantasy world that showcases sweet little mice families, their adorable cottage homes hidden amongst the wildflowers and enchanting meadows.
Carolyn is creating a gorgeous, whimsical garden journal called 'Carol Elise'.
In this video, Carolyn guides you through the creation process of her garden journal cover and internal pages.
Follow along with this part one video for tips on how bring your own sweet mouse inspired journal to life. Click image below to watch on YouTube.
Don't forget to subscribe to Carolyn's channel.
This journal is already so adorable Carolyn, and we look forward to seeing the completed journal in part two.
Thanks for sharing part 1 of your beautiful Garden Journal Carolyn ♥
You can connect with Carolyn on her YouTube channel, Carolyn's Paper Therapy.
Meadow View Lane Collection
The Meadow View Lane Collection is an exclusive kit for the Craft Room membership.
The doors to the craft room open up twice a year for new members, and are open NOW until 30th May.
For more information, visit the Craft Room.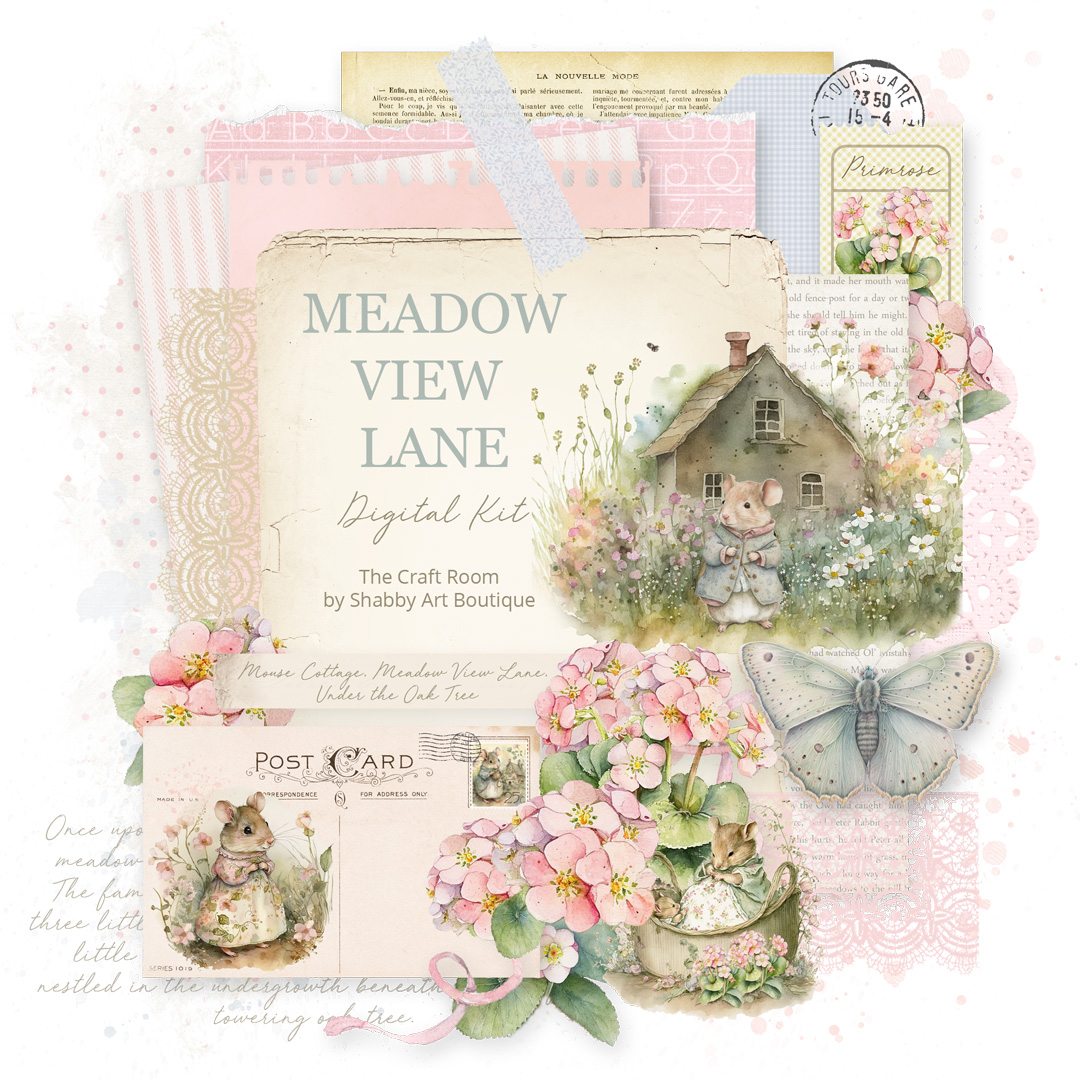 Sandy ~ Septeria18
Sandy is always very generous with sharing her knowledge , step-by-step tutorials, crafting tips, and inspiring ideas, to empower crafters to embark on their own creative journeys.
This week on her YouTube channel, Septeria18, she shared a collection of gorgeous rose themed embellishments that she created using the latest Shabby Art Boutique Etsy listing, Simply Roses Fussy-cuts.
Click the video below to watch on YouTube.
Sandy has featured these delicate watercolor roses so beautifully in her mini embellishments.
They are the perfect combination of pretty and practical and will be absolutely perfect for including in your journal and card making projects.
We all love Sandy's projects, so be sure to subscribe to her Septeria18 YouTube Channel so you don't miss any of her upcoming tutorials and follow Septeria18 on Instagram.
You'll find Sandy's gorgeous embellishments in her Septeria's Room Etsy Store.
Thanks for inspiring us with these beautiful projects, Sandy ♥
Simply Roses Digital Kit
For more information about the Simply Roses kit and the free coordinating faux rose stamps –> CLICK HERE.
Happy crafting,
♥
Kerryanne
Let's be friends on….
Get instant access to the free printables in my Newsletter Printables
Library by joining my email newsletter subscriber's list.
I send out a weekly newsletters with updates on all things
'shabbilicious' at Shabby Art Boutique.