Getting organised for Christmas isn't difficult… a little forward planning and making an early start is all that is needed to pace yourself for a stress free holidays.
For the past 8 years I've shared a printable Christmas Planner on day 1 of my Simply Christmas event. It's always incredibly popular and that's because using a planner is the perfect way to plan ahead and keep track of everything Christmas related.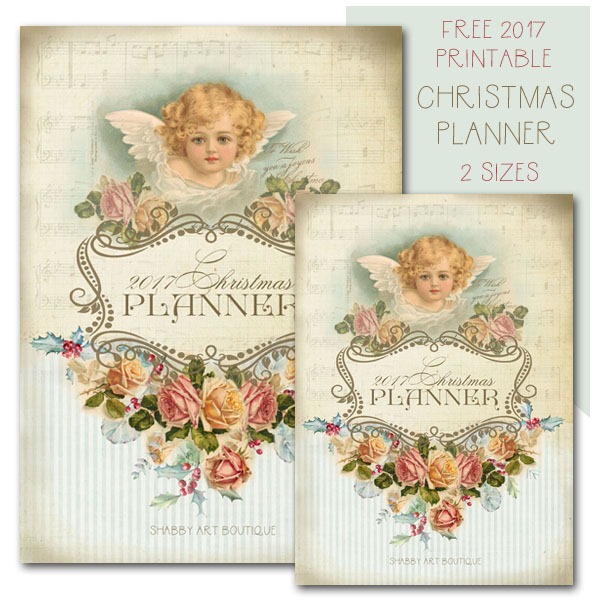 Yesterday I shared my 2017 Vintage Christmas Planner. It's an A4 sized planner that can be used in a binder or on a clipboard.
The past couple of years I've designed a smaller A5 planner. I enjoy that size because it's small enough to take with me when I'm shopping, but still big enough to have lots of pages.
I knew many of you would still prefer the smaller Christmas Planner, so I've re-released last years Christmas Planner with updated calendar pages.
If you are new to this planner, it is in A5 format with 2 planner pages to one sheet of A4 paper. I use an A5 art journal as my base. These can be picked up at any stationery shop or art store quite cheaply.
I simply adhere the printed pages into the journal, along with ideas, recipes, catalogue clippings etc.
You can add planner clips, stickers and all kinds of embellishments, just like with any homemade planner.
The A5 2017 Christmas Planner is no longer available.
Festive 'homemade' wishes
♥
Kerryanne
I'd love for you to connect with me at:
Follow on Bloglovin
or if you'd like my posts delivered directly to your Inbox
Subscribe to Shabby Art Boutique by Email
If you'd like a private pass to all things 'shabbilicious, sign up today for my fortnightly newsletter. It contains personal stories, sneak peeks, recommendations, discounts and freebies.