Hello lovelies!
We recently had a discussion in our Facebook group, Simply Shabbilicious, about snippet rolls; specifically, what they are and how to make them.
So today I'm sharing just how easy it is to make my version of a beautiful shabby snippet roll.
Of course, these pretty snippet rolls can be made in many different ways and in varying sizes…. but this is the type that I use most often.
First, lets discuss what a snippet roll is and how to use it….
If you are not a paper crafter or journal maker, you may never have come across these beauties before.
Essentially, the roll is a collage strip of decorative fabric pieces and embellishments that can be used in journal or card making to edge a pocket, a page or to make belly bands.
Some are themed or made in a colour palette, while others are just a hodgepodge of gorgeous left overs.
Personally, I tend to cut smaller pieces from my snippet roll to make clusters or to edge a pocket etc. rather than using long lengths of it.
How to Make a Snippet Roll
1. Gather your materials.
Ideally, this is a great project to use up all of those teeny, tiny leftovers you get from crafting. I store these bits and pieces in small snap lock bags in my fabrics box until I can use them in a project.
What I used in my snippet roll: small off-cuts of fabrics, lace, cut up doilies, ribbon, seam binding, tulle, sari silk, hearts and flowers punched from vintage book paper, buttons and a few printed flowers. My collage pieces were approximately 4 – 5 cm (2") long. Don't worry about straight edges or bits of frayed cotton… it all adds to the overall shabby look. Note: buttons and metal embellishments are added after sewing.
2. Start with a backing strip; for this roll I used a 1" (2.5 cm) strip of calico/muslin. I simply ripped it across the width of the fabric, so this one was 1 yard (90 cm) wide.
Next, we are going to add our collage pieces to the calico strip and sew them in place by sewing straight down the centre.
I chose a decorative stitch for this one and as the overall effect was shabby, I used an ivory cotton in my machine. However, don't be frightened to use a dark cotton, as the contrast can be quite striking on a snippet roll.
Starting at one end of your calico strip, randomly lay pieces of the fabrics, ribbon etc.onto the calico strip, as you feed it under the foot of your sewing machine. Tip: try to overlap and layer all of your scraps, so that ultimately you cannot see the backing strip once finished.
When I get to the end of my strip, I turn it around and stitch back the other way to be sure that all scrap pieces are held securely in place.
The final step is to add on individual embellishments. For this one I added a few buttons (sewn on with pink embroidery cotton), a lace butterfly at one of my snippet roll ends and a decorative pearl bead attached with a bulb pin.
Embellishments could include small flowers, hand embroidery, metal or wood embellishments, stamped words, beads, sequins etc.
You end up with a gorgeous array of textures and colours, which add so much interest to your journal or card making. Just snip off whatever length you need.
All that is left to do now is roll up your snippet of gorgeousness or wind it around a lace board or large spool for storing.
Some people prefer to hang their snippet roll on a wall, so they can admire the full length of it's loveliness.
What would you use a snippet roll for?
I'll be using some of this shabby one in an upcoming journal.
[Thank you for pinning this image]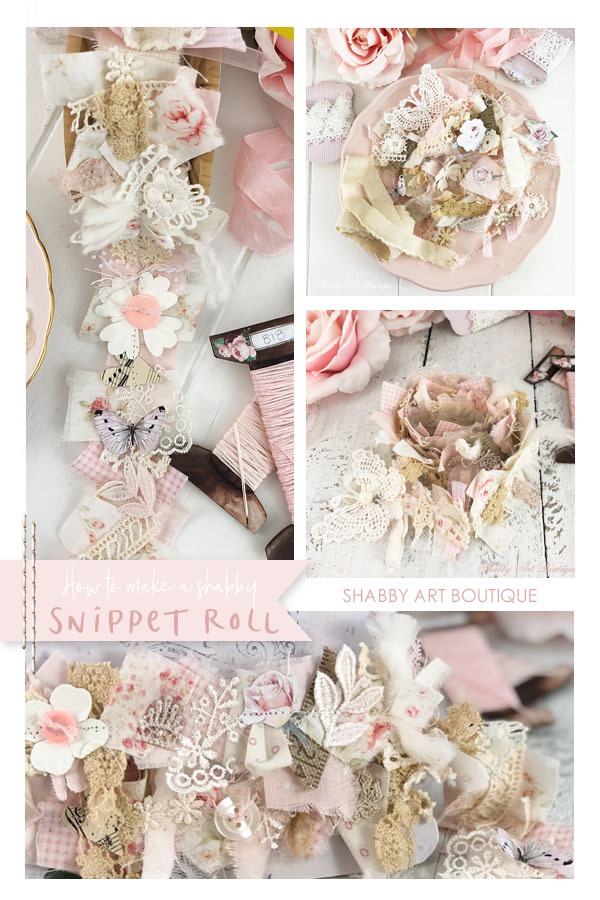 If you happen to make one of these pretty snippet rolls or your version of a snippet roll, I'd love for you to share it in our Facebook group, Simply Shabbilicious. If you've not joined yet, please do and I promise you'll be inspired by our project shares and crafty chatter.
Happy crafting my friends!
Hugs
♥
Kerryanne
I'd love for you to connect with me at:
Get instant access to the free printables in our Member's Only
library by joining my email newsletter subscriber's list.
I send out two newsletters a month with updates on all things
'shabbilicious' at Shabby Art Boutique.