Hi there my shabbilicious friends,
In my last post I shared with you some creative gift wrapping using ready made embellishments.
Having a stockpile of mini pretties means I can quickly throw together a card, tag or wrapped gift.
All of the embellishments I have here in my creative box are quick, easy and cheap to make… often they are made from left over scraps at the end of a project.
Honestly, even the smallest off-cut can be made into something…
Like these sweet heart pins made with a tiny 1 cm scrap of felt, cut into a heart shape and skewered on a sewing pin.
I cut up vintage doilies to make individual medallions and store them for both paper crafting and sewing projects.
And of course I love my mini crochet flowers… you can read more about these and get the tutorial here.
Another easy to make embellishment is the mini felt flower…
And there are so many ways you can incorporate them into your crafting.
I completely freehand these petite little flowers.
The ones shown here are cut from a 4 cm x 4 cm square of wool felt.
I start by trimming the square into more of a circle.
To explain how I cut the spiral I have drawn it on the sample one, but when I make the flowers I don't draw it on. I simply cut a spiral with scissors – this is not a precise project, which makes it even more fun!
Once I have a spiral cut, I then scallop the edge – as shown in #3.
To assemble the flower, start rolling it from the inside of the spiral. This will be the centre of your flower. I use a single strand of a similar coloured cotton to add a few slip stitches on the base to keep it all together.
Continue rolling and slip stitching until the flower is complete. As every flower is cut freehand, they will all be different.
Each flower takes me about 5 minutes or less to make.
If you'd like to know how I made this sweet shabby 3 drawer gift box, I have a tutorial here.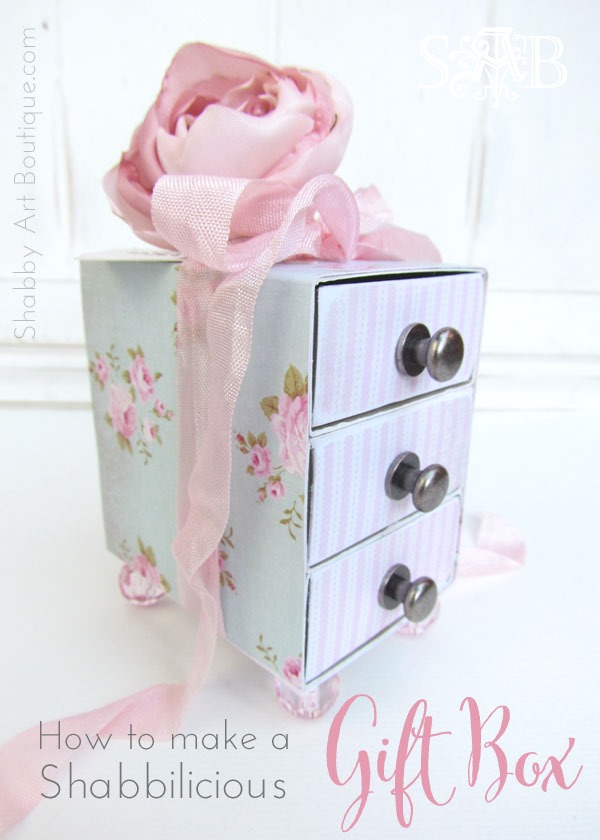 Happy crafting!
Hugs
♥
Kerryanne
Let's be friends on….
Get instant access to the free printables in my Newsletter Printables
Library by joining my email newsletter subscriber's list.
I send out a weekly newsletters with updates on all things
'shabbilicious' at Shabby Art Boutique.
I invite you to join our fabulous and friendly
Facebook group – Simply Shabbilicious
where you'll enjoy our friendly banter and inspirational creativity.