Hi creative friends,
Christmas planners are nothing new to Shabby Art Boutique. In fact… this will be the eleventh year that I will be offering a free Christmas planner, when we kick off our annual Simply Christmas event on November 1st.
The last couple of years I've also offered a more deluxe Christmas planner as part of the Handmade Club and now on Etsy.
For my 'Home for Christmas' digital collection, I have offered two versions of the perpetual Christmas planner; one is a portrait orientation 5" x 7" planner to secure in a journal or binder and the other is something new…. a planner in a box!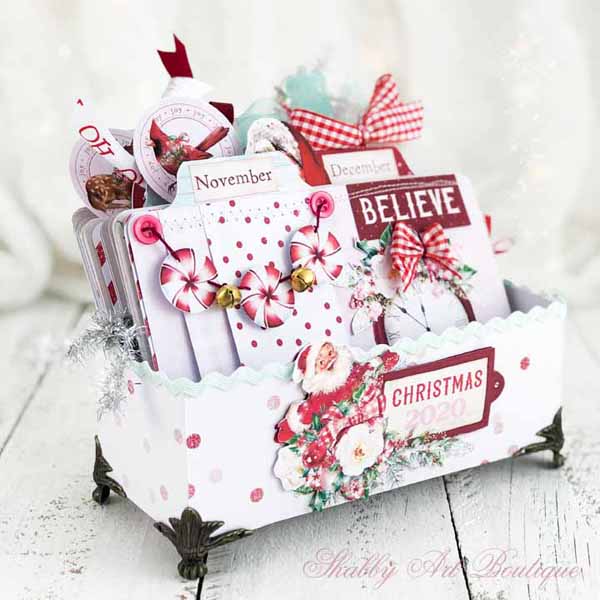 Flip through of Christmas Planner on YouTube
Christmas Planner in a Box
The best way to describe this planner is to think of it like a mini filing system…. or if you are a journal maker, it's kind off like a deconstructed journal. It contains everything you'd have in a journal, except the spine is not bound, meaning every item can be removed and used as necessary.
Everything you need to make this project is included in the –> 'Home for Christmas' Perpetual Christmas Planner in a box listing on etsy.
The planner pages are in landscape orientation and measure 5" high x 7" wide.
The Etsy listing provides a 30 page PDF printable. You have the choice of printing it all or just picking out the pages that are relevant to what you'd like to include in your Christmas planner.
What you'll get in this Planner
The Christmas Planner in a Box printable contains a variety of divider pages, tabs and tags, as well as many different lists, organisational pages and calendars.
There are also lots of fussy cut images and papers in the coordinating mini digital Home for Christmas kit that you can use to decorate your planner box if you wish.
Calendars, weekly planners and daily to-Do lists: there is a blank calendar for both November and December. I printed four each of the weekly pages for both November and December, so I could plan out the whole month. However, I only printed two of the To-Do list pages, as I laminated them so I can keep re-using them daily with a white board marker.
Cards, emails and zoom video call lists: these cards offer a place to keep track of your Christmas correspondence.
This year I am returning to making and sending cards, seeing as so many people will be home for Christmas. I also email Christmas letters to friends and family overseas, so I've included a card for organising emails as well. This year for the first time I also added in a zoom video card to keep track of the zoom calls we all use these days.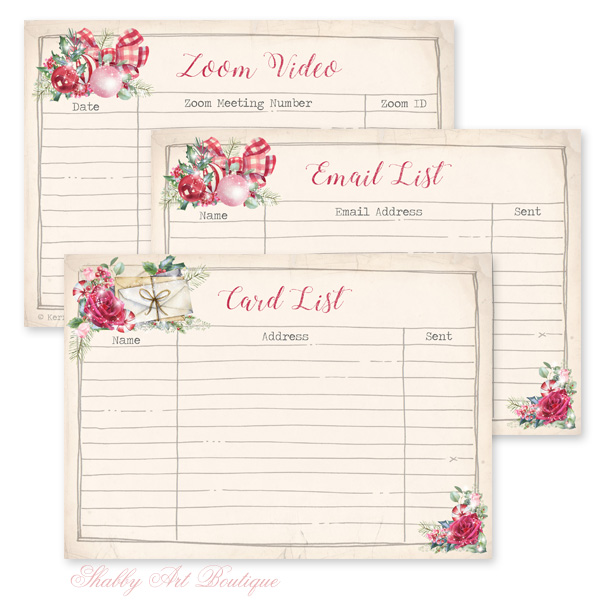 Gift giving lists: In the gift files I have included a handy list for organising your list of gifts, so you can keep track of what you are giving each person, when it is wrapped and sent. There are individual printable wish and shopping lists and a handy internet shopping file to jot down all of the important information about internet purchases, shipping etc. I've printed multiple copies of the shopping list to create a list pad.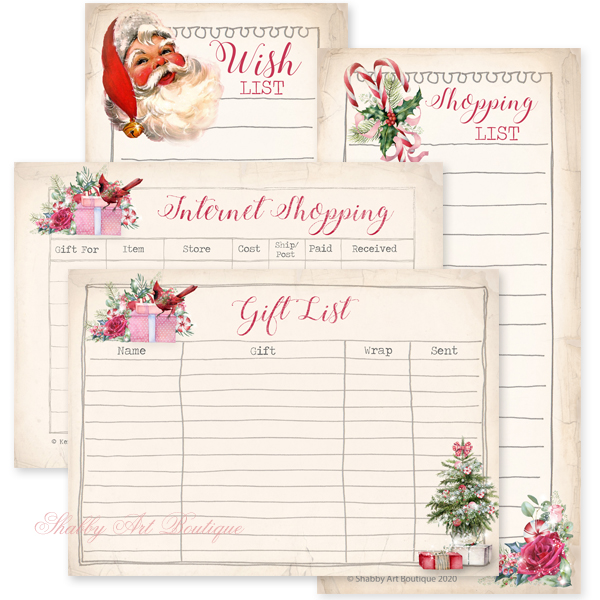 Make files: For those of us that also make Christmas gifts, there's a card for Handmade projects. You could also use this file to keep pictures for inspiration, receipts for crafting supplies etc. I've added another shopping list in with this card to jot down crafting supply needs.
Bake: An important part of Christmas for many people is the baking of festive treats, so this year I have included a menu planner, grocery shopping list and and two styles of recipe cards.
Recipe cards – There's a 5" x 7" recipe card that you can write on both front and back, plus a larger recipe card that measures 10" x 7" that will be perfect for recipes with longer instructions. This larger card can be scored across the centre to fold in two to measure 5" x 7" and you have the option of using the back of the card or to add a photo to the back.
These cards would also be perfect to use for a cookie exchange.
How to assemble a Boxed Christmas Planner
I created a box to store my Christmas planner in. It measures 7 1/4" wide x 3" deep. The sides are 2 1/2" high.
This size fits my planner perfectly, but you can make the box larger by adjusting the 3" deep measurement to cater for however many files you wish to include. There are lots of other organisational items you may wish to add, like Christmas budgets, cleaning, decorating and Christmas entertaining, just to name a few.
Another option is to add a Christmas memories or December Daily to the back of the planner as well.
I made my box out of white cardstock that was quite firm and covered it with paper from the mini kit. To finish it off, I embellished the box and added a set of cute little feet.
Added: A lot of people have asked where they can purchase the feet. This is my affiliate link to the ones I use most by Tim Holtz – Metal Box Feet.
This is definitely a project that you can make your own… whether that is a basic holiday planner or place to store everything you need to organise your festive season.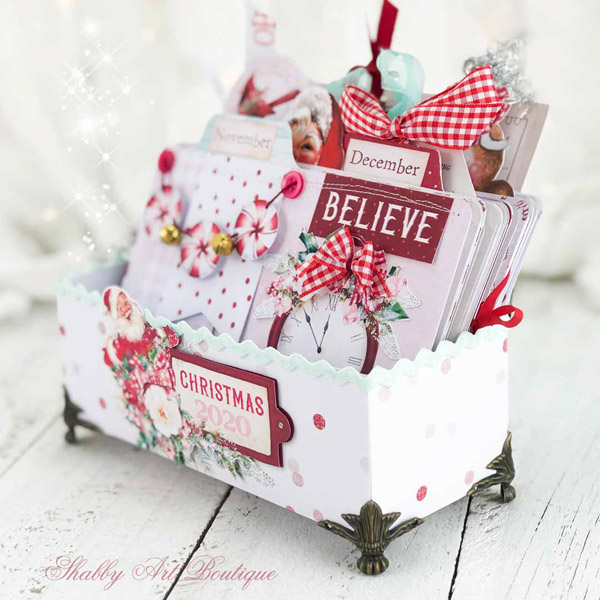 This project is from the 'Home for Christmas' collection that is now available in my Etsy store.
I'd love to see your Christmas planner in a box, so please feel free to share what you make in our Facebook group, Simply Shabbilicious.
Happy crafting my friends!
Hugs
♥
Kerryanne
Let's be friends on….
Get instant access to the free printables in my Newsletter Printables
Library by joining my email newsletter subscriber's list.
I send out a weekly newsletters with updates on all things
'shabbilicious' at Shabby Art Boutique.
I invite you to join our fabulous and friendly
Facebook group – Simply Shabbilicious
where you'll enjoy our friendly banter and inspirational creativity.